With its concrete apron, occasional passing HGV or forklift truck and backdrop of decaying industrial buildings, Thorn Quay is far removed from the traditional image of an English village green. The closest it comes to the thwack of leather on willow is the occasional kids' ball game or hopscotch session on the asphalt.
But for the community of Mistley on the banks of the River Stour, whose previous residents range from a zealous Witchfinder General to an 18th Century MP who wanted to turn it into a world-beating spa, rarely takes no for an answer. As a result it is celebrating after winning a six-year legal battle to have a stretch of historic concrete quayside belonging to a bulk port operator designated England's newest - and perhaps most unusual - village green.
The ruling by Essex County Council that the 60mx10m area of waterfront known as Thorn Quay, with sweeping views over the river estuary and a population of resident swans, has been used as a public area for at least two decades - not to mention the best part of three centuries - is a hard-won victory for campaigners who have fought to have a 6ft fence barring access to the river taken down.
The operator of the Grade II-listed quay, TWL Logistics, erected the metal barrier in 2008 after the Health and Safety Executive ordered safety equipment to be put in place or measures taken to prevent members of the public from falling into the waters of the Stour.
Villagers, who for generations had taken for granted use of the waterfront for activities from dog walking and crabbing to swimming and setting up an easel to paint the views across the estuary to Suffolk, have complained bitterly ever since that the resulting industrial fence is a gross overreaction and a blot on the landscape ruining access to a beloved asset.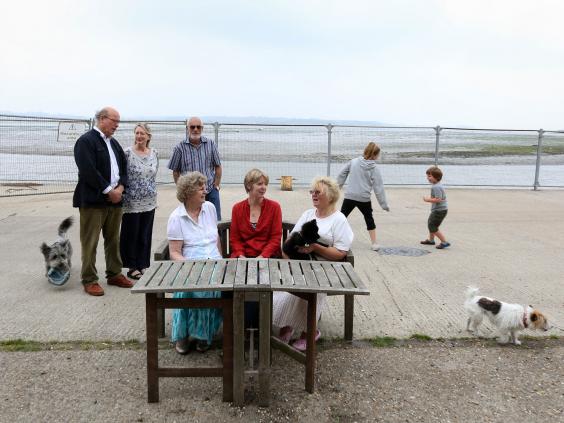 A handpainted sign lodged earlier this summer on a sandbank a few yards from the fence neatly summed up local feelings: "Why is this cheesegrater still up?" An earlier sign on the same spot simply read: "No fence." A derelict warehouse overlooking the dock front carries a neatly painted slogan: "Free the quay."
Few objected more sincerely to the barrier than Clive Saxby, a 71-year-old grandfather of three who was born in the small terrace of houses facing the quay and has lived there ever since. The retired painter-decorator said: "The point is it was always open here. This was a busy quayside where all sorts of people coexisted, it's always been a meeting place. I learnt to swim here: the older kids would just throw you in the water. People came for picnics. Art groups came to paint. Then I woke up one morning and found this dirty great fence going up. We all knew it was wrong. But it's taken a long time to get there."
After failing to reach a compromise with TWL Logistics by offering to pay for and install a lower fence, villagers were advised to use a little-known piece of legislation which allows a space habitually used by the public for varied activities to be declared a "village green" by a planning inspector.
Built in 1778 by the then local potentate Richard Rigby, a Whig MP and holder of several lucrative offices of state, the Thorn Quay was part of a bustling port for East Anglia's agricultural produce with a maltings and no fewer than six pubs. But while nearby Harwich thrived, in more recent years the quay had fallen into disuse, with residents insisting their pass times happily coexisted with lorries trundling past from unloading ships in another part of the port.
Although the phrase "village green" is redolent of a Merrie England of may poles and frothing pints, the law does not require a green to have any physical characteristics - or even a blade of grass - as long as it can be proved that it has been used for "lawful sports and past times" for at least 20 years.
After campaigners raised more than £35,000 to pay for a QC with events from tea towel sales to nude calendars, a public inquiry last year heard arguments from both sides on the merits of village green status.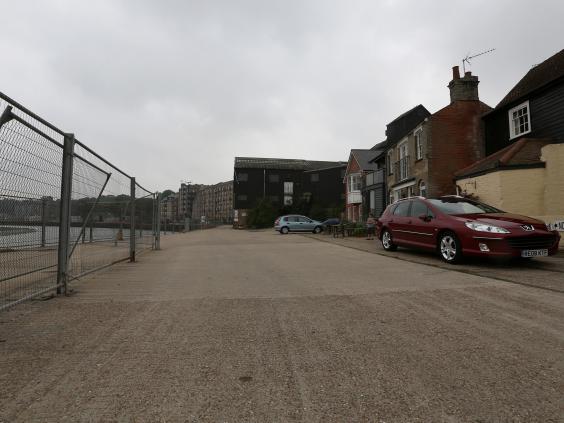 TWL, backed by two other commercial users of the waterfront, argued forcibly that the quay remained part of a working port with lorries and other vehicles making hundreds of journeys a day if a ship was in port, which made its use incompatible with a public traffic of yachtsmen, crabbers, swimmers and painters. The company also claimed there was only scant evidence these past times had existed.
But residents insisted there was ample proof of their use of, and affinity with, the quay and a planning inspector last November sided with them. This decision was last week approved by the county council, formally declaring the quay a village green and, say campaigners, the fence an unlawful impediment to its use.
TWL said it considered the ruling itself unlawful and is now considering applying for a judicial review of the decision. In a statement, the company said: "We are advised that the decision is unlawful and there are good grounds to apply to the court to review the decision judicially."
In the meantime, the users of England's newest village green are confident the fence's days are numbered and their access to swans and the Stour will soon be restored. Simon Bullimore, chairman of the Free the Quay campaign, said: "The area is now a village green and the fence interferes with the enjoyment of it. We don't know yet when it will come down but at least we can now say it will."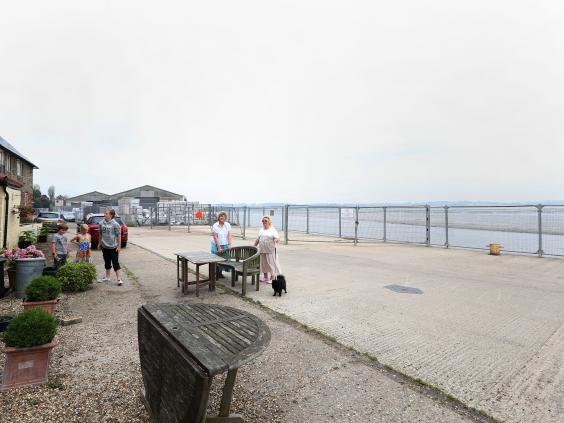 History of the village of Mistley
A 4ft pottery swan swimming in a fountain basin pays testimony to what might once have been for Mistley.
In the late 18th century, the north Essex village's landlord Richard Rigby, the scion of a dynasty of London cloth merchants and slave traders, hatched a scheme to turn this rural community into a spa town to rival the glories of Bath and beyond.
Rigby, a Whig politician who once served as Chief Secretary for Ireland and Paymaster of the Forces, was nothing if not ambitious. He enlisted that star architect of the age - Robert Adam - to draw up a design for the saltwater spa complete with the fountain basin in a nod to the village's large population of swans.
But sadly Rigby's wealth did not match the scale of his ambitions and the project foundered, leaving the family to concentrate on the running of the bustling and successful river port, part of which has now been declared a village green.
The benevolence of the Rigby family toward Mistley was at least an improvement on the attentions paid to it by Matthew Hopkins, a resident who became Essex's Witchfinder General in 1645. His zealotry saw 19 women hanged, four of them in the adjoining town of Manningtree.
Reuse content