A customer who left a terrible review on TripAdvisor of a cafe and bistro in York may have been astounded to realise that their response was somewhat less than apologetic. 
Hannah C, from north Yorkshire, visited Bennett's Cafe & Bistro in High Petergate, York, for afternoon tea with friends on 7 December, but branded it "absolutely awful" in a review she titled "over-priced and very rude".
She says she was on a "tight budget" so ordered hot water and a slice of lemon, which was late arriving.
Then, to her dismay, the restaurant charged her £2 for her drink, which she complained was "too much for some water".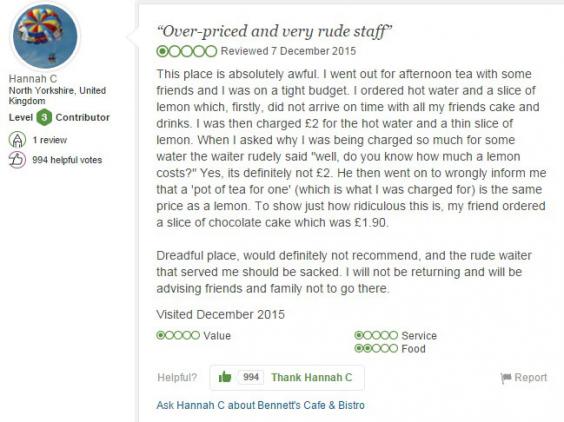 She writes: "When I asked why I was being charged so much for some water the waiter rudely said "well, do you know how much a lemon costs?" Yes, its definitely not £2.
"He then went on to wrongly inform me that a 'pot of tea for one' (which is what I was charged for) is the same price as a lemon. To show just how ridiculous this is, my friend ordered a slice of chocolate cake which was £1.90.
Tripadvisor reviews: Seven of the funniest
Tripadvisor reviews: Seven of the funniest
1/7 "Nature is crap!"

Carved from the earth by the flow Colorado River, the Grand Canyon in the US state of Arizona is known to be one of the most breath-taking sights in the world. But one TripAdvisor reviewer wasn't convinced. "I've been to a number of so called landmarks in my time - but what the hell was this? Just an overblown sandy ditch. "Should've stay in my hotel and watched DVD instead…"

2/7 "There was a poo in the kettle..."

"Do not stay in this absolute dump of a hotel, and I use the term hotel very loosely," a reviewer wrote about a hotel Newcastle in a post simply entitled "there was a poo in the kettle…" "I cannot convey strongly enough how disgusting this place is.blood stained headborads that have clearly been up since the world war (the first one). "In summary...this place is a complete hole."

3/7 "Beach is too sandy."

One review of the idyllic shores of Tumon Beach in Guam complained that while it had "clean and crystal clear" water which was "very nice for swimming,"" it had, er, too much sand.

4/7 "Haunted"

Rating the location highly, a Trip Advisor user who stayed at a hotel in Saudi Arabia complained of an unwanted guest in his room. "i saw the ghost in my room over my 4 yr boy i screamed and ran out my room.[sic]" Complaining that the staff didn't believe the account, the user warned others: "our room# was 303".

5/7 "Boring"

Striding into the realm of the offensive, a reviewer of the attic where teenage diarist Anne Frank stayed said: "I dont see the point of this 'attraction'." "So some girl wrote a diary, who cares?" they wrote of Frank, who was immortalised by her diary written before she was captured and killed by the Nazis during the Second World War.

6/7 "Never again"

A guest at a New York hotel had an unexpected and furry visitor when he stayed in the Big Apple, and was showered with water from the room above in the bathroom. "Water from the top vacationers ran strait through to our shower. And a rat helped us eat our Hershey's chocolates. When we complained about our uninvited guest, the man at the desk simply said : but its night, they come out at night.[sic]"

7/7 "I'd rather sleep on the street"

At least the guest in New York was encountering live animals. A visitor to a hotel in Wolverhampton ominously wrote that they'd "rather sleep on the street" after they claimed to have found a cat's paw in their pillowcase. "Communal toilets with no locks. Our neighbour had TV on all day and nite didn't close the door. It should be named Alcatraz."
"Dreadful place, would definitely not recommend, and the rude waiter that served me should be sacked. I will not be returning and will be advising friends and family not to go there."
But rather than respond with a simple apology, the staff at Bennett's decided to offer the customer a lesson about overheads in the catering industry.
In a reply to the post, the manager wrote: "I'm sorry that you feel that you were "ripped off" and I'll try to explain why you weren't."
They went on to detail exactly what is involved in preparing and serving food and drink at a busy bistro like Bennett's - including the waiter's time, in which he "selected a knife, chopping board, got a lemon from the fridge, cut off a slice and put it in the cup. Then, he returned to the dining room, drew off the necessary hot water and carried the cup to your table."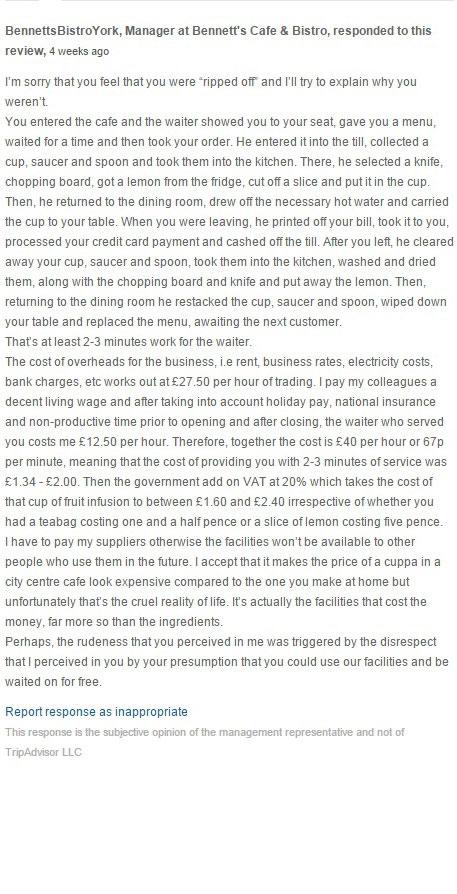 "When you were leaving, he printed off your bill, took it to you, processed your credit card payment and cashed off the till," the response says.
"After you left, he cleared away your cup, saucer and spoon, took them into the kitchen, washed and dried them, along with the chopping board and knife and put away the lemon.
"Then, returning to the dining room he restacked the cup, saucer and spoon, wiped down your table and replaced the menu, awaiting the next customer. That's at least 2-3 minutes work for the waiter."
The manager then explains the costs involved: "The cost of overheads for the business, i.e rent, business rates, electricity costs, bank charges, etc works out at £27.50 per hour of trading.
"I pay my colleagues a decent living wage and after taking into account holiday pay, national insurance and non-productive time prior to opening and after closing, the waiter who served you costs me £12.50 per hour.
"Therefore, together the cost is £40 per hour or 67p per minute, meaning that the cost of providing you with 2-3 minutes of service was £1.34 - £2.00.
"Then the government add on VAT at 20% which takes the cost of that cup of fruit infusion to between £1.60 and £2.40 irrespective of whether you had a teabag costing one and a half pence or a slice of lemon costing five pence."
He ends: "I accept that it makes the price of a cuppa in a city centre cafe look expensive compared to the one you make at home but unfortunately that's the cruel reality of life.
"It's actually the facilities that cost the money, far more so than the ingredients."
Reuse content