Twitter is failing in its "moral duty" to protect ordinary members of the public from online abuse, a leading autism campaigner has said after being targeted by internet trolls for two years.
Kevin Healey, a trustee for the National Autistic Society, who has the condition himself and is followed by 118,000 people on Twitter, urged the social media giant to reform its safeguarding policies in order to avoid the deaths of vulnerable people – after it continually refused to release the IP addresses of his tormentors.
Mr Healey decided to quit the site earlier this month due to the stress and anxiety caused by the abuse. He said he would not return until his account has been "verified" with a blue tick symbol to establish it is genuine, distinguishing it from impersonation accounts.
The 40-year-old from Newcastle-under-Lyme, Staffordshire, told The Independent: "Twitter trolls have made my life a misery. I don't feel safe using the site."
Mr Healey enlisted the support of his MP, Paul Farrelly, and Staffordshire's Police and Crime Commissioner, Matthew Ellis, after reporting the abuse to Twitter and to the police.
Staffordshire Police has investigated 13 incidents of people impersonating Mr Healey but has not been able to track down those responsible, the campaigner said.
Mr Healey believes verification would afford him some protection from the many "impostors" who have set up accounts featuring his image and posted "horrific" messages in his name.
"I want protection from impersonation. I want to be verified so I can return to Twitter and continue my campaigning work. I'm a voice for thousands of people living with autism," Mr Healey insisted.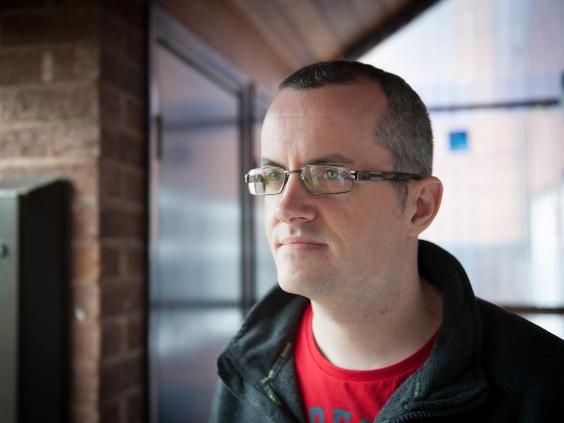 The award-winning campaigner said the firm told him he does not meet the eligibility criteria for verification. But he noted that other high-profile campaigners such as Denise Fergus and Dr Sara Payne have been verified.
"I feel I am being singled out and discriminated against because I'm autistic," Mr Healey said.
"As a person with autism, Twitter is my way of communicating with the outside world," he said. "I miss using it - I feel like I have been denied a voice," he added.
Twitter says it verifies the accounts of "highly sought users in music, acting, fashion, government, politics, religion, journalism, media, sports, business, and other key interest areas".
Mr Healey said he fears that the failure of the company to clamp down on trolling could result in the deaths of vulnerable users.
"People on the [autistic] spectrum do take things literally. I fear for vulnerable young people who go online and face abuse," he said.
"If a troll says, 'Why don't you go and kill yourself?' a child with autism may well take that literally.
One troll found out what street I lived in and said he was going to come and and chop off my legs. I took that very literally - I could hardly leave my house for two months."
Mr Healey added: "Twitter needs to change its policies and its verification process. They have a moral duty to protect people like me."
A Twitter spokeswoman said that the company was unable to comment on individual accounts for privacy and security reasons.
Mr Healey's comments follow the leak of an internal memo in which Twitter's CEO, Dick Costolo, admitted the firm  "sucks" at handling abuse. "I'm frankly ashamed of how poorly we've dealt with this issue," he wrote.
Jim Gamble, the former chief executive of the Child Exploitation and Online Protection Centre, welcomed Twitter's pledge to do more to protect users, but argued that the company's efforts need to be matched by a greater level of intervention from the police.
He said: "The police still lack either the will or the ability to interdict this behaviour in a way that acts as an effective deterrent, unless they're dealing with a celebrity case, in which case they need to be seen to do something."
He added: "If we simply focus on attacking the service provider we miss the point: this is about real people sitting behind computer screens attacking others. The technology doesn't hurt anybody - people do."
Phil Reed, a professor of psychology at Swansea University and expert in online behaviour, has urged Twitter to work more closely with the authorities to combat online abuse.
"A significant minority of people go online because they're depressed or vulnerable or need company," Professor Reed said.
"There is also a smaller number of predators. The virtual world is the perfect environment for these individuals."
"It needs to be made clearer that online behaviour is the same as any other behaviour. If that requires extra legislation then that should be introduced," Professor Reed said.
Eve Thomas, a campaigner for survivors of domestic violence, has also suffered a barrage of abuse via Twitter and condemned the company's "atrocious" safeguarding mechanisms.
Ms Thomas, 46, of Greater Manchester, said: "No matter how much you report the abuse to Twitter it seems nothing's done. You get the standard response back that they have noted it. The account might be suspended but they just create another one."
She added: "Twitter is an unstable social media platform. It has given vulnerable people a voice but has also exposed them to danger.
"Twitter needs to clean up its act. It is a very modern business but their safeguarding is atrocious. As a business it has a duty to safeguard and protect. If it works with other safeguarding professionals this could improve."
Professor Reed said: "I don't think it would be beyond them to introduce ways of tracking down trolls, working with the authorities. I can't see that it's in their interests to be associated with being a good platform for trolls."
For Mr Healey, Twitter will remain a dangerous space until his account has been verified, he said, but he is loathe to deactivate it.
"People say if you can't handle trolling shut your social media account, but that's wrong - then the trolls win," he said.
"How can you ignore something like this when someone is taking away your identity?"
Reuse content