The full scale of the damage being wreaked upon wildlife and ecosystems by flooding can be revealed today, as conservationists warn that Britain could have an "absolutely devastating environment incident" on its hands.
Noxious hydrogen sulphide fumes and lead poisoning are among the threats from floodwater contamination – while animals at almost all stages of the food chain, from insects to small mammals and birds, are already thought to be drowning or dying from lack of food.
Hedgehogs, badgers, voles, worms, birds, wood mice and bumblebees – all are said to be perishing, according to experts.
Many animals could be poisoned by floodwater redistributing pesticides and toxic chemicals from industrial sites, a new report indicates.
The study, published in the journal Science of the Total Environment, links floodplain contamination to lead poisoning in animals for the first time. It found that lead-laden floodwaters were responsible for the death of two young cattle on a West Wales farm in the summer of 2012 by poisoning silage cut from a contaminated field that they consumed.
"When cattle and sheep graze they can sometimes ingest small quantities of soil by accident. Small grains of sediment can also get stuck to the grass as the floodwater recedes," said Dr Paul Brewer of Aberystwyth University, one of the study's authors.
Flooding in England
Flooding in England
1/20 Flooding in Shepperton

The Three Horseshoes Pub in Shepperton. Properties along the Thames Valley were affected by power cuts as the river burst its banks

Charlie Forgham-Bailey

2/20 Flooding in Shepperton

People wade through floodwaters in Thames Meadow, near Shepperton

3/20 Flooding in Shepperton

Sandbags to stop flooding at the Warren Lodge Hotel in Shepperton

Charlie Forgham-Bailey

4/20 Flooding in Shepperton

A Land Rover drives along a flooded street in Shepperton

Getty Images

5/20 Flooding in Shepperton

Dr James Andrews was stranded in his home without electricity since Sunday, but he was rescued yesterday by soldiers

Charlie Forgham-Bailey

6/20 Flooding in Shepperton

Soldiers from the Royal Engineers pull a boat through floodwaters in Thames Meadow, near Shepperton

7/20 Flooding in Shepperton

Many residents' homes in Shepperton are now only accessible by boat.

8/20 Flooding in Bridgwater

Water surrounds flooded propeties in the village of Moorland on the Somerset Levels near Bridgwater

Getty Images

9/20 Flooding in Chertsey

A resident wades through the floodwater that has swept into Chertsey, which lies just west of London

Getty Images

10/20 Flooding in Wraysbury

Firefighters driving through flooding in Wraysbury, Berkshire

11/20 Flooding in Wraysbury

In the normally tranquil village of Wraysbury, residents have rallied round after houses were swamped by floods

12/20 Flooding in Wraysbury

Services personnel assist in the evacuation of a family from their home in Wraysbury

13/20 Flooding in Wraysbury

Members of Royal Berkshire Fire & Rescue squad evacuate a family

Getty Images

14/20 Flooding in Wraysbury

Floodwater reaches a children's playground in Wraysbury

Getty Images

15/20 Flooding in Wraysbury

Labour party leader Ed Miliband talks with resident Peter Horner

16/20 Flooding in Wraysbury

A member of the 1st Battalion of the Royal Regiment of Fusiliers leads his vehicle through flood water in Wraysbury

Getty Images

17/20 Flooding in Worcester

The Severn View Hotel in Worcester surrounded by flood water

18/20 Flooding in Worcester

Swans swimming through a flooded car park at Worcester Racecourse

19/20 Flooding in Datchet

Residents carry sandbags to protect their property from the floods, in the centre of the village of Datchet

20/20 Flooding in Datchet

A man is pulled in a kayak through a flooded street in the village of Datchet
The contaminated material is thought to originate from historical metal mining in the area which was washed downstream from mining sites and lay on the floodplain for years – until rain washed it into the river before it flooded out again downstream. Ecologists say this kind of material can travel hundreds of miles downriver before being washed back on to land.
Matt Shardlow, head of the Buglife insect charity, told The Independent the research highlighted the danger that the floods in the southern England could help spread dangerous materials.
"If the floodwater were to be contaminated with pesticides or other toxic industrial chemicals then there could be an absolutely devastating environment incident," he said.
Hibernating bumblebees, ground beetles and caterpillars are also at risk of "dying at greatly elevated rates everywhere in the UK" because the floods and heavy rainfall are drowning them and interfering with their hibernation, warned Mr Shardlow. Populations of earthworms, snails and beetles along the Thames will be "decimated", he added.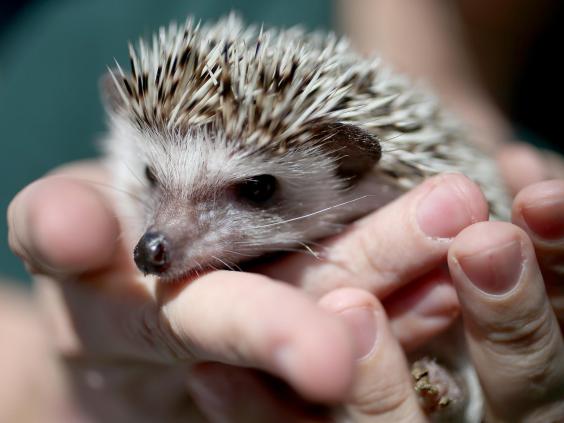 The decline in earthworms could be particularly problematic for the food chain, reducing the food supply for birds such as song thrushes and blackbirds in the spring and summer.
Species in areas that are frequently flooded typically suffer less because they have adapted to the wet – but many normally water-resistant animals could also be killed if the floods carry on for much longer, according to Mr Shardlow. This is because after weeks under water, plants start to decompose and, with oxygen in short supply, give off noxious hydrogen sulphide fumes.
The floods are also bringing further misery to two mammals that are already suffering significant population declines – the hedgehog, whose numbers have rapidly diminished in recent years, in part because of habitat loss, and the badger, which has been the subject of trial culls in the flood-hit counties of Gloucestershire and Somerset.
"Hedgehogs are already undergoing a national decline and the floods just put extra pressure on them. Unless they get to areas of high ground they will drown," said an RSPB spokesman, adding that moles, shrews, field voles and wood mice were also at risk.
Mark Jones, a vet and executive director of the animal protection group the Humane Society International-UK, said: "Badgers will be affected by the floods as most ground-dwelling animals will be. This comes on the back of the disturbance already caused by the culling.
"It may be some time before we have any real idea of the impact of the flooding on wildlife populations but it could be serious," he said.
Given the likely impact of the flooding on the badger populations the Government should commission a very detailed survey of their numbers before deciding whether to proceed with the cull, Mr Jones said.
Yesterday, more than 500 tonnes of debris washed down by floodwaters was pulled from the River Severn.
Severe flood warnings remained in place along the River Thames and in Somerset where water levels continue to rise.
Last night, more rain was forecast for later in the week although it is not expected to reach the levels seen over the past few weeks.
Reuse content