More than 17,000 people have been left without power as a "weather bomb" bringing storm-force winds and giant waves hits the UK.
The electricity supply to the whole of Scotland's Western Isles cut out shortly before 7am and engineers are working to restore it.
Crew members had to be rescued from a Spanish fishing vessel that got into difficulty in churning seas off Orkney this morning. A helicopter was scrambled to answer the O Genita's mayday call after the wheelhouse was hit by huge wave, but had to turn back because of lightning.
The Stromness lifeboat eventually reached the boat and took its crew to safety.
Warnings have been issued across northern England, Wales, Northern Ireland and Scotland urging people to prepare for possible disruption and coastal flooding.
Forecasters at the Met Office have predicted gusts of up to 80mph in exposed areas that could topple trees on to railways and power lines, rip roof tiles off and cause structural damage, as well as "exceptionally large waves" smashing into the western coastline.
A gust of 81mph was recorded in Tiree at 10am while South Uist was hit by a 79mph gust at 9am and Islay by a 77mph wind at 5am, according to the Met Office.
Winds of around 50mph have been recorded in north-west England and North Wales, where yellow "be aware" warnings are in place
Western and northern Scotland will be worst-affected and are covered by an amber warning for wind today, while the rest of the UK is covered by a yellow alert.
The process behind the storm - rapid cyclogenesis, known as a "weather bomb" - is a deep low pressure system moving between Scotland and Iceland.
Police warned that travel conditions in the worst-hit areas of Scotland could be "hazardous", with disruption also expected on ferries, rail services, roads and bridges.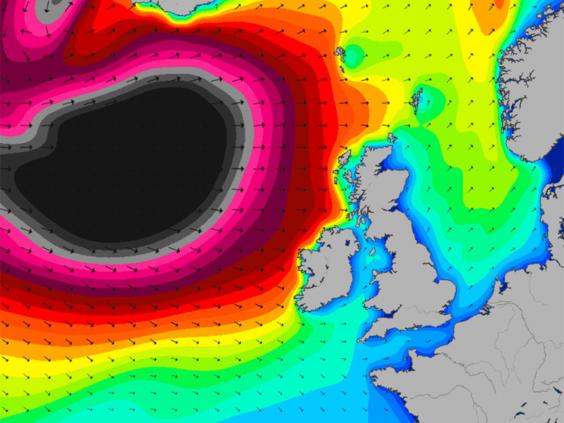 Traffic Scotland said gusts of 70mph have been recorded on the Forth and Tay road bridges while the Met Office recorded a 59mph gust in Lerwick, Shetland, and a 55mph gust in Glasgow.
Causeways and coastal roads exposed to the west are the most dangerous and ferry services are being cancelled because of huge waves and sea swells of up to 40 ft.
Snow showers will also bring an additional danger, mainly over higher ground where several inches could fall.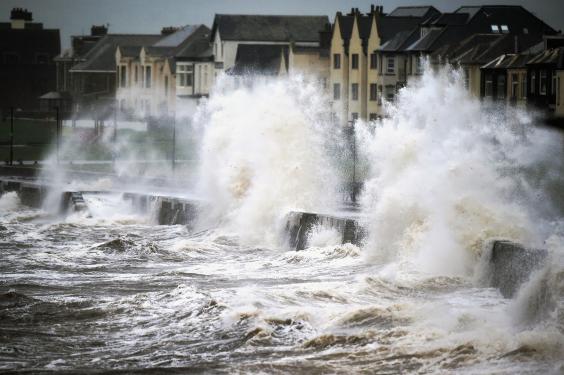 Several train services have been cancelled as a safety precaution and the Scottish Environment Protection Agency has more than 20 flood alerts and warnings in place.
The Forth Road Bridge connecting Edinburgh and Fife could be closed to all vehicles except cars because of the risk of lorries and vans being blown over and access to the Kessock and Skye bridges may also be limited.
In the Western Isles, all school, nurseries, libraries, museums and sports centres have been shut after police advised people not to travel unless it was absolutely necessary.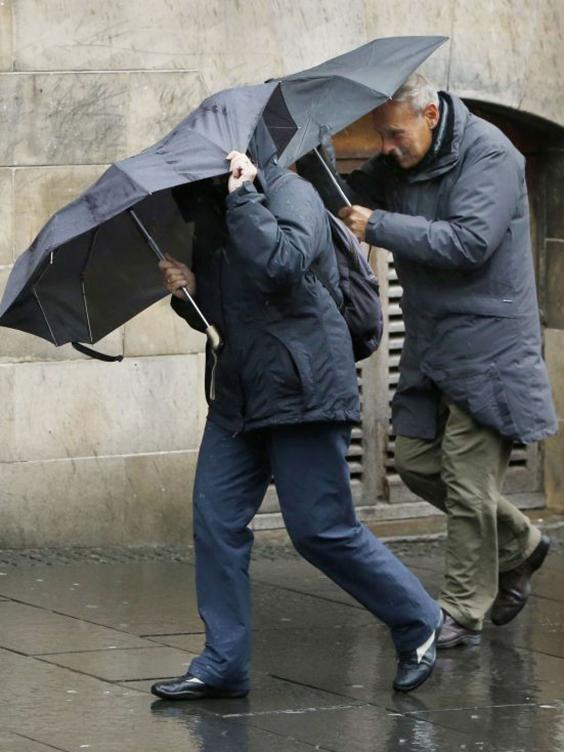 John Swinney, Scotland's Deputy First Minister, urged people across the country to heed travel and safety warnings.
"I am confident we are well-placed to cope," he said.
UK weather warnings
UK weather warnings
1/7 Winter weather

Two seafront walkers dodge an icy wave at Saltcoats Harbour in Saltcoats, Scotland on December 27, 2013. A yellow 'be aware' warning has been issued for many parts of Scotland as the country is affected by gale force winds and heavy rain

Jeff J Mitchell/Getty Images

2/7 Winter weather

A woman wraps up warm to fight the cold in London in 2013. A mixture of hail, snow, sleet and heavy showers is expected in Scotland and northwest England, the West Midlands and Northern Ireland

Getty

3/7 Winter weather

A motorcyclist tries to right his bike on the slippery road surface in London in 2004. The emergency services are advising motorists to be vigilant

Getty

4/7 Winter weather

A man is bombarded by sleet and hail on the Brighton seafront in 2013. The south of England is however expected to escape the brunt of the incoming bad weather

Getty

5/7 Winter weather

A woman wraps up against the wind and a blizzard of sea foam whipped up by the wind near Trearddur Bay in Anglesey, 2013. This year it is to be areas in south west of Wales that will see more "wintry" weather

Getty Images

6/7 Winter weather

Snow covers trees in the Parade Gardens in Bath last year. Heavy snow may bring widespread disruption to many parts of the UK

7/7 Winter weather

Snow and ice make getting around by vehicle difficult in the Yorkshire Dales in 2012. The tops of the moors will see more "wintry" weather on Monday night

John Giles/PA Wire
The "weather bomb" will be followed by plunging temperatures but councils south of the border insisted they were prepared, with gritting lorries out in force and depots filled with about 1.3 million tonnes of salt.
The Met Office warnings for wind run through today and into tomorrow morning and on Friday, the severe weather will move from the north to southern England, the Midlands and Wales.
Additional reporting by PA
Reuse content