A mother's expletive-laden Facebook rant on the frustrations of parenting has gone viral.
Shelley Parkinson posted on Facebook group The Unmumsy Mum a swear-word laden diatribe about helping her nine-year-old daughter with her comprehension homework.
The post, in which she complained about a fictional character called 'Ruth', quickly went viral and attracted 10,000 likes overnight.
But in the wake of its popularity the Facebook group administrator posted Ms Parkinson had been forced to delete the post after being abused online for its language.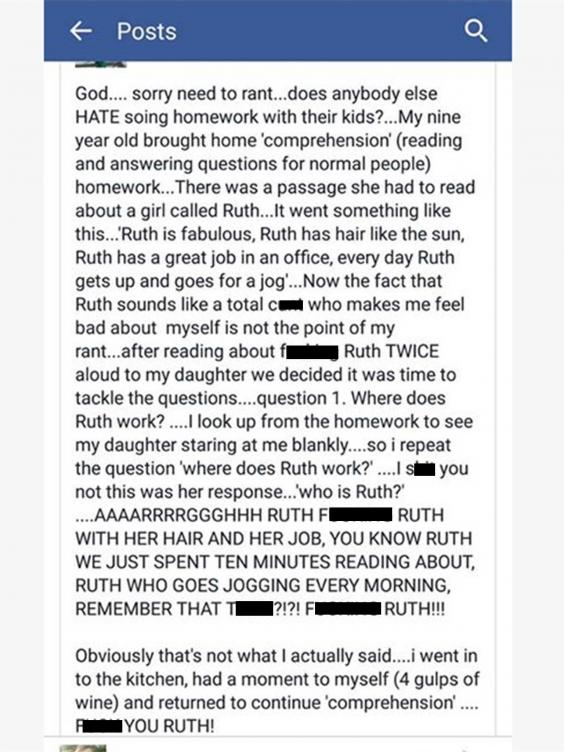 The original post detailed her attempt to help her daughter with her homework, featuring a seemingly perfect woman named Ruth who has "hair like the sun, Ruth has a great job in an office, ever day Ruth gets up and goes for a jog."
Ms Parkinson said the fictional character "sounds like a total c*** who makes me feel bad about myself".  
After reading the piece twice, the mother attempts to help her daughter by asking where Ruth works. Her daughter responds: "Who is Ruth?"
Whereupon the rant erupts into capitals: "AAAARRRRGGGHHH RUTH F*****G RUTH WITH HER HAIR AND HER JOB, YOU KNOW RUTH WE JUST SPENT TEN MINUTES READING ABOUT, RUTH WHO GOES JOGGING EVERY MORNING, REMEMBER THAT T***?!!"
Many mothers voiced their support for Ms Parkinson. "Actually nearly wet myself laughing at these Ruth posts read it out to the husband between giggles and teary eyes," Stephanie Sanderson posted.
Others said the post was "brilliant" and completely the "best thing" they had read all day.
Reuse content