A Labour government led by Jeremy Corbyn would not have policies that were "right for Britain", another Labour leadership candidate has said.
Liz Kendall argued that Mr Corbyn would not adequately address issues such as climate change, equality, and early-years education.
"I don't think his policies are right for Britain in 2015 let alone 2020 and 2025," she told Sky News.
"We've got huge challenges ahead of us as a country – we face great competition in terms of the economy, we need to tackle climate change, we've got to make sure that everyone has the best shot at life when at the moment too many kids fall behind before they've even started school.
"We need to look to the future with new ideas and fresh ideas – that's what I've got to offer."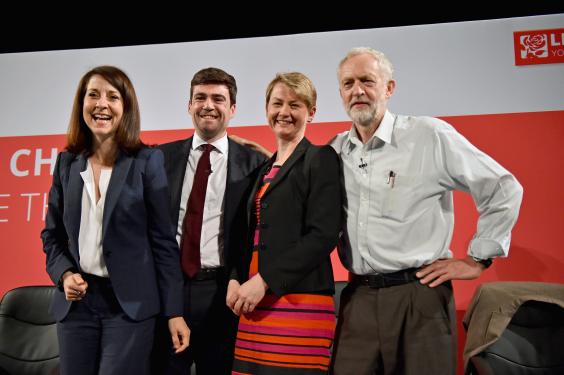 Despite distancing herself from the policies of Labour's leadership frontrunner Ms Kendall however said she had a "love" for her party.
She has previously ruled out serving in the shadow cabinet under Mr Corbyn, though he has said she would be welcome to join.
Ms Kendall has been attacked by some Labour supporters as a "Tory" because of her support for welfare cuts and austere spending plans.
Widely regarded as the centre-right candidate for the Labour leadership, Ms Kendall effectively echoed earlier comments by Tony Blair about Mr Corbyn's political programme.
In a speech last month at the Progress think-tank the former prime minister said he would not want Labour to win an election standing on a left-wing platform.
Labour leadership: The Contenders
Labour leadership: The Contenders
1/4 Jeremy Corbyn

Jeremy Corbyn readily admits he is only standing to ensure the left of the party is given a voice in a contest dominated by candidates promising to move the party towards the centre-ground of British politics

Profiles by Matt Dathan

BBC

2/4 Andy Burnham

Andy Burnham is the current front-runner to win the leadership election according to bookmakers, but the fact that the Conservative party leadership hopes he wins shows the task that awaits if he is Ed Miliband's successor. He will have to find a way of distancing himself from both the last five years under Mr Miliband and the Blair and Brown years, during which he served in the Cabinet

Jon Super

3/4 Yvette Cooper

Yvette Cooper will also face a battle in convincing voters she offers a sufficient break with the past, having served in Gordon Brown's Cabinet and she played a key role in Mr Miliband's team as shadow home secretary. The fact that her husband is Ed Balls will not have a negative impact internally but voters are not likely to look favourably on the prospect of Mr Miliband's ousted shadow chancellor entering Downing Street if Ms Cooper wins in 2020

Getty Images

4/4 Liz Kendall

Liz Kendall faces criticism over her lack of experience – she was only elected in 2010 and has no experience of serving in government and wasn't even in Ed Miliband's shadow cabinet. But that very lack of experience means she can make a pitch as the only candidate offering real change and a real break from the Blair/Brown/Miliband years

Getty Images
"Let me make my position clear: I wouldn't want to win on an old-fashioned leftist platform. Even if I thought it was the route to victory, I wouldn't take it," he said.
"Even if you did [win] it wouldn't be right because it wouldn't take the country forward, it would take it backwards. That's why it's not the right thing to do."
He attacked the politics of Mr Corbyn's supporters as "reactionary" and said those that believed in their heart that the left-winger was right should "get a heart transplant".
Polls released last month showed Mr Corbyn with a 20-point lead over his competitors for the Labour leadership contest. The other contenders for the role, set to be announced next month, are Andy Burnham and Yvette Cooper.
Reuse content