The SNP would be prepared to set aside the party's convention that its MPs do not vote on English-only laws in order to support a minority Labour government, the former Scottish First Minister Alex Salmond has indicated.
In an interview with The Independent, Mr Salmond suggested that SNP MPs could rethink their normal practice of abstaining in English-only legislation at Westminster if their support was required to prop up a minority Labour administration after the May general election.
Such an arrangement – on a "vote by vote" basis – could allow Ed Miliband to survive as prime minister, if Labour emerges as the party with the largest number of UK seats but is outpolled by the Conservatives south of the border. The tactic would infuriate the Tories, who could accuse parties with minority support in England of driving through policies that affect only English constituencies.
"I would lay odds on a balanced parliament," Mr Salmond said. "That's an opportunity to have delivered to Scotland what we have been promised."
He pointed to two pieces of legislation not directly affecting Scotland – the introduction of foundation hospitals and tuition fees – which he had opposed when he was an MP. "There will be many things that come across the Westminster desk that would be of little moment to Scottish people, but will be of great moment to the government of the day," he added.
In pictures: Alex Salmond's campaign for Scottish independence
In pictures: Alex Salmond's campaign for Scottish independence
1/9 The campaign for independence

Alex Salmond stepped down as Scotland's First Minister and the leader of the SNP after the country voted no to independence

Getty Images

2/9 The campaign for independence

Alex Salmond said he accepted 'the democratic verdict of the people'

PA

3/9 The campaign for independence

First Minister of Scotland Alex Salmond chats to school children at Strichen Primary School in Strichen

PA

4/9 The campaign for independence

Scotland's First Minister Alex Salmond delivers his final independence speech to supporters in Perth

EPA

5/9 The campaign for independence

On the last day of campaigning before the polling booths open, the SNP leader has written to voters in a final attempt to convince them to vote for independence

Getty

6/9 The campaign for independence

It was decided to give Alex Salmond, free of charge and for nothing, an extra year in government

AFP

7/9 The campaign for independence

Alex Salmond and Alistair Darling taking part in a live television debate in Glasgow on 25 August

Getty Images

8/9 The campaign for independence

Alex Salmond during the live television debate with Alistair Darling at the Royal Conservatoire of Scotland on 5 August in Glasgow

Getty

9/9 The campaign for independence

Scottish First Minister Alex Salmond presents the White Paper for Scottish independence

Getty Images
Mr Salmond, who is bidding to return to the Commons next year, forecast that a "barrel-load" of SNP MPs would win seats at the general election. His optimism has been reinforced by opinion polls suggesting the SNP is on course to make sweeping gains, potentially boosting its number of MPs from six to between 20 and 30.
Mr Salmond, who announced his resignation as SNP leader and First Minister hours after voters rejected independence, will be standing in the Aberdeenshire seat of Gordon in May. He said he had decided to turn his attention to Westminster because it was likely that no overall election victor would emerge and a large group of SNP MPs could as a result wield heavy influence.
Mr Salmond said the party's key objectives in post-election negotiations at Westminster would be to ensure the UK's political leaders kept their promises to transfer powers to Scotland and to champion "progressive values" such as the living wage and opposing Trident's renewal.
He also signalled that his price for SNP backing would be the full and unambiguous devolution of powers over tax, spending and welfare promised by the leaders of the main UK parties in the final dramatic days of the independence campaign.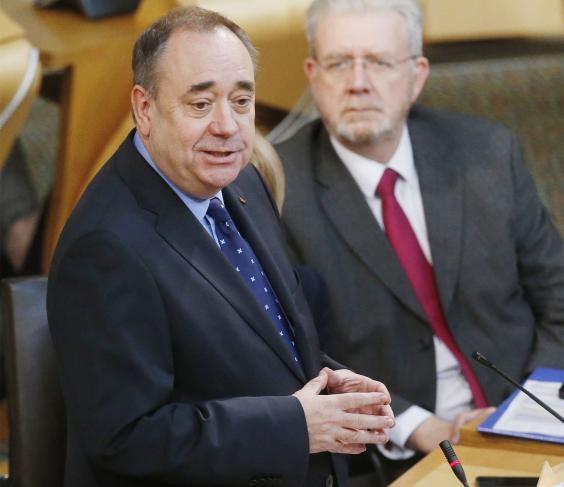 He said he drew inspiration from Charles Stewart Parnell, who took advantage of the parliamentary "logjam" in the 1880s to advance the cause of Irish home rule.
Mr Salmond's hint that the SNP's convention of abstaining on English-only Bills is not set in stone increases the likelihood of the party becoming a major power broker after polling day on 7 May.
The SNP, which plans to make common cause with Plaid Cymru and Green Party MPs, would also "align with progressive forces to seek progressive gains for people across these islands", he said.
He cited opposition to the renewal of the Trident nuclear submarine fleet and support for the devolution of living wage rates as examples of SNP policy priorities.
And he repeated his party's refusal to co-operate in a hung parliament with David Cameron, who linked the principle of "English Votes for English Laws" with Scottish devolution immediately after the independence result.
"We won't give succour, help, assistance to the Conservative Party and the reason is David Cameron waltzing out of Downing Street and showing his true face the morning after the referendum," he said.
Mr Salmond said he had still believed on referendum day that the Yes campaign would secure a clear majority of around 52 or 53 per cent. When Clackmannanshire became the first area to declare – and rejected separation – he knew the game was up. "I have had better moments – I wouldn't dispute that for a moment," he said.
But he insisted the "invigorating and enabling" campaign had unlocked political passions across Scotland and pointed to SNP membership figures which have leapt in three months from 25,000 to more than 93,000.
"I wasn't surprised when it doubled, but I was extremely surprised when it quadrupled. It's a phenomenon," he said.
"The [campaign] legacy is hugely important and I suppose that's only dawning on our opponents. They seem very irritated you can lose a referendum and win a campaign."
A less welcome personal legacy is the repetitive strain injury Mr Salmond suffers in his right hand. He will take a Christmas break with his wife, Moira, but then return to the political fray fully focused on translating the SNP's surge of support in Scotland to having influence at Westminster. He said: "I have been doing a lot of thinking and preparation. It is one thing to say Scotland can win through the process, it's another to make sure that happens."