Up to 30,000 new civil servants need to be hired to cope with the immense workload generated by Brexit, according to a report that found Theresa May's Government has no coherent plan for Britain's departure from the European Union.
A leaked document obtained by The Times, titled "Brexit Update", warns that a recruitment drive was progressing too slowly because of threats from the Cabinet Office and Treasury that departments will have to make existing budgets cover the cost.
"Despite extended debate among permanent secretaries, no common strategy has emerged," says the memo, warning that more than 500 Brexit-related projects were "beyond the capacity and capability" of Government.
"Every department has developed a 'bottom-up' plan of what the impact of Brexit could be - and its plan to cope with the 'worst case'. 
"Although necessary, this falls considerably short of having a 'government plan for Brexit' because it has no prioritisation and no link to the overall negotiation strategy."
The report, dated 7 November, is understood to have been prepared for the Cabinet Office by a consultant under his own initiative, The Times reports.
It also criticises the Prime Minister for "drawing in decisions and details to settle matters herself", amid cabinet splits between three leading Leave campaigners, Foreign Secretary Boris Johnson,Brexit Secretary David Davis and International Trade Secretary Liam Fox on one side, and Chancellor Philip Hammond and Business Secretary Greg Clark on the other.
The report warns that big companies will "point a gun at the Government's head" after Nissan was given assurances about trading conditions once Britain leaves the EU.
It was unclear if the document had been seen by anyone in government and there were reports it may have been a pitch for work by a consulting firm.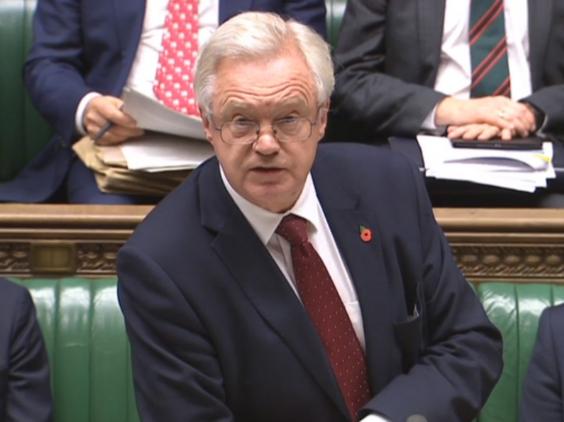 Tim Farron, the Liberal Democrat leader, called for the Government to urgently answer "key questions" on the terms of Brexit, including the common market.
"This shambles at the heart of government confirms that the only reason Theresa May won't tell us her Brexit plan is because she doesn't have one," he said.
"Her Government is heading for the worst possible outcome: a reckless, destructive Brexit that will do untold damage to British jobs and the economy."
Appearing on BBC Radio 4's Today programme, Chris Grayling said he had "no idea" where the report – reportedly drawn up by Deloitte – came from.
"My own experience is very different to that," the Transport Secretary said. "I simply don't see the nature of the challenge that is described this morning."
He added that he could not put an "exact number" on the number of extra staff needed to implement the change but would not put it in the tens of thousands.

Responding to the report, a Government spokesperson said: "This is not a Government report and we don't recognise the claims made in it.
Brexit Concerns
Brexit Concerns
1/22

British Prime Minister Theresa May

Getty

2/22

Lead campaigner Gina Miller and her team outside the High Court

Getty

3/22

Raymond McCord holds up his newly issued Irish passport alongside his British passport outside the High Court in Belfast following a judges dismissal of the UK's first legal challenges to Brexit

PA wire

4/22

SDLP leader Colum Eastwood leaving the High Court in Belfast following a judges dismissal of the UK's first legal challenges to Brexit

PA wire

5/22

Migrants with luggage walk past a graffiti on a wall as they leave the 'Jungle' migrant camp, as part of a major three-day operation planned to clear the camp in Calais

Getty

6/22

Migrants leave messages on their tents in the Jungle migrant camp

Getty

7/22

The Adventist Development and Relief Agency (Adra) which distributes approximately 700 meals daily in the northern Paris camp states that it is noticing a spike in new migrant arrivals this week, potentially linked the the Calais 'jungle' camp closure - with around 1000 meals distributed today

EPA

8/22

Migrant workers pick apples at Stocks Farm in Suckley, Britain

Reuters

9/22

Many farmers across the country are voicing concerns that Brexit could be a dangerous step into the unknown for the farming industry

Getty

10/22

Bank of England governor Mark Carney who said the long-term outlook for the UK economy is positive, but growth was slowing in the wake of the Brexit vote

PA

11/22

The Dow Jones industrial average closed down over 600 points on the news with markets around the globe pluninging

Getty

12/22

Immigration officers deal with each member of the public seeking entry into the United Kingdom but on average, 10 a day are refused entry at this London airport and between 2008 and 2009, 33,100 people were detained at the airport for mainly passport irregularities

Getty

13/22

A number of global investment giants have threatened to move their European operations out of London if Brexit proves to have a negative impact on their businesses

Getty

14/22

Following the possibility of a Brexit the UK would be released from its renewable energy targets under the EU Renewable Energy Directive and from EU state aid restrictions, potentially giving the government more freedom both in the design and phasing out of renewable energy support regimes

Getty

15/22

A woman looking at a chart showing the drop in the pound (Sterling) against the US Dollar in London after Britain voted to leave the EU

Getty

16/22

Young protesters outside the Houses of Parliament in Westminster, to protest against the United Kingdom's decision to leave the EU following the referendum

Getty

17/22

Applications from Northern Ireland citizens for Irish Passports has soared to a record high after the UK Voted in favour of Leaving the EU

Getty

18/22

NFU Vice President Minette Batters with Secretary of State, Andrea Leadsome at the National Farmers Union (NFU) took machinery, produce, farmers and staff to Westminster to encourage Members of Parliament to back British farming, post Brexit

Getty

19/22

The latest reports released by the UK Cabinet Office warn that expats would lose a range of specific rights to live, to work and to access pensions, healthcare and public services. The same reports added that UK citizens abroad would not be able to assume that these rights will be guaranteed in the future

Getty

20/22

A British resident living in Spain asks questions during an informative Brexit talk by the "Brexpats in Spain" group, about Spanish legal issues to become Spanish citizens, at the town hall in Benalmadena, Spain

Reuters

21/22

The collapse of Great Britain appears to have been greatly exaggerated given the late summer crowds visiting city museums, hotels, and other important tourist attractions

Getty

22/22

The U.K. should maintain European Union regulations covering everything from working hours to chemicals until after the government sets out its plans for Brexit, said British manufacturers anxious to avoid a policy vacuum and safeguard access to their biggest export market

Getty
"We are focused on getting on with the job of delivering Brexit and making a success of it."
Meanwhile, Mrs May has received a boost to her plan to trigger Article 50 of the EU treaties to begin the process of leaving the bloc by April.
Labour has pledged not to block or delay it and called for a "more positive" view of Brexit, despite calls by some MPs for a second referendum on the terms of Britain's departure.
In a speech in London on Tuesday, shadow Chancellor John McDonnell will say: "We must not try to re-fight the referendum or push for a second vote. And if Article 50 needs to be triggered in Parliament, we will not seek to block or delay it.
"To do so would put Labour against the majority will of the British people and on the side of certain corporate elites, who have always had the British people at the back of the queue."
He will say Labour should "embrace the enormous opportunities to reshape our country that Brexit has opened for us", adding: "In that way we can speak again to those who were left behind and offer a positive, ambitious vision instead of leaving the field open to divisive Trump-style politics."
Additional reporting by PA
Reuse content