The political situation in Britain could "boil over" without electoral reform to make all votes count towards the result, a senior Labour backbencher has warned.
Chukka Umunna said that unless the voting system was changed to one that properly reflected votes cast a "pi***d off" general public would become ever more disengaged – with potentially serious consequences. 
The warning comes the same day as a poll by YouGov found that a significant minority of the British public would trust senior military generals to "restore stability" in the event political turmoil.
Mr Umunna made his comments a cross-party summit organised by Make Votes Matter to discuss how to achieve a reformed voting system by 2021.
"Everybody is pi***d off with our democratic system, which is in crisis. They are disillusioned with it. Frankly that is what this campaign is about – it's about fixing our democratic system," he told the conference.
"Until we fix the system I don't think we're going to be able to do anything about that.
"It is not sustainable to carry on with First Past the Post: I honestly think that if we do not fix this there is a serious danger in the future that things will boil over when people don't feel they have a voice."
Other speakers included Ukip's Home Affairs spokesperson Diane James, who warned that after her party was awarded one MP despite achieving 4.4 million votes, many Ukip voters had come to feel that "their vote doesn't have a value".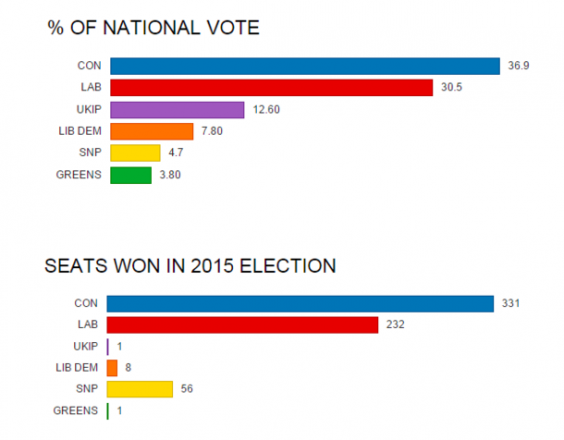 The 2015 general election was branded the "least proportional ever" by the Electoral Reform Society because of the huge disconnect between the votes cast and which parties were awarded seats.
Another pro-reform Labour MP, Stephen Kinnock, warned that the current voting system –which relies on a small number of swing seats – distorted how governments made policy and where they spent money.
"It's very important to make that clear and causal link and the way in which political and economic priorities are set," he said.
General election 2015: Polling day
General election 2015: Polling day
1/16 General election 2015

Nuns arrive to vote at a polling station at St John's Church in Paddington, London

2/16 General election 2015

A voter leaves the White Horse Inn in Priors Dean, also known as the 'Pub with no name', which is part of the East Hampshire constituency and acts as a local polling station on the day of the election

3/16 General election 2015

General view of inside the White Horse Inn in Priors Dean

4/16 General election 2015

People cast their votes as a man uses a punch bag in the East Hull Boxing Academy, which is being used as a polling station in Hull

5/16 General election 2015

Penny Higbee waits to greet voters at her home in Routh, East Yorkshire, which is being used as a rural polling station

6/16 General election 2015

Voters in Ironbridge, Shropshire, arrive to cast their vote at The Iron Bridge Tollhouse

7/16 General election 2015

A voter arrives at the North West Ambulance Service Station at Milton Green, Cheshire, which is being used as a polling station as Britain goes to the ballot box

8/16 General election 2015

A polling station has been installed in a launderette in Oxford

9/16 General election 2015

SNP candidate for the Gordon constituency and Former First Minister Alex Salmond with first time voter Nicki Falconer, and her family, (L-R) Mackenzie, Nicki, Skye, Alex Salmond and Keiran at their local polling station in the Gordon constituency in Ellon, Scotland

10/16 General election 2015

Prime Minister David Cameron and wife Samantha after casting their votes at Spelsbury Memorial Hall, Witney

11/16 General election 2015

Liberal Democrat leader and Deputy Prime Minister Nick Clegg and his wife Miriam Gonzalez Durantez arrive at Hall Park Hill Community Centre to cast their votes, in Sheffield

12/16 General election 2015

Labour Party leader Ed Miliband and his wife Justine Thornton leave the polling station at Sutton Village Hall in Sutton after casting their votes in the 2015 general election in Doncaster

13/16 General election 2015

First Minister of Scotland and leader of the SNP Nicola Sturgeon, votes with her husband Peter Murrell in Glasgow, Scotland

14/16 General election 2015

Ukip leader Nigel Farage arrives to cast his vote for the South Thanet constituency in Ramsgate

15/16 General election 2015

Plaid Cymru leader Leanne Wood arrives at a polling station in Penygraig, Rhondda, Wales

16/16 General election 2015

Green Party leader Natalie Bennett after casting her vote at Ossulston Tenants' Hall, London
"I think FPTP is a system which truly distorts the way economic resources are distributed across the country, we end up focusing on approximately 120 marginal seats and that skews resources and massively skews ways in which governments behave."
Proponents of the current electoral system say that it tends to produce majority governments even when people do not vote for them.
Reformers in Labour are trying to get the party to adopt a pro-proportional representation policy system – and to make a joint pledge with the SNP, Plaid Cymru, Liberal Democrats, Green Party, and Ukip to act together after the next election.
Labour's Jeremy Corbyn has previously said he is open to examining the idea of reform but has stopped short of making a commitment to it. Some Labour MPs and activists are strongly opposed to reform.
Though the specifics of any potential cross-party deal are yet to be agreed, one SNP MP present, Tommy Sheppard suggested that if the public gave all these parties a mandate for reform the system could be changed without a referendum.
He said that alternatively, a referendum could be held of the principle of whether seats awards should match votes – and that a further referendum or constitutional convention could decide on the exact system to be used.
Polling by BMG conducted in December for the Electoral Reform Society found that 57 per cent of the public agree with the principle that "the number of seats a party gets should broadly reflect its proportion of the total votes cast" – compared to only 9 per cent who disagree.
Some reformers believe a broader referendum question on the principle of reform could avoid the pitfalls of the Alternative Vote referendum, where change to that non-proportional system was rejected by the public. 
The PR Alliance hopes to bring together reformers from all parties to achieve proportional representation "by 2021" - direclty after the next general election.
Reuse content