David Cameron will mount a passionate defence of big business, declaring that "profit is not a dirty word" as he hits back at Ed Miliband following his attacks on energy suppliers.
In his closing speech to the Conservative conference in Manchester, the Prime Minister will draw clear dividing lines between his party and Labour, accusing it of going backwards under Mr Miliband to the statist and anti-enterprise party it was before the Blair era.
Mr Cameron will say: "We know that profit, wealth creation, tax cuts, enterprise … are not dirty, elitist words. They're not the problem, they really are the solution because it's not government that creates jobs, it's businesses. [They] get wages in people's pockets, food on their tables, hope for their families and success for our country."
He will stress that the Conservatives are the party of "responsible businesses" and the champion of small as well as big enterprise.
He is expected to avoid what the Tories see as a "Labour trap" by refusing to defend the "big six" energy companies after Mr Miliband's conference pledge to freeze gas and electricity prices for 20 months if Labour wins the election in 2015.
Mr Cameron has promised legislation to ensure householders are put on the lowest tariff, and in a BBC interview last weekend he hinted at making the energy firms more competitive and at possible regulatory changes. Labour has pledged to scrap the regulator Ofgem, while the Tories may also try to water down the industry's environmental commitments in an attempt to keep down bills.
On the eve of the Prime Minister's speech, Labour accused him of being "out of touch" after he admitted not knowing the price of a supermarket loaf of bread – because he bakes his own.
Interviewed on LBC 97.3 radio, he guessed that a loaf would cost more than £1, only to be told it was 47p. Describing how he makes bread at his Oxfordshire home, he said: "You set the timer overnight so when you wake up there is this wonderful smell wafting through your kitchen."
The Prime Minister will return Labour's fire by dismissing what the Tories have dubbed "gimmicks" such as Mr Miliband's energy price freeze.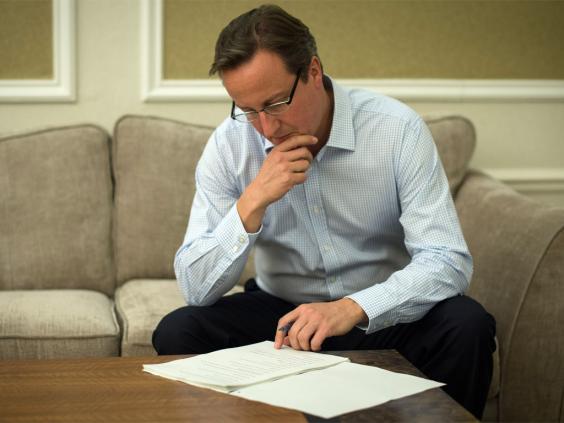 "There is no shortcut to a land of opportunity," he will say. "No quick fix, no easy way to do it. You build it business by business, school by school, person by person, patiently, practically, painstakingly."
In interviews, Mr Cameron warned that public spending could be frozen in real terms during the 2015-20 parliament and argued that the best way to tackle the "cost of living crisis" was to give people tax cuts.
He will use his speech to define his "mission" as building a "land of opportunity for all" as he tries to dispel the idea that the Tories are "the party for the rich" and sets out the offer he will make to voters in 2015. After completing a "rescue mission" on the economy, he now wants to describe what he would do in better times.
"I didn't come into politics just to fix what went wrong, but to build something right," he will say. "We in this party, we don't dream of deficits and decimal points and dry fiscal plans. Our dreams are about helping people get on in life, aspiration, opportunity."
Mr Cameron will add: "Finishing the job is about more than clearing up the mess we were left. It means building something better in its place. In place of the casino economy, one where people who work hard can actually get on. In place of the welfare society, one where no individual is written off. In place of the broken education system, one that gives every child the chance to rise up and succeed."
He will seek to reclaim the "one nation" mantle from Labour by promising that his vision would mean it made "no difference whether you live in the North or the South, whether you're black or you're white, a man or a woman, the school you went to, the background you have, who your parents were…what matters is the effort you put in, and if you put the effort in you'll have the chance to make it."
Mr Cameron will also try to reassure his own party that he is not angling for a second coalition with the Liberal Democrats.
He will argue that Britain needs a strong government with a clear mandate that is accountable for what it promises and delivers. "We won't be campaigning for a coalition, we will be fighting heart and soul for a majority Conservative government," he will say.
Attacking Labour's approach, he will argue that the country needs "a bigger society, not a bigger state." He will add: "You can't conjure up a dynamic economy, a strong society, fantastic schools all with the stroke of a minister's pen. It takes a mixture of hard work, common sense and, above all, the right values."