David Cameron has been accused of silently dragging Britain into another conflict in the Middle East without parliamentary approval or oversight.
Angus Robertson, the Scottish National Party's leader at Westminster, said the Prime Minister should admit to British involvement in Saudi Arabia's invasion of Yemen – where the UK is providing arms, training and advice.
The call comes as new figures released by the Government show that British bomb and missile exports to Saudi Arabia have increased by 11,000 per cent from £9 million to £1 billion over three months last year. 
Saudi Arabia has been accused of war crimes by human rights groups and the legality of British military assistance to the country has been questioned by campaigners.
"Thousands of civilians have been killed in Yemen, including a large number by the Saudi air force and they've done that using British-built planes, with pilots who are trained by British instructors, dropping British-made bombs, who are coordinated by the Saudis in the presence of British military advisors," Mr Robertson said during Prime Minister's Questions.
"Isn't it time for the Prime Minister to admit that Britain is effectively taking part in a war in Yemen that is costing thousands of civilians lives and he has not sought parliamentary approval to do this?"
The Prime Minister rejected the suggestion that the UK was taking part in the conflict but admitted that British advisors had a role in Saudi Arabia.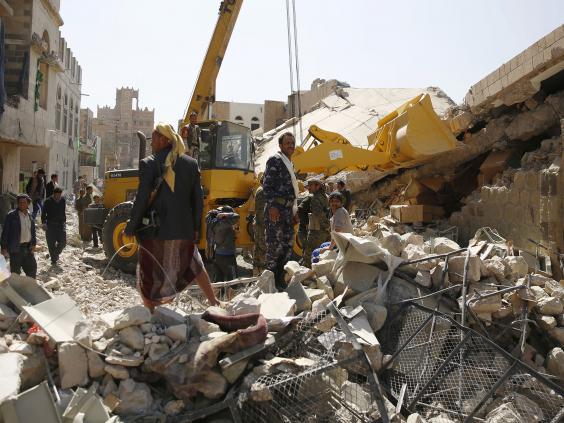 "I think the Right Honourable Gentleman started in a serious place and then wondered off. It's in our interest to back the legitimate government of Yemen. We have some of the most stringent arms control procedures of any country in the world," he replied.
"Just to be absolutely clear about our role: we're not a member of the Saudi-led coalition, British military personnel are not directly involved in the Saudi-led coalition's operations, personnel are not  involved in carrying out strikes, directing or conducting operations in Yemen or selecting targets and we're not involved in the Saudi targeting decision making process.
"But yes – do we provide advice, help and training in order to make sure that countries actually do obey the norms of humanitarian law? Yes we do."
10 examples of Saudi Arabia's human rights abuses
10 examples of Saudi Arabia's human rights abuses
1/10

In October 2014, three lawyers, Dr Abdulrahman al-Subaihi, Bander al-Nogaithan and Abdulrahman al-Rumaih , were sentenced to up to eight years in prison for using Twitter to criticize the Ministry of Justice.

AFP/Getty Images

2/10

In March 2015, Yemen's Sunni President Abd-Rabbu Mansour Hadi was forced into exile after a Shia-led insurgency. A Saudi Arabia-led coalition has responded with air strikes in order to reinstate Mr Hadi. It has since been accused of committing war crimes in the country.

Getty Images

3/10

Women who supported the Women2Drive campaign, launched in 2011 to challenge the ban on women driving vehicles, faced harassment and intimidation by the authorities. The government warned that women drivers would face arrest.

Getty Images

4/10

Members of the Kingdom's Shia minority, most of whom live in the oil-rich Eastern Province, continue to face discrimination that limits their access to government services and employment. Activists have received death sentences or long prison terms for their alleged participation in protests in 2011 and 2012.

Getty Images

5/10

All public gatherings are prohibited under an order issued by the Interior Ministry in 2011. Those defy the ban face arrest, prosecution and imprisonment on charges such as "inciting people against the authorities".

Getty Images

6/10

In March 2014, the Interior Ministry stated that authorities had deported over 370,000 foreign migrants and that 18,000 others were in detention. Thousands of workers were returned to Somalia and other states where they were at risk of human rights abuses, with large numbers also returned to Yemen, in order to open more jobs to Saudi Arabians. Many migrants reported that prior to their deportation they had been packed into overcrowded makeshift detention facilities where they received little food and water and were abused by guards.

Getty Images

7/10

The Saudi Arabian authorities continue to deny access to independent human rights organisations like Amnesty International, and they have been known to take punitive action, including through the courts, against activists and family members of victims who contact Amnesty.

Getty Images

8/10

Raif Badawi was sentenced to 1000 lashes and 10 years in prison for using his liberal blog to criticise Saudi Arabia's clerics. He has already received 50 lashes, which have reportedly left him in poor health.

Carsten Koall/Getty Images

9/10

Dawood al-Marhoon was arrested aged 17 for participating in an anti-government protest. After refusing to spy on his fellow protestors, he was tortured and forced to sign a blank document that would later contain his 'confession'. At Dawood's trial, the prosecution requested death by crucifixion while refusing him a lawyer.

Getty Images

10/10

Ali Mohammed al-Nimr was arrested in 2012 aged either 16 or 17 for participating in protests during the Arab spring. His sentence includes beheading and crucifixion. The international community has spoken out against the punishment and has called on Saudi Arabia to stop. He is the nephew of a prominent government dissident.

Getty
Saudi Arabia is intervening in Yemen to fight Houthi rebels, who control the country's capital but are not internationally recognised as its government. The Kingdom was asked to join the conflict by the country's Government, which has been pushed out of much of the country's heartland.
Criticism of the Saudi military operation have however included the bombing of multiple hospitals run by the charity Médecins Sans Frontières and the deaths of thousands of civilians, including 130 at a single wedding.
While international observers have recognised abuses on all sides, in late December UN human rights chief Zeid Raad al-Hussein said that a "disproportionate" number of attacks of civilians in Yemen had come from the Saudi-led invasion force.
"I have observed with extreme concern the continuation of heavy shelling from the ground and the air in areas with high a concentration of civilians as well as the perpetuation of the destruction of civilian infrastructure – in particular hospitals and schools – by all parties to the conflict, although a disproportionate amount appeared to be the result of airstrikes carried out by Coalition Forces," Mr Zeid said.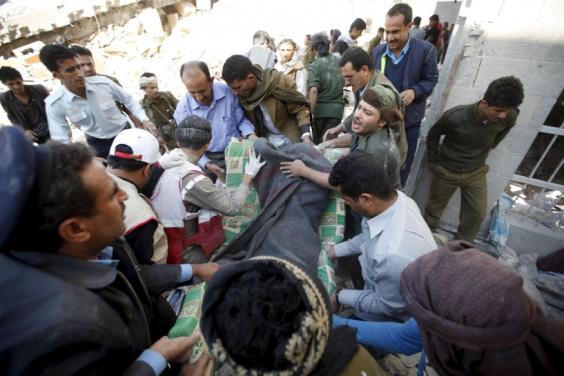 Human rights group Amnesty International UK has also accused the Government of ignoring "overwhelming evidence" of civilian targeting by the Saudi Arabian air force.
"Angus Robertson has raised an important point about the UK's involvement in Saudi Arabia's indiscriminate bombing campaign in Yemen, a campaign we're told involves British advisers actually located in the Saudi 'control room'," said Allan Hogarth, the group's head of Policy and Government Affairs.
"Thousands of Yemeni civilians have already been killed in a barrage of indiscriminate Saudi airstrikes in the country and whatever advice Britain has been giving to the Saudis has apparently done little to prevent this appalling death toll.
"Meanwhile, the UK is selling billions of pounds worth of weapons to the Saudis in the full knowledge of the grave risk that they'll be used to kill Yemeni civilians.
"Instead of brushing aside Mr Robertson's questions, the prime minister should immediately suspend export licences for all further UK arms bound for Saudi Arabia and allow a full investigation into allegations of serious breaches of international humanitarian law by Saudi Arabia in Yemen."