Only those earning more than £50,000 a year will be able to afford to buy one of David Cameron's 200,000 new "starter homes", according to housing charity Shelter, with the figure rising to £77,000 in London. 
"Our research has proven that the government's plans only work if you're well off, and don't plan on starting a family."
The charity calculated that the new scheme to increase lower-cost home ownership, which the Prime Minister will put at the heart of his first Conservative party conference speech as a majority leader, will be unaffordable for average income households in six out of ten English council areas. 
For those who will be on the new living wage of £9 an hour in 2020, the homes will only be affordable in just 2 per cent of councils.
The research undermines Mr Cameron's pledge to help young people by turning "generation rent to generation buy".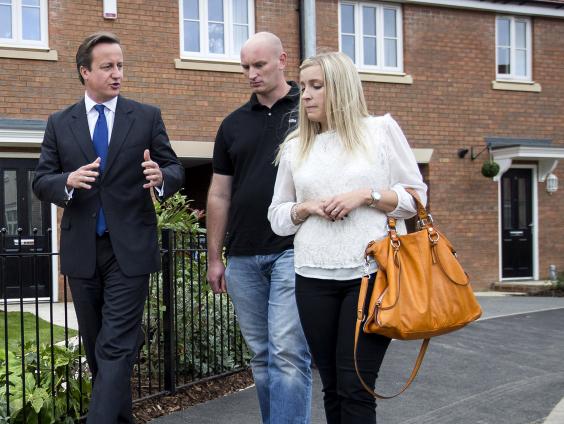 Last year Mr Cameron pledged to build 100,000 a year and doubled it to 200,000 a year by 2020 in the Tory election manifesto. 
Today he will set out in more detail how the Government will pursue a "national crusade to get homes built" by introducing incentives for developers to build more affordable homes by relaxing planning restrictions. 
However Campbell Robb, chief executive of Shelter, said the new scheme would only benefit those already able to buy a home.  
"You don't solve an affordability crisis by getting rid of the few affordable homes we're building, yet that's exactly what this policy will do.
"Today's announcement confirms our fears that Starter Homes costing up to £450k will be built at the expense of the genuinely affordable homes this country desperately needs. Our research has shown that these Starter Homes will too often only be 'affordable' for higher earners, not the millions of people working hard for an average wage who will be left stuck in expensive private renting.
"There's nothing wrong with helping people on to the property ladder, but the government has to invest in genuinely affordable homes to buy and rent for all of those on ordinary incomes who are bearing the brunt of this crisis."
Last year, 141,000 homes were built across the UK – just over half the number that experts say is needed to prevent house prices continuing to spiral.
In his speech, Mr Cameron will announce the first steps towards increasing housing supply by allowing developers to build affordable homes to sell – as well as to rent – under their planning obligations.
David Cameron's biggest controversies
David Cameron's biggest controversies
1/8 Pig-gate

A book released by Conservative peer Lord Ashcroft alleged that an MP and Oxford contemporary of David Cameron had allegedly seen a photograph of Mr Cameron performing a sex act on a pig while at university. Downing Street did not comment on the allegations and the peer said they could have been a case of mistaken identity

David Hartley/REX Shutterstock

2/8 'Swarm' of migrants

In July 2015 David Cameron referred to refugees coming into Europe from the Middle East and North Africa as a "swarm". He was criticised for using the language, which critics said was dehumanising

Getty

3/8 Child tax credits

In April 2015 David Cameron was asked whether he'd cut child tax credits. "No, I don't want to do that," he said, saying that he rejected reports that he would. Shortly after the election the Government unveiled cuts to child tax credits

EPA

4/8 Cycling to work

As leader of the opposition David Cameron was regularly photographed cycling to work. In early 2006 he was photographed cycling but with a driver in a car carrying his belongings. It was suggested at the time the cycling was just for show and that having two vehicles on the road instead of one was wasteful

Rex

5/8 Andy Coulson

David Cameron employed former News of the World editor Andy Coulson as government communications director from 2010. After stepping down from the post due to coverage of the phone hacking affairs, Mr Coulson was later found guilty of conspiracy to intercept voicemails. He served a short prison sentence

AFP

6/8 His personal windmill

Early in his leadership of the Conservative David Cameron made an effort to change the party's image by making eco-friendly gesures. As one of these gestures, the future PM put a wind turbine on his house. However, the turbine later had to be removed after neighbours condemned it as an eyesore and the council's planning committee said it had been put in the wrong place

Getty

7/8 Funeral selfie

David Cameron was pictured posing for a 'selfie' with Danish PM Helle Thorning-Schmidt and Barack Obama at Nelson Mandela's funeral. Some in the press criticised the prime minister for showing in an inappropriately low level of respect for the gravity of the occasion

AFP/Getty Images

8/8 Eating a hotdog with a knife and fork

The Prime Minister was pictured eating a hotdog with a knife and fork in the run up to the 2015 general election. He was accused of being "posh". "I had a very privileged upbringing... I've never tried to hide that," he said

Reuters
Currently, developers are required to set aside a certain proportion of their site to be used for affordable rental properties – or pay councils to waive their obligation. 
In future, they will be able to sell these homes at a 20 per cent discount on other properties in the same site. The Government will impose a cap of £450,000 in London and £250,000 elsewhere on the amount that developers can charge for these homes.
Reuse content