David Cameron stepped in to save a constituent from being prosecuted under the Hunting Act, according to a new book that claims he is an "avid supporter of hunting" and helps the controversial sport "behind the scenes".
As Leader of the Opposition Mr Cameron intervened after a professional huntsman from his constituency in the Cotswolds was charged with various offences of hunting a fox.
He wrote a letter to the Attorney General on behalf of Julian Barnfield in June 2008, allegedly questioning whether prosecuting him was "really a productive use of police time?" The case was later dropped on a technicality.
It is an embarrassing allegation for the Prime Minister, who pledged to repeal the Hunting Ban at the 2015 election.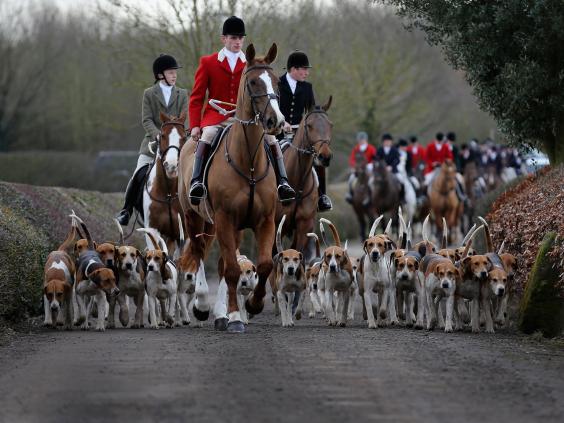 During the election campaign he said people must have "the freedom to hunt", insisting the Hunting Act has "done nothing for animal welfare".
After winning a slender majority and with a raft of Tory MPs opposed to repealing the ban, Mr Cameron decided to pursue a relaxation of the ban rather than an outright repeal.
However the move was dropped after the 56 SNP MPs decided they would vote in the Commons motion, despite the change of rules only affecting English law.
The Government is hoping to return to the issue once it has passed English votes for English laws, which would weaken the ability of Scottish MPs from voting on legislation that does not affect their constituents.
The book, titled Call Me Dave and co-authored by the former deputy chairman of the Conservative party Lord Ashcroft, sheds light on Mr Cameron's love of rural life and its traditions.
It claims he told a journalist that "he can scratch a pig's back so effectively that the creature sighs," while also boasting how he could "castrate a ram with a pair of pliers".
His next-door neighbour in his Cotswolds home is Guy Avis, the honorary secretary of the Heythrop Hunt and the Daily Mail has printed a long sought-after picture of Mr Cameron attending a hunt in December 2004 – two months before the Hunting Ban came into force.
David Cameron's biggest controversies
David Cameron's biggest controversies
1/8 Pig-gate

A book released by Conservative peer Lord Ashcroft alleged that an MP and Oxford contemporary of David Cameron had allegedly seen a photograph of Mr Cameron performing a sex act on a pig while at university. Downing Street did not comment on the allegations and the peer said they could have been a case of mistaken identity

David Hartley/REX Shutterstock

2/8 'Swarm' of migrants

In July 2015 David Cameron referred to refugees coming into Europe from the Middle East and North Africa as a "swarm". He was criticised for using the language, which critics said was dehumanising

Getty

3/8 Child tax credits

In April 2015 David Cameron was asked whether he'd cut child tax credits. "No, I don't want to do that," he said, saying that he rejected reports that he would. Shortly after the election the Government unveiled cuts to child tax credits

EPA

4/8 Cycling to work

As leader of the opposition David Cameron was regularly photographed cycling to work. In early 2006 he was photographed cycling but with a driver in a car carrying his belongings. It was suggested at the time the cycling was just for show and that having two vehicles on the road instead of one was wasteful

Rex

5/8 Andy Coulson

David Cameron employed former News of the World editor Andy Coulson as government communications director from 2010. After stepping down from the post due to coverage of the phone hacking affairs, Mr Coulson was later found guilty of conspiracy to intercept voicemails. He served a short prison sentence

AFP

6/8 His personal windmill

Early in his leadership of the Conservative David Cameron made an effort to change the party's image by making eco-friendly gesures. As one of these gestures, the future PM put a wind turbine on his house. However, the turbine later had to be removed after neighbours condemned it as an eyesore and the council's planning committee said it had been put in the wrong place

Getty

7/8 Funeral selfie

David Cameron was pictured posing for a 'selfie' with Danish PM Helle Thorning-Schmidt and Barack Obama at Nelson Mandela's funeral. Some in the press criticised the prime minister for showing in an inappropriately low level of respect for the gravity of the occasion

AFP/Getty Images

8/8 Eating a hotdog with a knife and fork

The Prime Minister was pictured eating a hotdog with a knife and fork in the run up to the 2015 general election. He was accused of being "posh". "I had a very privileged upbringing... I've never tried to hide that," he said

Reuters
The Heythrop has been in a number of court cases relating to the Hunting Ban, including Mr Barnfield's.
The fresh revelations come a day after exerpts from the book were published which claimed Mr Cameron put his genitals into a dead pig's mouth during an initiation ceremony at an exclusive dining club at Oxford University.
However the Prime Minister has told friends that the story – allegedly told to the book's authors by a "distinguished contemporary" of Mr Cameron's at Oxford who went on to become an MP – was "utter nonsense" and said he had never been a member of the group in question – the Piers Gaveston Society.
Downing Street said it would not "dignify" the book by responding to any of the stories.
Reuse content