Lives were lost because the British government was "far too slow" to respond to the Ebola epidemic in west Africa, MPs have said in a report published today.
The Public Accounts Committee also condemned the suspension of flights between Britain and the affected area, saying there had been "no scientific justification" for the ban.
The outbreak might have been confined to Sierra Leone if the Department for International Development (DfID) had reacted more quickly to warnings from relief workers over the scale of the escalating crisis, it said.
Margaret Hodge, the PAC's chairman, said: "Had the Department acted sooner, both lives and money would have been saved."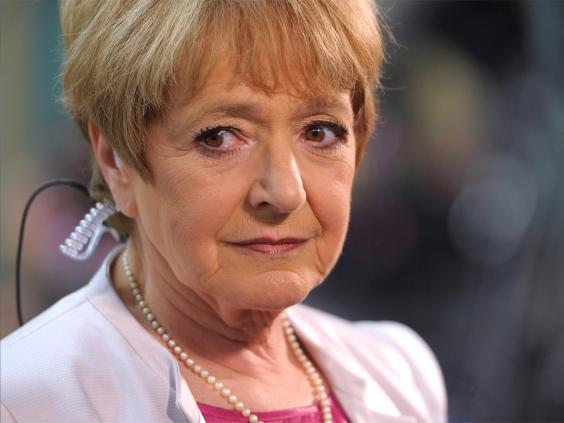 The MPs told DfID that it needed to needs to review whether its current arrangements for responding to an international medical emergency adequate.
Justine Greening, the International Development Secretary, said: "Britain's decision to shoulder responsibility for tackling the Ebola outbreak in Sierra Leone has saved lives, not cost lives."
The World Health Organisation has been widely condemned for its slow response to the Ebola crisis, which is believed to have claimed nearly 9,000 lives in Sierra Leone, Liberia  and Guinea.
David Cameron has called for international rapid deployment squads of medical experts to be set up to respond swiftly to epidemic outbreaks in the wake of the crisis.
In pictures: Ebola virus
In pictures: Ebola virus
1/62 Ebola virus

A health worker from Sierra Leone's Red Cross Society Burial Team 7 carries the corpse of a child in Freetown

2/62 Ebola virus

A health workers from the Sierra Leone's Red Cross Society Burial Team 7 is sprayed with desinfectant after removing a corpse from a house in Freetown

3/62 Ebola virus

Health workers from Sierra Leone's Red Cross Society Burial Team 7 prepare to remove a body from a house in Freetown

AFP

4/62 Ebola virus

Health workers from the Sierra Leone's Red Cross Society Burial Team 7 place a body in a grave at King Tom cemetary in Freetown

5/62 Ebola virus

Mustapha Rogers of the Red Cross talks as health workers from the Sierra Leone's Red Cross Society Burial Team 7 remove a corpse from a house in Freetown

6/62 Ebola virus

A citizen from Mali arrives at a hospital in Murcia city, south-eastern Spain. The protocol for a possible case of Ebola has been activated as the man, who arrived from Mali to Jumilla town in Murcia province five days ago, presents clinical symptoms of high fever and vomiting

EPA

7/62 Ebola virus

Kenyan medical workers show how to handle an infected Ebola patient on a portable negative pressure bed at the Kenyatta national hospital in Nairobi

Getty Images

8/62 Ebola virus

A health worker sprays disinfectant onto a college in Monrovia, Liberia

AP

9/62 Ebola virus

A burial team in protective gear bury the body of a woman suspected to have died from Ebola virus in Monrovia, Liberia

10/62 Ebola virus

Healthcare workers in protective gear work at an Ebola treatment center in the west of Freetown, Sierra Leone

AP Photo/Michael Duff

11/62 Ebola virus

A healthcare worker in protective gear is sprayed with disinfectant after working in an Ebola treatment center in the west of Freetown, Sierra Leone

12/62 Ebola virus

A member of the NGO U Fondation leaves a house after visiting quarantined family members suffering from the Ebola virus in Monrovia

13/62 Ebola virus

An Ebola sign placed infront of a home in West Point slum area of Monrovia, Liberia

14/62 Ebola virus

A Liberian man carries his sick brother suspected of having Ebola after being delayed admission to the Island Clinic Ebola Treatment Unit due to a lack of beds at the clinic on the outskirts of Monrovia, Liberia

15/62 Ebola virus

Health workers remove the body a woman who died from the Ebola virus in the Aberdeen district of Freetown, Sierra Leone

16/62 Ebola virus

A health worker fixes another health worker's protective suit in the Aberdeen district of Freetown, Sierra Leone

17/62 Ebola virus

Health workers spray themselves with chlorine disinfectants after removing the body a woman who died of Ebola virus in the Aberdeen district of Freetown, Sierra Leone

18/62 Ebola virus

A woman crawls towards the body of her sister as Ebola burial team members take her sister Mekie Nagbe (28) for cremation in Monrovia, Liberia

19/62 Ebola virus

Sophia Doe sits with her grandchildren Beauty Mandi, 9 months (L) and Arthuneh Qunoh, 9, (R), while watching the arrival an Ebola burial team to take away the body of her daughter Mekie Nagbe, 28, for cremation in Monrovia, Liberia

20/62 Ebola virus

Varney Jonson (46) grieves as an Ebola burial team takes away the body of his wife Nama Fambule for cremation in Monrovia, Liberia

21/62 Ebola virus

Family members grieve as Ebola burial team members prepare to remove the body of Nama Fambule for cremation in Monrovia, Liberia

22/62 Ebola virus

A Liberian burial squad carry the body of an Ebola victim in Marshall, Margini county, Liberia

23/62 Ebola virus

An Ebola burial team dresses in protective clothing before collecting the body of a woman (54) from her home in the New Kru Town suburb of Monrovia, Liberia

24/62 Ebola virus

An Ebola burial team carries the body of a woman (54) through the New Kru Town suburb of Monrovia, Liberia

25/62 Ebola virus

An Ebola burial team dresses in protective clothing before collecting the body of a woman (54) from her home in the New Kru Town suburb of Monrovia, Liberia

26/62 Ebola virus

Health workers in protective gear carry the body of a woman suspected to have died from Ebola virus, from a house in New Kru Town at the outskirt of Monrovia, Liberia

27/62 Ebola virus

Volunteers in protective suit bury the body of a person who died from Ebola in Waterloo, some 30 kilometers southeast of Freetown

FLORIAN PLAUCHEUR/AFP/Getty Images

28/62 Ebola virus

Nowa Paye (9) is taken to an ambulance after showing signs of the Ebola infection in the village of Freeman Reserve, about 30 miles north of Monrovia, Liberia

29/62 Ebola virus

Medical staff members burn clothes belonging to patients suffering from Ebola, at the French medical NGO Medecins Sans Frontieres (MSF) in Monrovia

PASCAL GUYOT/AFP/Getty Images

30/62 Ebola virus

A medical staff member wearing a protective suit walks past the crematorium where victims of Ebola are burned in Monrovia

31/62 Ebola virus

A Liberian burial team wearing protective clothing loads the body of a 60-year-old Ebola victim after retrieving him from his home

Getty Images

32/62 Ebola virus

Sick women rest while hoping to enter the new Doctors Without Borders (MSF), Ebola treatment center near Monrovia, Liberia

Getty Images

33/62 Ebola virus

Hanah Siafa walks in the rain with her children Josephine, 10, and Elija, six, while waiting to enter the new Doctors Without Borders (MSF), Ebola treatment center in Monrovia, Liberia

Getty Images

34/62 Ebola virus

UNICEF health workers walk through the streets, going house to house to speak about Ebola prevention in New Kru Town, Liberia. The virus has killed more than 1,000 people in four African countries

Getty Images

35/62 Ebola virus

Local residents watch as public health advocates stage an Ebola awareness and prevention event in Monrovia, Liberia

Getty Images

36/62 Ebola virus

Public health advocates stage an Ebola awareness and prevention event in Monrovia, Liberia. The Liberian government and international groups are trying to convince residents of the danger and are urging people to wash their hands to help prevent the spread of the epidemic

Getty Images

37/62 Ebola virus

Hanah Siafa lies with her children Josephine, 10, and Elija, six, while hoping to enter the new Doctors Without Borders (MSF), Ebola treatment center

Getty Images

38/62 Ebola virus

A health worker examines patients for Ebola inside a screening tent, at the Kenema Government Hospital

AP

39/62 Ebola virus

A health worker cleans his hands with chlorinated water before entering an Ebola screening tent at the Kenema Government Hospital, about 86 miles from Sierra Leone's capital Freetown

AP

40/62 Ebola virus

Aid workers and doctors transfer Miguel Pajares, a Spanish priest who was infected with the Ebola virus while working in Liberia, from a plane to an ambulance as he leaves the Torrejon de Ardoz military airbase, near Madrid, Spain

AP Photo/Spanish Defense Ministry

41/62 Ebola virus

A Liberian money exchanger washes hands between customers as a precaution to prevent infection with the deadly Ebola virus while conducting business in downtown Monrovia, Liberia

EPA

42/62 Ebola virus

A Liberian health worker sprays disinfectant on a drivers boots to stop the spread of the deadly Ebola virus at the Christian charity Samaritan Purse head offices in Monrovia, Liberia. Over 660 people have died of Ebola in West Africa in 2014 making it the world's deadliest outbreak to date according to statistics from the World Health Organisation

EPA

43/62 Ebola virus

A Liberian taxi driver wears protective gloves as a precaution to prevent infection with the deadly Ebola virus whilst driving in downtown Monrovia, Liberia. Many Liberians have taken to wearing gloves and washing hands after every interaction in an attempt to curb the spread of the deadly virus

EPA

44/62 Ebola virus

A Liberian money exchanger wears protective gloves as a precaution to prevent infection with the deadly Ebola virus while transacting business with customers in downtown Monrovia, Liberia

EPA

45/62 Ebola virus

A woman from Liberia takes food to a sick relative in the Ebola isolation unit at the ELWA Hospital where US doctor Kent Bradley is being quarantined having contracted the Ebola virus. Over 660 people have died of Ebola in West Africa in 2014 making it the world's deadliest outbreak to date according to statistics from the World Health Organisation

EPA

46/62 Ebola virus

The disease has now spread to Liberia and, for the first time, Sierra Leone and Nigeria, killing at least 672 people in 1,201 cases, according to the World Health Organisation's latest figures

AP

47/62 Ebola virus

Health specialists prepare for work in an isolation ward for patients at the Medecins Sans Frontieres facility in southern Guinea

AFP/Getty Images

48/62 Ebola virus

A Liberian street vendor wears protective gloves as a precaution to prevent infection with the deadly Ebola virus while transacting business with customers in downtown Monrovia, Liberia

EPA

49/62 Ebola virus

A nurse from Liberia sprays preventives to disinfect the waiting area for visitors at the ELWA Hospital where a US doctor Kent Bradley is being quarantined in the hospitals isolation unit having contracted the Ebola virus, Monrovia, Liberia

EPA

50/62 Ebola virus

Staff of the 'Doctors without Borders' ('Medecin sans frontieres') medical aid organisation carry the body of a person killed by the virus

51/62 Ebola virus

A Liberia man (right) talks to a nurse (left) about the health of his relative who is in the isolation unit of the ELWA Hospital where a US doctor Kent Bradley is being quarantined having contracted the Ebola virus, Monrovia, Liberia

EPA

52/62 Ebola virus

A nurse from Liberia walks to spray preventives to disinfect the waiting area for visitors at the ELWA Hospital where a US doctor Kent Bradley is being quarantined in the hospitals isolation unit having contracted the Ebola virus

EPA

53/62 Ebola virus

Staff of the Christian charity Samaritan's Purse put on protective gear in the ELWA hospital in the Liberian capital Monrovia

AFP

54/62 Ebola virus

Lagos State Health Commissioner Jide Idris, speaks, during a news conference in Lagos, Nigeria. No one knows for sure just how many people Patrick Sawyer came into contact with the day he boarded a flight in Liberia, had a stopover in Ghana, changed planes in Togo, and then arrived in Nigeria, where authorities say he died days later from Ebola

AP Photo/Sunday Alamba

55/62 Ebola virus

Staff of the Christian charity Samaritan's Purse put on protective gear in the ELWA hospital in the Liberian capital Monrovia. An American doctor battling West Africa's Ebola epidemic has himself fallen sick with the disease in Liberia, Samaritan's Purse said

AP

56/62 Ebola virus

Protective gear including boots, gloves, masks and suits, drying after being used in a treatment room in the ELWA hospital in the Liberian capital Monrovia

AFP

57/62 Ebola virus

A Liberian man holding a Civet being sold on a roadside as bush meat in Lofa County. Bush meat is one of the major carriers of the Ebola virus. The Liberian government and International partners have warned people to not eat it. The World Health Organisation (WHO) reported that a total of 888 Ebola cases including 539 deaths have been recorded in West Africa since February

AFP

58/62 Ebola virus

People unload protection and healthcare material at Conakry's airport, to help fight the spread of the Ebola virus and treat people who have been already infected

AFP/Getty Images

59/62 Ebola virus

Body of evidence: health workers transport a casket of a nun whose death resulted from an Ebola infection in Zaire in 1995

Getty

60/62 Ebola virus

Peter Piot in Yambuku, northern Congo (then Zaire), in 1976, where he was part of the original team to discover the Ebola virus

J Breman

61/62 Ebola virus

A member of Doctors Without Borders helps to unload protection and healthcare materials in Guinea

Getty

62/62 Ebola virus

Doctors in protective gear work inside the Medecins Sans Frontieres isolation ward as Guinea faced the worst ever outbreak of the Ebola virus

Getty Images
Reuse content