David Cameron has declined to answer whether the Government will go ahead with its £30-a-week cuts to key disability benefits – prompting hopes of a change in policy.
The Government was defeated in the House of Lords in late January over whether some disabled people claiming Employment and Support Allowance should get a lower rate.
New claimants in the so-called "Work Related Activity Group" (WRAG) would have been paid around £72 a week instead of £102, but peers rejected the proposals by 283 votes to 198.
The motion to cut the benefits has now been sent back to MPs in the House of Commons – but the Government has now repeatedly declined to say whether it will push ahead with the proposal or listen to the Lords and withdraw it.
Labour leader Jeremy Corbyn asked David Cameron to clarify the Government's position at Prime Minister's Questions today. Mr Corbyn noted that 2,300 cancer patients were currently in the group whose rate for new claimants would be cut.
David Cameron did not provide a direct answer to the question and instead emphasised that the proposed cut only applied to future claimants of the benefit.
Iain Duncan Smith, the Work and Pensions Secretary, watched the exchange from inside the Commons chamber with a distressed expression on his face.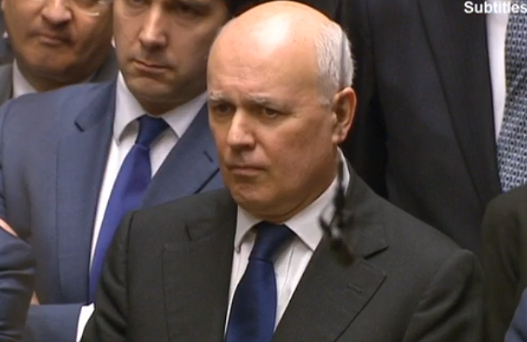 "It's very interesting the Prime Minister did not answer the question I put which is whether or not he will proceed with the cut to ESA which hits 3,200 people with cancer at the present time," Mr Corbyn said.
"I hope he will think seriously about this." 
It is not clear whether ministers have yet made a decision about whether to push ahead with the cuts or not.
Disability charities have mounted a campaign against the changes. Previous surveys of people in the WRAG have found that over half per believe they would struggle to stay healthy if hit by the cut.
Around a third people getting help from the ESA WRAG also believe they would be unable to heat their homes or eat.
What does five more years of the Tories mean for Britain?
What does five more years of the Tories mean for Britain?
1/8 Welfare payments will be slashed

One of the most controversial parts of the Conservative manifesto was to cut benefits for the working age poor by £12 bn over the next three years. But during the campaign they only said where £2 bn of these savings would come from. That leaves £10 bn still to find. Some experts think the only way they can close that gap is by means testing child benefit – with millions of families losing out

Getty

2/8 There will be tax cuts for those in work and those who die

The Tories will increase the threshold at which the 40p rate of tax becomes payable to £50,000 by 2020. They haven't said so but it is also likely that at some point in the next five years they will abolish that 45p rate of tax altogether for the highest earners. They also want to increase the effective inheritance tax threshold for married couples and civil partners to £1m

Getty

3/8 There will be an in/out EU referendum in 2017

The next two years are going to be dominated by the prospect of a referendum on Britain's membership of the EU. First off David Cameron has the daunting task of negotiating a deal with other EU leaders an acceptable deal that he can sell to his party so he can go into the referendum campaigning for a 'yes' vote. This may be unachievable and it is possible that the Tories may end up arguing to leave. Opinion polls show Britain is divided on EU membership, one poll this year showed 51% said they would opt to leave compared to 49% who would vote to stay in

Getty

4/8 There will be more privatisation of the NHS

Having won the election the Tories now have a mandate to go further and faster reforming the NHS. In order to make cost savings there is likely to be greater private involvement in running services, while some smaller hospitals may lose services they currently provide like A&E and maternity units

Getty

5/8 There will be many more free schools – and traditional state schools will become a thing of the past

The Tories plans to create 500 new free schools and make 3,000 state schools become academies. They will also carry on reforming the Department of Education and remove more powers from local authorities over how schools are run

Getty

6/8 On shore wind farms will be a thing of the past and fracking will be the future

Government spending on renewable energy is under real threat now the Lib Dems are no longer in power with the Tories. Subsidies are likely to be slashed for off-shore wind farm and other green energy supplies. Meanwhile there will be generous tax break for fracking as ministers try and incentivise the industry to drill for onshore oil and gas

Getty

7/8 There maybe more free childcare – but not necessarily

In the campaign the Tories pledged to double the amount of free early education for three- and four-year-olds from 15 hours a week to 30. The extra hours would only be offered to working families where parents are employed for at least eight hours a week. However they have not said where the money will come from to fund the pledge

Getty

8/8 Workers' rights could be reduced

The Tories want to slash business regulation, merge regulator and cut costs. The Lib Dems stopped them from reducing the employment rights of workers in power – but these are now under threat

Getty
Research commissioned by charities has also previously warned that the reductions will make it more difficult for people with disabilities to move into jobs – a stated goal of the Government.
Asked about whether the plans would be withdrawn or taken forward last week, a spokesperson for the Department of Work and Pensions also avoided directly answering the question. 
"Our reforms are focused on ensuring people get the best support possible," they said.
"The vote in the House of Lords is a routine part of the legislative process and next steps will be announced in due course."  
Rob Holland, Parliamentary Manager at the charity Mencap, said going ahead with the cut would do nothing for the people it affected.
"Today the Prime Minister offered little assurance on our key concerns around the damaging effects cuts to Employment and Support Allowance will have on disabled people's health and their chances of getting into work," he said.
"The Prime Minister's said that the cut to the ESA work-related activity group (WRAG) would apply to new claimants only. This is true of course and our concerns lie with new claimants who will suffer from receiving a third less than current recipients of ESA; 28% of whom say they sometimes can't afford to eat with the amount they have to live on. It is important to remember that the proposed cut will also affect new claimants within the new Universal Credit which the Government hopes to have rolled out by 2021.
"With the recent defeat in the Lords we urge the Prime Minister to rethink this cut to ESA and Universal Credit, which now widely accepted, will directly contradict the Government's aim to halve the disability employment gap, and push people with a learning disability closer to poverty and further from work. Cutting this key benefit will do nothing to help people with a learning disability find work"