Supposedly "independent" research being used to make the case against Britain's membership of the European Union is being carried out by think-tanks with close links to one of the main leave campaigns.
In recent weeks anti-EU campaigners have highlighted studies carried out by the think-tanks Civitas and the Institute of Economic Affairs (IEA) which, they claim, independently make the case for Brexit.
But an analysis of the connections between the think-tanks and the Vote Leave campaign reveals a nexus of right-of-centre organisations whose staff, board members and, in one case, offices are closely linked.
They cast doubt on how independent the research really is or whether it comes with a broader anti-EU agenda that is then used by the campaign groups to make the case for Brexit.
The links between leave campaigners and the think-tanks include: 
Dr David Green, the chief executive of Civitas, and Ryan Bourne, head of public policy at the Institute of Economic Affairs, are both listed as supporters of Economists for Britain, a group that was run by Matthew Elliott, who is now chief executive of the Leave Campaign. The contact point for Economists for Britain is the Vote Leave campaign.
Both men signed a letter to The Daily Telegraph claiming that the debate over Britain's EU membership had been "characterised by half-truths and outright fabrications". The letter said the UK had "nothing to fear from leaving" the EU, adding that the UK needed "a vision that looks beyond the limits of Europe".  
Mark Littlewood, the director general of the IEA, was on the editorial board of "Change or Go" – Business for Britain's 1,000-page "bible" on the case for Brexit. Professor Philip Booth, academic and research director at the IEA, also signed the Telegraph letter organised by Economists for Britain. 
The multimillionaire hedge fund boss Sir Michael Hintze is a trustee of IEA, and is also on the advisory council of Business for Britain. He has also been linked to Vote Leave – and is rumoured to be planning to make a substantial donation to the Leave Campaign.
Civitas has offices in the same premises as Business for Britain – and where Vote Leave was originally registered. The building – 55 Tufton Street in Westminster – is registered to a company owned by Richard Smith, a Midlands businessman who has helped fund Business for Britain. Civitas accounts show that it pays rent of around £3,250 a month for its offices. 
In total, 55 Tufton Street is home to eight right-of-centre organisations, including The Taxpayers' Alliance.
Jonathan Lindsell, Civitas' EU research fellow, was part of a five-man secretariat that helped produce Business for Britain's "Change or Go" document outlining how Britain would "gain influence and prosper" outside an unreformed EU.
Yet despite this Vote Leave has cited work by Civitas as evidence of the independent case for Brexit and how Britain could thrive outside the European Union. 
In one example Vote Leave's head of media, Robert Oxley, highlighted a Civitas report last month on the EU's single market that claimed the UK Government had been guilty of "mis-selling of the trade benefits of the single market" in a way that was comparable "to the mis-selling of payment protection insurance" though "on a larger scale, over a longer period, and with far more serious consequences".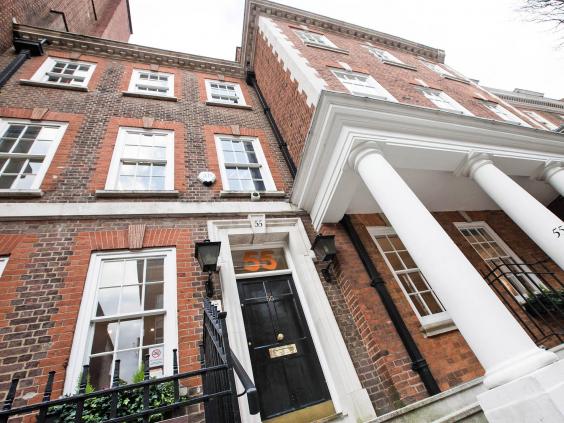 In a debate on LBC Mr Oxley said: "What this research makes clear, and it is independent research – not from the Leave campaign – it is an independent think-tank, it makes very clear that smaller countries have been able to negotiate better trade deals and that the single market and our EU membership has meant that we have missed out on years of free trade."
He added: "It blows the myth out of the water that being in the EU helps us forge trade deals."
A press release by Vote Leave also highlighted research by the "independent think-tank Civitas" which found that export growth to the EU has in fact been strongest among non-EU countries since the foundation of the single market.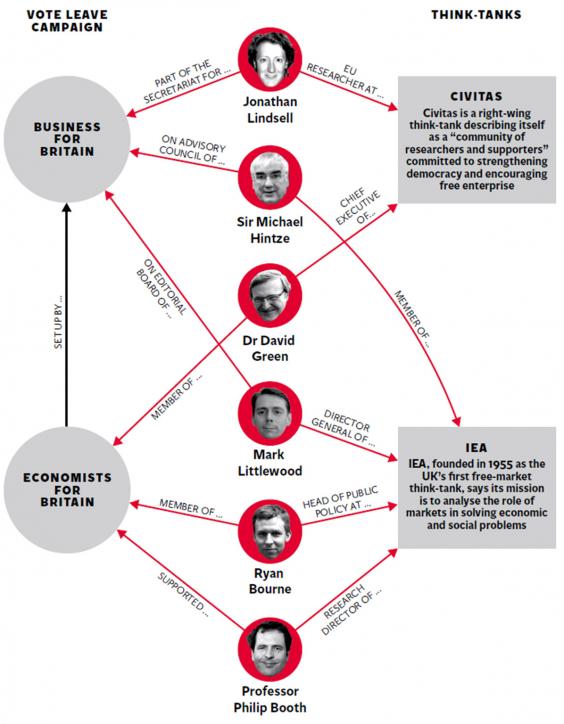 Vote Leave has also highlighted research carried out by the Institute of Economic Affairs which claimed that remaining in the EU will cost the United Kingdom at least 13 per cent of gross domestic product (GDP) each year.
Supporters of the campaign for Britain to stay in the EU claim the links between the organisations suggest that Eurosceptics are using "compromised research" to make their case for Brexit.
"It's a clear indication of the weakness of Vote Leave's economic case," said the Labour MP Stephen Kinnock.
UK news in pictures
UK news in pictures
1/30 28 June 2016

Queen Elizabeth II & Prince Philip, Duke Of Edinburgh attend the unveiling of the Robert Quigg VC memorial statue in Bushmills village, Northern Ireland

Getty Images

2/30 27 June 2016

Opposition Labour party leader Jeremy Corbyn leaves after addressing a gathering of supporters demonstrating in Parliament Square, in central London

REUTERS

3/30 26 June 2016

A man dressed as Boris Johnson and Donald Trump prepare to take part in a tomato fight at the Glastonbury Festival 2016 at Worthy Farm

Getty Images

4/30 26 June 2016

People walk over Westminster Bridge wrapped in Union flags in central London. Britain's opposition Labour party plunged into turmoil and the prospect of Scottish independence drew closer, ahead of a showdown with EU leaders over the country's seismic vote to leave the bloc

AFP/Getty Images

5/30 25 June 2016

People pay tribute to the victims of the Orlando nightclub shooting as they take part in the annual Pride London Parade which highlights issues of the gay, lesbian and transgender community, in London

REUTERS

6/30 25 June 2016

Scotland's First Minister and Leader of the Scottish National Party (SNP), Nicola Sturgeon, addresses the media after holding an emergency Cabinet meeting at Bute House in Edinburgh, following the pro-Brexit result of the UK's EU referendum vote

AFP/Getty Images

7/30 24 June 2016

A man carries a EU flag, after Britain voted to leave the European Union, outside Downing Street in London

8/30 23 June 2016

AFP/Getty Images

9/30 22 June 2016

British Prime Minister David Cameron poses for a photograph after addressing pro-EU "Vote Remain" supporters at rally in Bristol, whilst campaigning to avoid a Brexit, ahead of the 23 June EU referendum

AFP/Getty Images

10/30 21 June 2016

Scottish Conservative leader Ruth Davidson (left) and Mayor of London Sadiq Khan speak during the EU debate at Wembley Arena in London

Getty Images

11/30 20 June 2016

A full moon rises behind Glastonbury Tor as people gather to celebrate the summer solstice in Somerse

Getty Images

12/30 19 June 2016

Hot air balloons took to the air as part of the annual Lord Mayor's Hot Air Balloon Regatta, a charity event in aid of the Lord Mayor's Fund, in London

Getty Images

13/30 19 June 2016

Liberal Democrats leader Tim Farron (C) poses with supporters after arriving in the Liberal Democrat Vote Remain campaign bus, campaigning to avoid a Brexit in the EU referendum, during a launch event in east London

AFP/Getty Images

14/30 18 June 2016

A man lights a flare among pro-refugee activists rallying outside the French Embassy in central London, during a protest after most of an aid convoy of vehicles organised by campaign groups heading to northern France were turned back at the French frontier at the port of Dover

AFP/Getty Images

15/30 17 June 2016

Prime Minister David Cameron and Labour Leader Jeremy Corbyn arrive to pay their respects at the scene where Jo Cox was shot in Birstall

Getty Images

16/30 16 June 2016

Floral tributes and candles are placed by a picture of slain Labour MP Jo Cox at a vigil in Parliament square in London. Cox died after a shock daylight street attack, throwing campaigning for the referendum on Britain's membership of the European Union into disarray just a week before the crucial vote

AFP

17/30 15 June 2016

Boats from the 'Fishing for Leave' campaign group join a flotilla along the Thames River in London. The flotilla organised by members of the Fishing for Leave group, who are campaigning to leave the European Union ahead of the referendum on the 23 of June, was countered by boats representing the 'In' campaign

Getty Images

18/30 14 June 2016

A general view of the Tate Modern's new Switch House in London. The Tate Modern art gallery has unveiled its new Switch House building designed by architects Herzog & de Meuron

Getty

19/30 13 June 2016

Labour Leader Jeremy Corbyn (C) and Deputy Labour Leader Tom Watson (R) attend a vigil for the victims of the Orlando nightclub shooting, outside the Admiral Duncan pub on Old Compton Street in Soho, London

Getty Images

20/30 12 June 2016

A pigeon flies ahead of Britain's Queen Elizabeth and Prince Philip, and Princes William, Harry and Kate Duchess of Cambridge behind as they wave to guests attending the Patron's Lunch on the Mall, an event to mark her 90th birthday, in London

REUTERS

21/30 11 June 2016

A Guardsman faints at Horseguards Parade for the annual Trooping the Colour ceremony in central London

REUTERS

22/30 10 June 2016

The national service of thanksgiving for the 90th birthday of Britain's Queen Elizabeth II at St Paul's Cathedral in London, which is also the Duke of Edinburgh's 95th birthday

Getty Images

23/30 9 June 2016

Princess Anne, Princess Royal attends the Founders Day Parade at The Royal Hospital Chelsea in London

Getty Images

24/30 8 June 2016

Two women walk barefoot through heavy rain in Westminster in London. The Met Office has issued flood alerts for parts of the south east of England as torrential rain hit parts of the country

Getty Images

25/30 7 June 2016

An Osprey catches two Rainbow Trout at Rothiemurchus in Kincraig, Scotland. Ospreys migrate each spring from Africa and nest in tall pine trees around the Aviemore area, the raptor was hunted to the point of extinction in the Victorian era, their migratory habits eventually brought them back to Scotland with the first successful breeding pair being recorded in 1954

Getty

26/30 6 June 2016

David Cameron speaks at a Remain in the EU campaign event at the Oval cricket ground in London

Getty Images

27/30 5 June 2016

Original participants take part in Japanese artist Koki Tanaka's recreation of the 1985 youth training scheme protest as part of the Liverpool Biennial. The 1985 protest saw 10,000 UK school children take to the street to protest against the Conservative government's controversial youth training Scheme

Getty Images

28/30 4 June 2016

Troops parade along The Mall after the Colonel's Review in London

Getty Images

29/30 3 June 2016

Large scale recreation of Dutch flower painting 'A Still Life of flowers in a Wan-Li Vase' by Ambrosius Bosschaert made out of real flowers is seen outside National Gallery in London

Rex

30/30 2 June 2016

Final preparations are made for the RHS Rose Show in London. The RHS London Rose Show runs from June 3-4 at RHS Lawrence Hall in Westminster

Getty Images
"It is regrettable that Vote Leave are reduced to using compromised research produced by their friends to make the case for Britain to leave the EU." 
Charlie Mullins, founder of Pimlico Plumbers, added: "This is the biggest decision our country has had to make in decades and voters deserve to know that supposedly accurate and independent research is indeed accurate and independent. Unfortunately, it seems that those campaigning for Britain to leave do not share that principle."
James McGrory, chief campaign spokesman for Stronger In, added: "Having your friends write sympathetic reports and then hailing their independence is desperate stuff. They are either unwilling or unable to articulate a plausible vision for Britain outside of the EU and instead resort to dodgy research to prop up their paper-thin arguments."
But both Civitas and the IEA insisted that their work was entirely independent of the Brexit campaigns and their organisation reflected a wide range of views.
"On the matter of Britain's continued membership of the EU, there are a wide variety of genuine and sincere opinions amongst the staff and trustees," said a spokeswoman for the IEA. "One IEA staff member holds an advisory role at Economists for Britain, as he wishes to promote a free-market perspective in the debate. Two staff members have formerly advised the group. We would also happily advise the Britain Stronger in Europe Campaign."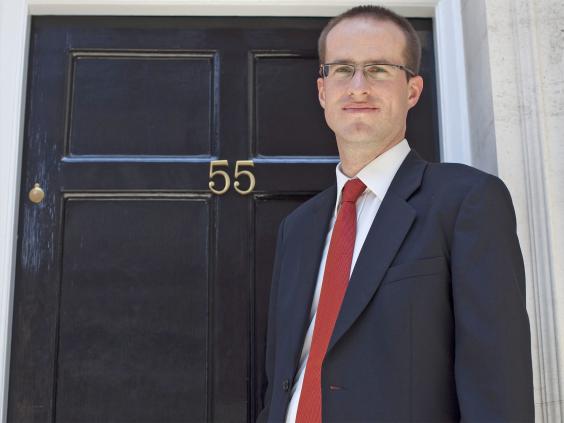 Daniel Bentley, editorial director at Civitas, said: "Civitas is an independent think-tank which conducts its research without fear or favour. We have no formal links with either Vote Leave or Business for Britain.
"There is absolutely no evidence, nor can it be reasonably deduced, that Civitas's work is anything less than robust and accurate. Those claiming otherwise are committed pro-EU campaigners, who self-evidently have an agenda to undermine evidence which conflicts with their position. They have made no attempt to objectively appraise the study in question ('Myth and Paradox of the Single Market') which was the product of more than a year's research by a respected academic. We have every confidence in its integrity."
Vote Leave's spokesman Mr Oxley said: "Every time Britain Stronger in Europe have had their pro-EU views challenged they have played the man not the ball.
"It should come as no surprise that every piece of research the BSE campaign cites comes from EU-funded bodies."
* The second paragraph of Daniel Bentley's comment towards the end of this report was added after initial publication so that Civitas could respond to claims that its work was inaccurate - that point having not been dealt with prior to publication. Article amended 24/2/16.