David Cameron has struck a deal with other EU leaders over Britain's future in Europe after marathon talks in Brussels.
"I have negotiated a deal to give the United Kingdom special status inside the European Union," Mr Cameron said in a press conference shortly after the end of talks, adding that he would update Cabinet at 10am this morning.
"Britain will be permanently out of 'ever closer union'," he said, adding that there would be "tough new restrictions on access to our welfare system for EU migrants", and that Britain would "never join the euro".
I have negotiated a deal to give the UK special status in the EU. I will be recommending it to Cabinet tomorrow. Press conference shortly.

— David Cameron (@David_Cameron) February 19, 2016
Donald Tusk, President of the European Council announced the agreement after more than 24 hours of agonising discussions over British demands to curb benefits for migrant workers.
"Unanimous support for new settlement for the UK in Europe," he said after a final agreement was signed off at dinner of 28 EU members in Brussels.
The agreement, which has yet to be published, is expected to see Britain compromise on key elements of Mr Cameron's demands to restrict welfare payments to Eastern European workers.
But after the meeting the Justice Secretary Michael Gove and at least five other cabinet ministers are expected to break ranks and defy Mr Cameron by ¬arguing for Brexit in the European Union membership referendum.
One or more had hoped to address a major anti-EU rally in London on Friday night but they were forced to hold their peace when Mr Cameron's EU renegotiation summit dragged on into a second day.
Mr Gove's expected decision to support the Out campaign will be a bitter blow to Downing Street as he is among the Prime Minister's closest confidants and a family friend. Mr Cameron has made huge efforts to persuade the Justice Secretary to campaign for Britain to remain in the EU based on a reformed relationship between London and Brussels.
But sources close to Mr Cameron said that Mr Gove had decided with a "heavy heart" he could not back the Prime Minister on the issue.The Spectator reported that Mr Cameron's allies seem "pretty much resigned to losing Michael Gove to the Out campaign once the deal is done".
Mr Gove has been torn between his loyalty to the Prime Minister and his long-standing support for Britain pulling out of the bloc.
The Justice Secretary's defection to the Brexit campaign would boost its credibility – although it is understood he would take a relatively low profile – and could encourage other wavering ministers to follow suit.
A spokesman for him said: "Michael's position has not changed – he supports the Prime Minister's strategy to renegotiate our relationship with the European Union. As he has said before, it would be premature for anyone to make a judgement before the deal is concluded. Like the Prime Minister, he has not ruled anything out."
Mr Cameron cancelled a cabinet meeting provisionally scheduled for Friday afternoon at which he had hoped to report back on a deal secured in the Brussels talks. That would have marked the point at which collective responsibility would have been suspended and ministers could have gone public over their support for Brexit.
A prominent role will be played in the Out campaign by Iain Duncan Smith, the Work and Pensions Secretary, who is a long-term advocate of withdrawal from the EU.
He is among the several cabinet members who have complained to Mr Cameron over the collective gag placed on Eurosceptic ministers ahead of the referendum -campaign.
The Commons Leader, Chris Grayling, and the employment minister, Priti Patel, look certain to join the campaign, as well as John Whittingdale, the Culture Secretary, and Theresa Villiers, the Northern Ireland Secretary.
Boris Johnson, the Mayor of London, is still keeping the Prime Minister guessing over his intentions, although he has promised to set out his position "with deafening éclat" if Mr Cameron clinches a deal in Brussels.
Speakers at the Grassroots Out rally included the Ukip leader Nigel Farage, the senior Conservative MPs Sir Bill Cash and David Davis, Labour's Kate Hoey and the economist Ruth Lea.
Ahead of the rally Mr Davis said: "This whole long drawn-out renegotiation process has highlighted the EU's undemocratic institutional arrogance. It shows the utter disregard Brussels has for member states. It is the perfect example of how Britain is ruled by the EU."
After 24 hours of talks in Brussels, Mr Cameron made little progress in thrashing out a compromise on his reform demands.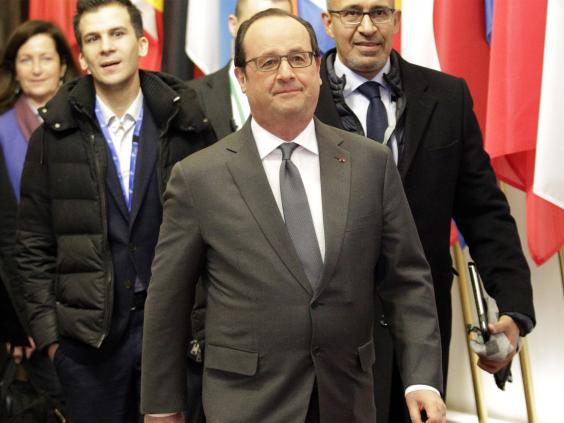 Eastern European countries stood firm in their position that any deal should not allow Britain to restrict child benefits to migrant workers immediately, calling for the plan to be phased in over 16 years.
At the same time they pressed for the emergency brake for in-work benefits to be limited to an initial period of two years, with tough tests for any extensions. Mr Cameron is understood to have made clear that this would be unacceptable during a series of tense and sleep-deprived bilateral meetings throughout the day.
A full European Council meeting had been scheduled to rubber-stamp the plan at 11am, but what had been billed as an "English breakfast" soon turned into an "English lunch" and finally an "English dinner" as a deal proved elusive.
UK news in pictures
UK news in pictures
1/30

A man carries a EU flag, after Britain voted to leave the European Union, outside Downing Street in London

REUTERS

2/30 23 June 2016

AFP/Getty Images

3/30 22 June 2016

British Prime Minister David Cameron poses for a photograph after addressing pro-EU "Vote Remain" supporters at rally in Bristol, whilst campaigning to avoid a Brexit, ahead of the 23 June EU referendum

AFP/Getty Images

4/30 21 June 2016

Scottish Conservative leader Ruth Davidson (left) and Mayor of London Sadiq Khan speak during the EU debate at Wembley Arena in London

Getty Images

5/30 20 June 2016

A full moon rises behind Glastonbury Tor as people gather to celebrate the summer solstice in Somerse

Getty Images

6/30 19 June 2016

Hot air balloons took to the air as part of the annual Lord Mayor's Hot Air Balloon Regatta, a charity event in aid of the Lord Mayor's Fund, in London

Getty Images

7/30 19 June 2016

Liberal Democrats leader Tim Farron (C) poses with supporters after arriving in the Liberal Democrat Vote Remain campaign bus, campaigning to avoid a Brexit in the EU referendum, during a launch event in east London

AFP/Getty Images

8/30 18 June 2016

A man lights a flare among pro-refugee activists rallying outside the French Embassy in central London, during a protest after most of an aid convoy of vehicles organised by campaign groups heading to northern France were turned back at the French frontier at the port of Dover

AFP/Getty Images

9/30 17 June 2016

Prime Minister David Cameron and Labour Leader Jeremy Corbyn arrive to pay their respects at the scene where Jo Cox was shot in Birstall

Getty Images

10/30 16 June 2016

Floral tributes and candles are placed by a picture of slain Labour MP Jo Cox at a vigil in Parliament square in London. Cox died after a shock daylight street attack, throwing campaigning for the referendum on Britain's membership of the European Union into disarray just a week before the crucial vote

AFP

11/30 15 June 2016

Boats from the 'Fishing for Leave' campaign group join a flotilla along the Thames River in London. The flotilla organised by members of the Fishing for Leave group, who are campaigning to leave the European Union ahead of the referendum on the 23 of June, was countered by boats representing the 'In' campaign

Getty Images

12/30 14 June 2016

A general view of the Tate Modern's new Switch House in London. The Tate Modern art gallery has unveiled its new Switch House building designed by architects Herzog & de Meuron

Getty

13/30 13 June 2016

Labour Leader Jeremy Corbyn (C) and Deputy Labour Leader Tom Watson (R) attend a vigil for the victims of the Orlando nightclub shooting, outside the Admiral Duncan pub on Old Compton Street in Soho, London

Getty Images

14/30 12 June 2016

A pigeon flies ahead of Britain's Queen Elizabeth and Prince Philip, and Princes William, Harry and Kate Duchess of Cambridge behind as they wave to guests attending the Patron's Lunch on the Mall, an event to mark her 90th birthday, in London

REUTERS

15/30 11 June 2016

A Guardsman faints at Horseguards Parade for the annual Trooping the Colour ceremony in central London

REUTERS

16/30 10 June 2016

The national service of thanksgiving for the 90th birthday of Britain's Queen Elizabeth II at St Paul's Cathedral in London, which is also the Duke of Edinburgh's 95th birthday

Getty Images

17/30 9 June 2016

Princess Anne, Princess Royal attends the Founders Day Parade at The Royal Hospital Chelsea in London

Getty Images

18/30 8 June 2016

Two women walk barefoot through heavy rain in Westminster in London. The Met Office has issued flood alerts for parts of the south east of England as torrential rain hit parts of the country

Getty Images

19/30 7 June 2016

An Osprey catches two Rainbow Trout at Rothiemurchus in Kincraig, Scotland. Ospreys migrate each spring from Africa and nest in tall pine trees around the Aviemore area, the raptor was hunted to the point of extinction in the Victorian era, their migratory habits eventually brought them back to Scotland with the first successful breeding pair being recorded in 1954

Getty

20/30 6 June 2016

David Cameron speaks at a Remain in the EU campaign event at the Oval cricket ground in London

Getty Images

21/30 5 June 2016

Original participants take part in Japanese artist Koki Tanaka's recreation of the 1985 youth training scheme protest as part of the Liverpool Biennial. The 1985 protest saw 10,000 UK school children take to the street to protest against the Conservative government's controversial youth training Scheme

Getty Images

22/30 4 June 2016

Troops parade along The Mall after the Colonel's Review in London

Getty Images

23/30 3 June 2016

Large scale recreation of Dutch flower painting 'A Still Life of flowers in a Wan-Li Vase' by Ambrosius Bosschaert made out of real flowers is seen outside National Gallery in London

Rex

24/30 2 June 2016

Final preparations are made for the RHS Rose Show in London. The RHS London Rose Show runs from June 3-4 at RHS Lawrence Hall in Westminster

Getty Images

25/30 1 June 2016

Sheep are judged on the opening day of the Royal Bath and West Show in Shepton Mallet. The result of the EU referendum is likely to be closely watched by members of the farming community as the UKs membership of the European Union has long been a contentious issue for the farming industry

Getty Images

26/30 31 May 2016

German President Joachim Gauck (C), British Premier David Cameron (L) and Princess Anne, Princess Royal attend the 100th anniversary commemorations for the Battle of Jutland at the Lyness cemetery in Lyness, Scotland

Getty Images

27/30 30 May 2016

People enjoy the fine weather as they gather on the beach at Sennen Cove in Cornwall

Getty Images

28/30 29 May 2016

K, Moses Adams (South Africa), performs a noseblunt slide during the Red Bull Hold The Line competition at The Royal Albert Hall in London

Getty Images

29/30 28 May 2016

Princess Anne, Princess Royal and Vice Admiral Sir Tim Laurence attend a service at a war graves cemetery to mark the Battle of Jutland in South Queensferry, Scotland. The events begin a weekend of commemoration leading up to the anniversary on 31 May and 1 June to mark the centenary of the largest naval battle of World War One where more than 6,000 Britons and 2,500 Germans died in the Battle of Jutland

Getty Images

30/30 27 May 2016

Leader of Britain's opposition Labour Party, Jeremy Corybn, arrives to deliver a speech on the merits of Britain remaining in the European Union, in Doncaster

Getty Images
Mr Cameron, who only left the Council building for three hours' sleep at 5am, returned for another session including talks with the French, Italians, Poles, Czechs and Germans in an attempt to find a compromise. By early evening the Council President Donald Tusk decided to reconvene the whole Council despite no agreed deal being on the table in an attempt to use "peer pressure" to force a compromise.
British diplomats said they were ready to fight their corner to resist the deal being watered down.
While no threat was made to walk away, a Downing Street source made clear Mr Cameron was prepared to leave if he came under too much pressure to compromise. "You have to remember that we don't have to hold the referendum until 2017," they said.
Additional reporting by Independent staff