Hundreds of thousands of young people could miss the chance to vote in May's general election following a change in the way people register, prompting fears of a "disenfranchised generation".
New figures reveal that almost one million people have gone missing from the electoral roll in the past year. Today Ed Miliband will describe it as a "scandal" and accuse the Conservatives and Liberal Democrats of denying young people a voice.
To combat fraud, the Government is switching from household registration to a system where people can no longer register others in their household and must add themselves individually to the roll.
This means that universities and colleges no longer register students living in halls of residence. Statistics compiled by Labour show a big fall in registered voters in university towns and cities including Cardiff, Liverpool, Newcastle, Southampton, Leicester, Nottingham, Brighton, Durham and Hull. In London, the drop is almost 100,000.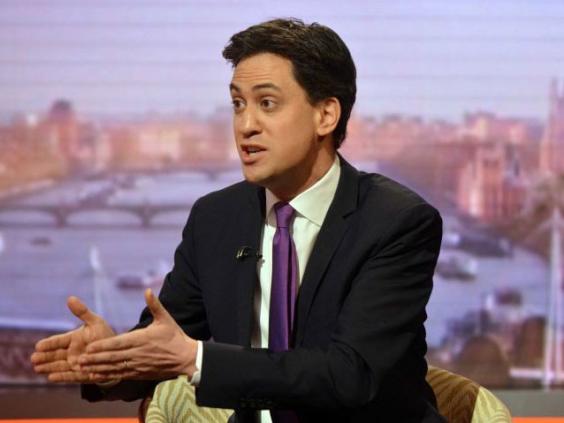 The survey of 373 local authorities found that in 307 there was a fall in the number of people on the register compared with a year ago. The overall reduction was 950,845 voters. Labour said the figures confirmed fears that areas with high numbers of students and people in rented accommodation would see falling rolls.
Labour is demanding urgent action by the Government, the Electoral Commission, universities and councils to get people on the list so they can vote in May. This week Labour deployed 18 staff on a registration drive in university towns and cities.
Speaking at Sheffield Hallam University in Nick Clegg's constituency, Mr Miliband will claim the "missing million" is "a direct consequence of the Government's decision to ignore warnings that rushing through new individual registration reforms would damage democracy".
"Having broken their promises on tuition fees to young people, having failed to build the economy that will work for them, having short-changed their future, this is David Cameron's and Nick Clegg's final insult to young people," he will say. "They are sitting by and watching hundreds and thousands of young people in our country lose their sacred democratic rights."
The issue a sensitive one for the Liberal Democrats, after the party broke its 2010 election pledge to abolish tuition fees when the Coalition trebled them to a maximum £9,000 a year.
A Labour source told The Independent: "Many will ask whether, having betrayed young people, the Conservatives and Lib Dems are doing their best to ensure they cannot hold them to account and to deny them a voice."
Experts' predictions for the general election
Experts' predictions for the general election
1/10 Andrew Hawkins (ComRes)

Just as the polls in 2010 pointed to no overall majority for any party, the overwhelming evidence points to Labour either being the largest party or getting a small majority, probably below 20. The Lib Dems and SNP should each win between 25 and 35 seats, with single-figure wins for both Ukip and the Greens.

2/10 Joe Twyman (YouGov)

I predict it will be close. I predict a few tremors, though earthquakes are unlikely. I predict the eventual winner may not be the direct result of public opinion, but instead the outcome of political negotiations. It's too early to predict numbers given all the uncertainties surrounding (among other things) Ukip, the SNP and the Lib Dems. It is possible that it will be close between Conservative and Labour in terms of both votes and seats. The Lib Dems might retain 20-30 seats and the balance of power, despite small gains for the SNP, and at most half a dozen Ukip seats. Gun to my head? Labour minority government.

Rex

3/10 Ben Page (Ipsos MORI)

A mug's game for this election months away, but my predictions in order of likelihood: most likely a hung parliament or coalition of some kind, closely followed by either a small Labour majority or an equally small Conservative majority. Given how close the parties are, the unknown performance of Ukip in key marginals, the effect of incumbency on Lib Dem losses, the final size of SNP surge and so on, to be more precise is simply foolish! Professor Tetlock, who found that forecasts by experts were only slightly better than throwing dice, weighs heavily upon me!

Rex

4/10 Rick Nye (Populus)

I can see a hung parliament, where Labour is the largest party in terms of seats – though not necessarily in terms of votes, with the Lib Dems having 30 seats or fewer, the SNP having up to 20 seats and Ukip having no more than five seats. In short, it's going to get messy and stay messy for some time to come.

5/10 Nick Moon (GfK)

I can't recall there ever being an election more difficult to predict than this one. I'm confident no party will have an overall majority, with the Tories probably the largest party but no single partner for a viable coalition, with the Lib Dems on 25 seats, the SNP 20, Ukip three, and the Greens one.

6/10 Damian Lyons Lowe (Survation)

We might have expected a workable Labour majority, were it not for the wild-card rise of the SNP in Scotland. Survation's December Scottish polls suggest an almost complete wipeout by the SNP in Scotland and result in 40+ seat gains – mostly at Labour's expense. My current predictions are: Labour the largest party by 40-50 seats over the Tories, no overall majority; Tories 235-255 seats; Lib Dems 20-30 seats; SNP 30-40 seats – maybe held back from potential support level by opposition incumbency and tactical voting by pro-unionist voters. Finally, Ukip, 5-10 wins from Conservatives, including Rochester and Clacton, and potentially a single Labour-seat surprise.

7/10 Michelle Harrison (TNS)

The battleground over the next three months is at the kitchen table – the difference between what the statistics tell us about the economy, the experience that Britons are having of managing their household budgets, and where – and if – they believe politics can make a difference. In this regard, the disconnect with the major political parties is more interesting than the horse race.

8/10 James Endersby (Opinium Research)

Our first poll for 2015 shows Labour one point ahead [see above], but polls four months out from an election are snapshots, not predictions. It would be extremely unwise for a pollster to make a firm prediction now. At the moment, Opinium's estimate on polling day would be the Tories slightly ahead on vote share, but Labour slightly ahead on seats. These numbers are based on a uniform swing, with tweaks to Green and Ukip numbers based on local information: Labour 320 seats, Conservatives 271, Lib Dems 20, SNP 16, Plaid Cymru three, Greens two, Ukip four. A hung parliament with Labour potentially closer to a majority coalition than the Conservatives.

9/10 Martin Boon (ICM)

I've not recovered from the Scottish referendum campaign yet, and here we go with another wildcard strewn nail-biter. For me, Labour on 30 per cent will only fractionally nudge past their woeful 2010 showing – behind the Tories on 33 per cent – but enough to secure more seats (290 for Labour, 280 for the Tories) on boundary wackiness. The Lib Dems will secure 14 per cent of the vote and 35 seats; Ukip will also get 14 per cent, but that only gets them a couple of seats. As for Scotland, I'm bewildered, but as you asked I'll say 30 seats for the SNP, which wipes out a breathing-space victory in seats for Labour.

10/10 Lord Ashcroft (Lord Ashcroft Polls)

Declined to take part. His spokeswoman said: "As he has said many times, his polls are snapshots not predictions." Health warning: when The Independent on Sunday carried out a similar exercise in April 2010, at the start of that year's election campaign, eight out of eight pollsters predicted a Conservative overall majority.

Rex
The Lib Dems reacted angrily, accusing Labour of "political point-scoring". They said Mr Clegg had secured £10m for a registration campaign and vetoed a Tory plan to spend the money targeting overseas voters.
Tom Brake, the Lib Dem Deputy Commons Leader, said: "Labour must have forgotten it began the policy of individual electoral registration while it was in government. Instead of scaremongering, Labour should be working with its own local authorities to ensure that the large amount of money available is spent helping people, particularly students, register to vote.
"Labour also seems keen to hide the fact that the Coalition has made it extremely easy to register to vote – it can be done online in a couple of minutes."
A Lib Dem source added: "Nick Clegg is determined to ensure the Government does everything it can to help students to vote."
The National Union of Students is hosting a series of events on 5 February to mark National Voter Registration Day, in an attempt to convince students to sign up. It fears that failing to vote in 2015 could set a pattern which will see a generation excluded from the voting process.
Toni Pearce, president of the NUS, said there was "a huge amount of work to do" to prevent vast numbers of young people becoming disenfranchised. "The risks of failing to do so are massive – we know that people who don't vote in their first election are far less likely to do so in the future," she said.
The Electoral Commission, which has written to all universities and colleges, said: "We know that young people and students are one of the groups which are less likely to be registered to vote and we are working with a range of partner organisations to support the work that electoral administrators are doing to target such groups."
Reuse content