The former Ukip MEP who called women "sluts" and complained about aid being sent to "Bongo Bongo Land" has quit the party because it is becoming too "politically correct".
Godfrey Bloom, who stood down as MEP after provoking national outrage last year, had remained a member of Nigel Farage's party despite being banned from speaking at events.
He announced his resignation on Monday, telling Ukip's newly elected first MP Douglas Carswell to "watch his back".
"(Ukip) were supposed to be something new, but now we seem to be drifting towards the political correct mainstream just like everyone else and that's not the reason people voted Ukip," he told LBC radio.
"Instead of it being the libertarian party of common sense, I've been banned from speaking. I don't know where the party has gone astray, but it seems to have gone astray."
Mr Bloom, who once shared a flat with Mr Farage, caused several controversies after being elected as a Ukip MEP for Yorkshire and Humberside in 2004.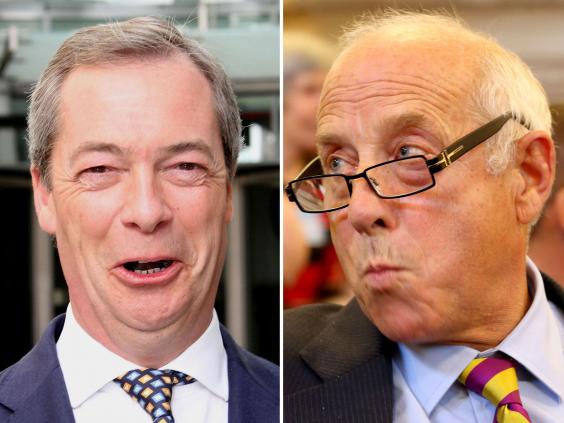 Soon after being appointed to the European Parliament's women's rights committee, he told journalists: "No self-respecting small businessman with a brain in the right place would ever employ a lady of child-bearing age."
In July last year, he caused outrage by using the term "Bongo Bongo Land" in at a public meeting in the Midlands.
"How we can possibly be giving a billion pounds a month when we're in this sort of debt to Bongo Bongo Land is completely beyond me, to buy Ray-Ban sunglasses, apartments in Paris, Ferraris and all the rest of it that goes with most of the foreign aid," he said.
He was initially unapologetic, claiming the term referred to a type of antelope, but later apologised for "possibly causing offence" under pressure from party officials.
In his LBC interview, he complained about the behaviour of Ukip chairman Steve Crowther, who had ordered the apology.
Mr Bloom survived in his post until losing the whip in September last year when he called female Ukip supporters "sluts" at a conference.
Being banned from speaking at an event in Weardale appears to have been the final straw.
Video: Godfrey Bloom explains his 'sluts' comment
"I've always been very popular with the membership and indeed with the electorate so quite what's going on I couldn't say but I've had enough," he said.
Mr Bloom, a Ukip member for 16 years, said he would not be joining another party, claiming he was sick of "party politics".
He had a message for Tory defector Mr Carswell, who took his seat in the House of Commons on Monday.
In pictures: The rise of Ukip
In pictures: The rise of Ukip
1/8 1993: Alan Sked forms Ukip

History professor Alan Sked had been active in anti-EU politics for a while beore he founded Ukip in 1993. He resigned from the party after the 1997 election, concerned that it was attracting far-right members, and has been critical of Ukip since. Picture: Reuters

Reuters

2/8 2005: Kilroy defects

Former TV presenter Robert Kilroy-Silk founded Veritas in 2005, after a failed bid to become leader, and took many of Ukip's elected members with him. But the party slowly lost its popularity and didn't put forward any candidates in the last election. Picture: REUTERS/Kieran Doherty REUTERS KD/RUS

3/8 2010: Farage becomes leader, again

Farage had led Ukip from 2006 until 2009, when he stood down to fight against the Speaker, John Bercow, for his Buckingham seat. He failed to win the election and returned to lead the party in November 2010. Picture: REUTERS/Kieran Doherty

REUTERS/Kieran Doherty

4/8 2010: Ukip fights for election

Nigel Farage was injured in a plane crash on polling day in the 2010 general election, but his party increased its success in the votes. It fielded 572 candidates and took 3.1% of the vote, though failed to win any seats. REUTERS/Darren Staples

REUTERS/Darren Staples

5/8 2013: Eastleigh gains

Ukip's candidate Diane James got the highest ever number of votes for any candidate from the party, but was beaten by the Liberal Democrats. The surge in support gave Ukip confidence ahead of local and European elections later in the year. Picture: Reuters

6/8 2013: Bloom kicked out

Godfrey Bloom, who served as an Ukip MEP from 2004 to 2014, had the whip withdrawn in 2013 after sexist comments and an attack on a journalist. He sat as an independent MEP until 2014, when he ended his term in office. Picture: REUTERS/Luke MacGregor

7/8 2014: European election success

Ukip got a higher proportion of the vote than any other party in 2014's European elections, adding 11 new MEPs and taking its total to 24. REUTERS/Luke MacGregor

8/8 2014: Carswell defects

Douglas Carswell defected from Ukip at the end of August, and was followed by Mark Reckless at the end of September, who resigned from the Tories amid rumours of many more defections to come. Picture: REUTERS/Toby Melville
"I would just say to Douglas: stick to your sort, you believe in libertarianism, you believe in classical liberal economics, don't be pushed off," he said.
"But I would say, Douglas, watch your back. If you bear in mind we started in 2009 in Europe with 13 MEPs, we ended up with five, so there are dead bodies of Ukip [politicians] all over the place with a knife quivering in their back, Douglas. Make sure it's not yours."
Reuse content