David Cameron's plan to force young people to work for benefits would see them working 30 hours a week for a fraction of the minimum wage, it emerged today.
The proposals would put young adults who have been out of work, education or training for six months ("neets") into compulsory community work such as making meals for the elderly or joining local charities.
Under the scheme, Jobseekers' Allowance would be abolished for 18 to 21-year-olds and replaced with the already announced "Youth Allowance" of the same amount - £57.35 a week, or £1.91 per hour of work.
The Prime Minister claimed that the programme would "effectively abolish long-term youth unemployment".
Speaking ahead of an appearance in Hove today, he said: "(Our reforms) are not just about saving money.
"They are about changing lives and making this a country that rewards work and gives everyone the chance of a better future.
"That is why we are taking further steps to help young people make something of their lives. Our goal in the next parliament is effectively to abolish long-term youth unemployment.
"We want to get rid of that well-worn path from the school gate, down to the jobcentre, and on to a life on benefits."
Election Analysis: The Key Voters
Election Analysis: The Key Voters
1/6 Settled Silvers

These are the comfortably-off over-60s, still in work or drawing a decent pension – or both – who are enjoying their entitlements such as the Winter Fuel Allowance, free bus passes and free TV licence. They are worried about immigration and Europe. Both the Conservatives – who are pledging to keep benefits for wealthier pensioners – and Ukip want their votes

Micha Theiner

2/6 Squeezed Semis

Slightly older than the Harassed Hipsters, they are the second key group for Labour's family-focused election strategy. They are married couples on low to middle incomes who own unpretentious semi-detached homes in suburban areas. In 2001, these were the Pebbledash People sought by the Conservatives. Now the pebbledash is gone and a modest conservatory has been built at the back

Micha Theiner

3/6 Aldi Woman

In 1997 and 2001 she was Worcester Woman – a middle-class Middle Englander shopping at Marks & Spencer and Waitrose. Today, the age of austerity means she still goes to Waitrose for her basic food shop but cannily switches to Aldi for her luxury bargains such as Parma ham and prosecco. Identified by Caroline Flint, she is a key target of both Labour and the Conservatives

Micha Theiner

4/6 Glass Ceiling Woman

In her thirties or forties, she has an established career under her belt, perhaps in the "marzipan layer" – one position below the still male-dominated senior executive level. She is now, according to Nick Clegg, forced into making the "heart-breaking choice" between staying at home to bring up her children and going to work and forking out for high-cost, round-the-clock childcare

5/6 Harassed Hipsters

One of the two key groups identified by Labour as crucial to hand Ed Miliband the keys to Downing Street. Well-paid professional couples, often with children, they live in diverse urban and metropolitan areas rather than the suburbs. More comfortably off than most swing voters, they are time poor – struggling to balance raising a young family with busy work schedules

Micha Theiner

6/6 Neo-Greens

These are mainly first-time voters, though some are in their twenties – students and digital-age generation renters helping to fuel the "Green Surge". Idealists, but with no tribal loyalty to any party, they are anti-austerity, middle class, living in urban areas. Despite studying at university or recently graduated, they are struggling to find decent jobs and want cheaper housing and a higher minimum wage

Micha Theiner
Mr Cameron claimed young people need "work experience and the order and discipline of turning up for work each day" while searching for a full-time job.
"From day one they must realise that welfare is not a one-way street," he added.
"Yes, we will help them, but there is no more something for nothing. They must give back to their community too."
The Conservatives said the £20 million policy would be funded by initial savings from the nationwide introduction of Universal Credit.
After six months on the Youth Allowance, claimants would be required to undertake an apprenticeship or community work for their benefits.
It is understood that the new plans will not apply to young people who have completed independent work experience in the six months before their benefits claim or the small number of university graduates who could be drawn into the scheme.
The Community Work Programme policy would apply to the roughly 50,000 new 18 to 21-year-old claimants a year who have been "neet" for six months - around 10 per cent of claims.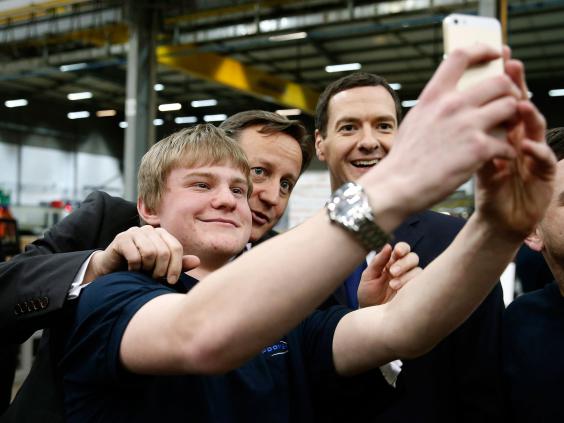 According to Downing Street, there is evidence that community work placements are more effective in moving claimants off benefits than the normal Jobcentre Plus regime.
But a Liberal Democrat spokesperson criticised the Tory proposals as "all stick, no carrot", saying they were designed to "punish" rather than to help people into work, the BBC reported.
The shadow Work and Pensions Secretary, Rachel Reeves, said the party had "abandoned thousands of young people".
Under Labour plans, young people who have been unemployed for a year would be offered a six-month job, paid for by a tax on bankers' bonuses.
The "Compulsory Jobs Guarantee" would also apply to adults aged 25 or over claiming Jobseeker's Allowance for two years or more.
Ed Miliband has also warned that young unemployed people who refuse to comply with the scheme could lose benefits under a Labour government.
Additional reporting by PA
Reuse content