Grant Shapps' first meeting with his new boss Justine Greening must have been awkard.
The former Conservative party chairman, who was demoted to a junior ministerial role in the International Development department as David Cameron appointed his new Government, was accused last month of editing Justine Greening's Wikipedia page.
Ms Greening was re-appointed as International Development Secretary and retains her Cabinet position, unlike Mr Shapps.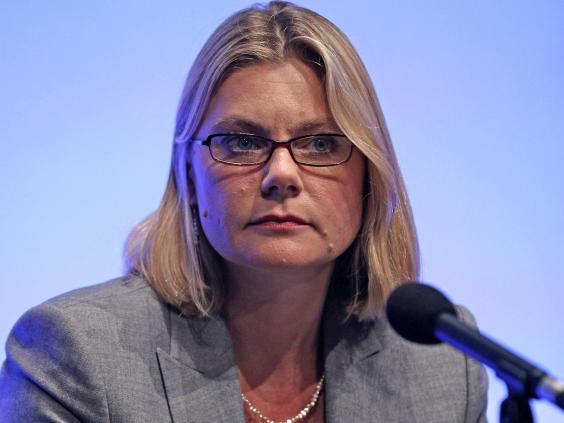 Her Wikipedia page was altered with rather disparaging and unhelpful edits by one of the online encyclopaedia's users - named 'Contribsx'.
Ms Greening's Wikipedia entry was among a handful of high profile Conservative ministers' pages that 'Contribsx' decided to change, including another figure Mr Shapps is likely to work closely with in his new role - Foreign Secretary Philip Hammond.
A user claiming to be a Wikipedia administrator reported and suspended the 'Contribsx' account on suspicion it was being used by Mr Shapps or "someone acting on his behalf".
Among the edits made to Ms Greening's Wikipedia page by the 'Contribsx' user was a reference to her failure to support the Government's support for intervening in Syria and also added in detail about her opposition to a third runway at Heathrow.
The user added this to her page: "In the runup to the 2012 cabinet reshuffle Greening said it would be difficult to serve in a cabinet which was in favour of a third runway."
Pointing out her failure to vote on military action in Syria, 'Contribsx' wrote that Ms Greening was "reportedly chatting to another minister in a room behind the chamber and failed to notice that the division bell had sounded."
Mr Shapps categorically denied he had any involvement in editing the pages.
Appointments in David Cameron's Tory government
Appointments in David Cameron's Tory government
1/7 Amber Rudd: Energy and Climate Change Secretary

Wins a big promotion after increasing her majority in Hastings and Rye despite once describing her constituency as a "bit depressing". The former banker and financial journalist is considered a moderate Eurosceptic

2/7 Priti Patel: Employment Minister (attending Cabinet)

Former party press officer and now the Witham  MP is rewarded for her  forceful performances  during the election campaign. She is on the right of the party and a Eurosceptic.  Ms Patel has called for the return of hanging

3/7 John Whittingdale: Culture Secretary

Having never been a minister in his 23 years as an MP John Whittingdale's elevation to the Cabinet is meteoric. But his appointment sends a message to Tory backbenchers that preferment is possible even for those who may have given up hope (and be tempted to rebel)

Getty

4/7 Anna Soubry: Minister for Small Business

Not long ago the former defence minister feared she would not even be an MP but now she has a key role in the Department for Business and the right to attend Cabinet

5/7 Sajid Javid: Business Secretary

Rising star tipped as Britain's first prime minister from an ethnic minority. Son of a bus driver, he grew up in two-bedroom flat in Bristol. After university he joined Deutsche Bank. Parliamentary aide to George Osborne before becoming Treasury minister and Culture Secretary

6/7 Greg Clark: Communities Secretary

Thoughtful moderniser who grew up in Middlesbrough where his father and grandfather were milkmen.  Was a special adviser before entering Parliament in 2005. In previous ministerial posts he drew up plans to devolve powers to cities

7/7 Matthew Hancock: Cabinet Office minister and Paymaster General

A former aide to George Osborne before becoming an MP in 2010 election. Hancock has had a meteoric ministerial rise
Reuse content