Ed Miliband has categorically ruled out forming a coalition with the SNP after days of mounting pressure on him to say whether he would do a deal with the Scottish nationalists in the event of a hung parliament.
The Labour leader said this afternoon there will be "no SNP ministers in any government I lead" and accused the Tories of trying to "scare" people over their "misleading" claims that he would go into coalition with Nicola Sturgeon's party.
However he will continue to face questions over whether he would pursue a confidence and supply arrangement whereby a minority Labour government would be propped up by SNP MPs on a vote-by-vote basis. 
Speaking to voters in Leeds, Mr Miliband said: "The Tories, the party that haven't won a majority for over 20 years, are now running a misleading campaign based on the idea of a Labour-SNP coalition.
"As I said on Thursday night, this idea is nonsense, it will not happen.
"There are big differences between us - not just on the integrity of the United Kingdom and another referendum but on fair funding between the countries of the UK. And on fair taxes.
"In continuing to repeat this claim, the Conservative Party and David Cameron are simply trying to scare people.
"Labour will not go into coalition government with the SNP. There will be no SNP ministers in any government I lead."
English votes for English laws: What is it all about?
English votes for English laws: What is it all about?
1/6 So Scottish MPs would still be able to vote on matters which do not relate to their constituents?

Yes, but Mr Hague has insisted the plans would mean English MPs would have the "decisive" say. Asked whether former SNP leader Alex Salmond, who is hoping to win a Westminster seat at the upcoming election in May, would be able to vote on English legislation, the Commons Leader said: "He will be voting on it but the decisive votes will be cast by the English Members of Parliament"

2/6 Who would decide on what was an 'England-only' matter?

So far, Mr Hague has said it would probably be for the Speaker of the Commons to decide which measures should be treated as England-only, adding there would have to be "a mechanism" for making the decisions. He told the BBC: "Most of the recommendations from all the studies have said you would have to ask the Speaker of the House of Commons or some other impartial authority to certify when a piece of legislation or part of it is English or English and Welsh or United Kingdom. That's the system we would have to adopt"

PA

3/6 Why does Mr Hague want to introduce the proposal?

The Commons Leader is expected to argue that the reform is a "fundamental issue of fairness." He will say: "How could it possibly be right for the Scottish Parliament, for example, to vote for a reduction in Air Passenger Duty in Scotland and then for Scottish MPs to come to Westminster and be able to impose an increase in Air Passenger Duty in England? "You only have to think about this for a moment to see how fundamentally important this is and how such issues have to be addressed. Under our proposal this would not be possible without the agreement of English MPs. "The English veto should be extended to taxation when the equivalent decisions have been devolved to Scotland - and under a Conservative Government it will be"

PA

4/6 Are we likely to see the proposals in place anytime soon?

Mr Hague wants to see the reforms debated in the Commons before the general election and has said the proposals will feature in the Conservative manifesto for the general election on 7 May. He said the plans will be "a very high priority" for the Tories if they win an outright majority in the election

5/6 Is everybody happy with these proposals?

Not really. The proposals have fallen short of the English parliament demanded by some MPs, including Tory former Cabinet minister John Redwood, who told the Daily Mail that the plans need to be "strengthened" in order to win support from Conservative MPs. He said: "Scotland can do what it likes under its devolved powers – we are asking for the same." It is believed that some Conservative MPs believe only the more radical option of giving Scottish MPs no vote at all on English matters would meet promises made by Prime Minister David Cameron, who directly linked the English votes issue to the granting of new powers to Holyrood in his immediate response to the rejection of independence by the electorate in Scotland. A Downing Street source has acknowledged there were "clearly different views" within the party but expected "very widespread support" for the chosen option

Getty Images

6/6 How is this likely to affect Labour?

While some Tory MPs may feel the powers do not go far enough, there is likely to be some cheer among Conservative ranks over the potential difficulties it could raise for any future Labour government, reliant on its own Scottish MPs, or the support of the SNP, for a Commons majority. Mr Hague has in fact pointed out the proposed changes would curtail the ability of a future government which did rely on Scottish MPs' votes for a Westminster majority to pass legislation on England-only matters, including health, education and transport. He told the BBC Radio 4's Today programme: "It would be able to get many things through that are United Kingdom matters, but when it came to England then it would have to have regard to the majority in England. That is a necessary corollary of greater devolution to Scotland and Wales"
Mr Miliband attempted to focus attention back on the Conservative party's relationship with Ukip, claiming the "real danger" to the UK was a Tory government "propped up by Ukip". "That is the real threat to working families," he argued.
The constant questions over whether Labour would invite the SNP into a coalition proved the Tories had "given up on the Scottish people" and "given up on winning a majority", he added.
Nigel Farage said his party would offer a confidence and supply arrangement to the Tories in exchange for holding an EU referendum by Christmas, but speaking yesterday, George Osborne described the ideas as "total nonsense".
Mr Cameron has pledged a referendum in 2017 but has hinted at the prospect of holding it earlier.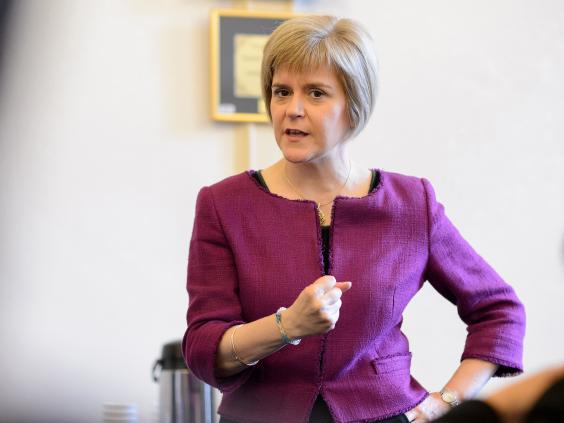 Nicola Sturgeon said she was not surprised by his announcement and said there was still room for left-leaning parties to work together to keep out the Conservatives from government.
"Nothing Ed Miliband has said today has changed that for me. I still point to the reality that if there are more anti-Tory MP's in the House of Commons than Tory MP's then we can work together to keep the Tories out of government, which is what most people in Scotland want to see."
Earlier th First Minister had described Labour ruling out a coalition with her party as an "odd move" because it would allow Mr Cameron to "waltz back in to Number 10".
The six-party election: key figures
The six-party election: key figures
1/12 Conservatives

2/12 Lynton Crosby (Con)

Chief election strategist

Rex

3/12 Labour

4/12 Lucy Powell (Lab)

Vice chair of general election campaign

5/12 Liberal Democrats

6/12 Paddy Ashdown (Lib Dem)

Campaign director

Getty

7/12 Ukip

8/12 Suzanne Evans (Ukip)

Deputy chairman

9/12 Greens

10/12 Chris Luffingham (Green)

Campaigns director

11/12 Scottish National Party

12/12 Angus Robertson (SNP)

General election director

PA
Labour party sources told The Independent that Mr Miliband had wanted to rule out a deal with the SNP sooner than today but the move was being blocked by Jim Murphy, Labour's leader in Scotland.
Mr Murphy is understood to have argued that making such a firm pledge could backfire for the party on May 7 as it attempts to claw back tens of thousands of former Labour supporters from the SNP.
The Conservatives responded to Mr Miliband's announcement immediately, suggesting Labour would still do a deal with the SNP.
"This changes nothing," a Tory spokesman said. "Ed Miliband will not rule out a deal with the SNP because he knows it's impossible to become Prime Minister without being carried into Downing Street in Alex Salmond's pocket," a Tory spokesman said.
"There have been over 1,200 votes in this Parliament. Vote by vote, bill by bill, issue by issue, Ed Miliband would have to do a deal with the SNP on each and every one of them."
Reuse content