Ed Miliband found himself embroiled in yet another row with business today after the leaders of Britain's biggest firms complained about Labour quoting them in a full-page newspaper advert.
It was meant to be the day they wooed business leaders and highlighted the financial risks associated with David Cameron's pledge to hold an in-out referendum on Britain's membership of the European Union.
But the Labour leader came under fire after his party printed previous statements made by business leaders who had issued similar warnings about a "Brexit".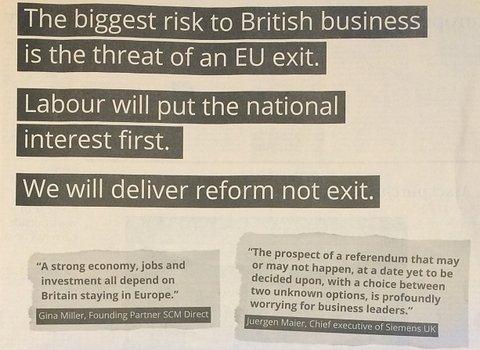 Juergen Maier, chief executive of Siemens UK, said the party had "overstepped the line" by using his quote for party political purposes and said the company had not been told the quote would be included in the advert, which appeared in the Financial Times today.
The quotes from six of Britain's leading business leaders appear under the headline: "The biggest risk to British business is the threat of an EU exit".
Kellogg's also took exception to a quote by its head of UK operations Jonathan Myers, whose comments describing the Tory pledge to hold a referendum "the biggest short term risk to Manchester's competitiveness in the EU" were also included in the advert.
A source close to Kellogg's said "eyebrows were raised" by the use of the quote in the advert and said the firm was "concerned with anything that goes into the public domain that would lean us to a political party".
The firm was contacted on Sunday as a "courtesy" by the Labour party but was not given the chance to remove its association to the advert, the source said.
Speaking this afternoon, Mr Maier, who was quoted warning that the prospect of a referendum was "profoundly worrying for business leaders," said: "We don't want to see our comments attributed specifically to any particular party."
Mr Miliband defended the use of quotes in the advert, saying the party had "simply quoted public statements by these businesses about the place of Britain in the European Union".
What Labour said on immigration
What Labour said on immigration
1/7 Ed Miliband

Labour leader Ed Miliband was accused of telling MPs to "move conversation on from immigration," as revealed by a leaked document made available in December to The Telegraph

PA

2/7 Diane Abbott

Diane Abbott, MP for Hackney North and Stoke Newington, said: "Freedom of movement is an absolutely central component of the EU"

Getty Images

3/7 David Lammy

MP David Lammy said Labour's new "tough rhetoric" on immigration had upset his constituents

Charlie Forgham-Bailey

4/7 Frank Field

MP Frank Field was reported in December to have said that immigrants are contributing "a lot less" than people think to the economy

Justin Sutcliffe

5/7 Chuka Umunna

Shadow Business Secretary Chuka Umunna said: "People absolutely have legitimate concerns about controlling the numbers that come in and out"

AFP/Getty

6/7 Lucy Powell

MP Lucy Powell, Shadow Minister for the cabinet, is reportedly responsible for approving the leaflet that told doorsteppers to "move conversation away from immigration"

7/7 Yvette Cooper

Shadow Home Secretary Yvette Cooper said: "Immigration is important for Britain but it has got to be controlled and managed so the system is fair for everyone"

Getty Images
Speaking at Labour's business manifesto launch at the London headquarters of Bloomberg, he said: "I think lots of businesses all around this country are not necessarily going to be supporting Labour or the Conservatives but they do have a very strong view about our place in the EU.
"I think this is absolutely at stake in this General Election. Are we going to be reforming the EU from the inside or threatening exit? I think that is something the vast majority of business people share Labour's position."
A Labour party source said Siemens had been informed regarding the advert. "Siemens chief executive Juergen Maier was spoken to last week and this morning and was content for his quote to be used," a spokesman for the Labour leader said.
Reuse content