Ed Miliband declared himself ready to lead the country as he unveiled Labour's manifesto in Manchester today.
He said he had been "tested" over the last four and a half years and had proven he was well-equipped to become Prime Minister, insisting Labour would be a "party of change and responsibility".
He put economic credibility at the heart of the manifesto, promising no extra borrowing for manifesto pledges, but also announced a smattering of fresh policies, including a one-year freeze in rail fares, protecting tax credits, broadening access to childcare and bringing forward their commitment to increasing the minimum wage to £8.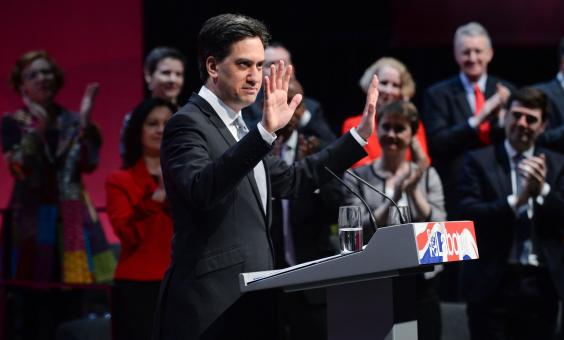 Here are the ten key policies in Labour's manifesto, starting with four new pledges that were announced today: 
New: A one year freeze in rail fares, costing £200 million, paid for by delaying road upgrade works in the south west

New: Raising the minimum wage to £8 an hour by October 2019, one year earlier than previously promised.

New: No cut in tax credits

New: Wrap-around childcare, ensuring all primary schools guarantee access from 8am-6pm. This builds on their key pledge to provide 25 hours of free childcare for working parents of three and four year-olds

Freezing gas and electricity bills until 2017

Banning exploitative zero-hours contracts

Abolishing non-dom tax status, which will affect more than 110,000 British citizens

£2.5bn boost in NHS funding to pay for extra doctors and nurses, paid for by a 'mansion tax' on homes worth more than £2 million and a levy on tobacco firms.

Increase in the top rate of income tax to 50p, imposed on earnings over £150,000, while ruling out rises in VAT, basic rate and 40p income tax rates and national insurance contributions.

Scrapping winter fuel payments for the richest pensioners

A cut in tuition fees from £9,000 to £6,000

Mr Miliband, who gave a confident and assured performance, declared:
"Over the last four and a half years, I have been tested. I am ready. Ready to put an end to the tired old idea that as long as we look after the rich and powerful we will all be Okay. Ready to put into practice the truth that it is only when working people succeed, that Britain succeeds.
What Labour said on immigration
What Labour said on immigration
1/7 Ed Miliband

Labour leader Ed Miliband was accused of telling MPs to "move conversation on from immigration," as revealed by a leaked document made available in December to The Telegraph

PA

2/7 Diane Abbott

Diane Abbott, MP for Hackney North and Stoke Newington, said: "Freedom of movement is an absolutely central component of the EU"

Getty Images

3/7 David Lammy

MP David Lammy said Labour's new "tough rhetoric" on immigration had upset his constituents

Charlie Forgham-Bailey

4/7 Frank Field

MP Frank Field was reported in December to have said that immigrants are contributing "a lot less" than people think to the economy

Justin Sutcliffe

5/7 Chuka Umunna

Shadow Business Secretary Chuka Umunna said: "People absolutely have legitimate concerns about controlling the numbers that come in and out"

AFP/Getty

6/7 Lucy Powell

MP Lucy Powell, Shadow Minister for the cabinet, is reportedly responsible for approving the leaflet that told doorsteppers to "move conversation away from immigration"

7/7 Yvette Cooper

Shadow Home Secretary Yvette Cooper said: "Immigration is important for Britain but it has got to be controlled and managed so the system is fair for everyone"

Getty Images
"If you elect me as Prime Minister in just over three weeks' time: I will fight for that goal. I know Britain can be better. The British people know Britain can be better."
Reuse content