The denial was unequivocal. "This smear is categorically false and defamatory," the Conservative Party chairman Grant Shapps said, insisting he was not behind an anonymous Wikipedia account, "Contribsx", that altered the entries of politicians – including Mr Shapps himself.
But an analysis by The Independent has revealed intriguing details about Contribsx and the user's obsession with Mr Shapps' reputation. 
Wikipedia logs show Contribsx came to life on 25 August 2013, proclaiming to be a floating voter with a "broad interest in UK politics". Over the next five days, Contribsx made a series of fairly uncontroversial amendments to the Wikipedia pages of a number of British politicians. The user pointed out that Francis Maude had helped prepare the Conservative Party for Government in 2010, and added details of David Miliband's salary as head of the International Rescue Committee in New York.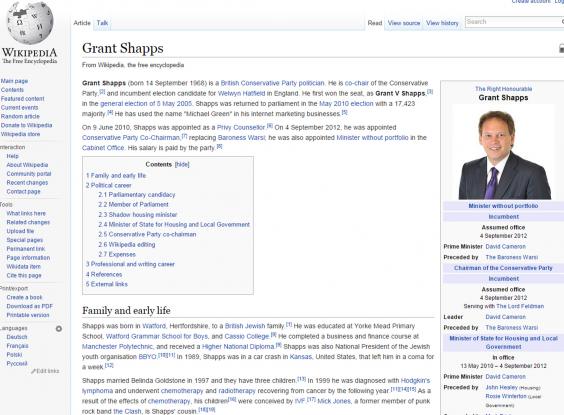 Then, on 1 September, Contribsx contacted another Wikipedia editor called Edwardx for advice on a project.
"As you can see I work on UK and US political figures only," wrote Contribsx – despite having only been a user for less than a week. "I fact check, bring up to date and/or add any significant information which is missing. I have been contemplating tackling the Shapps page which is in need of some work. Looks to have been hijacked somewhat and is in need of tightening up with proper balance achieved."
Contribsx added that before they did anything, they "wanted to touch base" because they had seen Edwardx had been in a dispute with an "annoying user" who had been "removing chunks of text without justification".
Edwardx replied enthusiastically: "Your proposed approach sounds excellent."
Contribsx was delighted. "I will be careful not to remove criticism... This should be a balanced and dispassionate article like all others."
Except this is not quite how things turned out. Contribsx's first change was to remove a reference at the top of the Shapps page to Michael Green – the alter ego under which the Conservative chairman sold his get-rich-quick schemes before he became an MP.
---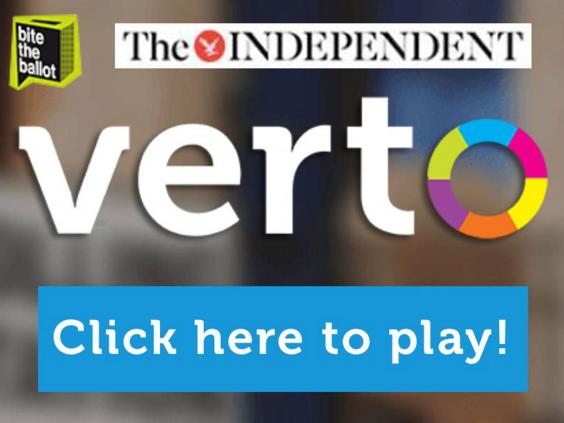 Are you undecided about who to vote for on 7 May? Are you confused about what the parties stand for and what they are offering? Take this interactive quiz to help you decide who to vote for...
Then Contribsx removed a critical reference to donations Mr Shapps had received in opposition from firms connected with his shadow ministerial housing portfolio.
But it was a revision to Shapps' Wikipedia entry three days later that really alarmed other users. Contribsx deleted swathes of the entry relating to controversies surrounding Mr Shapps business activities and seemed keen to add in rebuttals for every allegation relating to the Tory chairman.
In fact, a study of Contribsx's Wikipedia alterations reveals that on almost every occasion in which the user made small changes to other people's entries, they also made changes to the Shapps page, which were often more controversial and extensive. In Contribsx's last edit, on Easter Sunday this year, the Wikipedia page of Karl Turner, the shadow Attorney General, was changed. Two weeks earlier, Turner had called on the Prime Minister to investigate Shapps over his repeated denials that he had posed as "web millionaire" Michael Green while an MP.
In pictures: Experts' predictions for the General Election - 19/04/15
In pictures: Experts' predictions for the General Election - 19/04/15
1/10 Andrew Hawkins (ComRes)

"I am thinking Labour will be the largest party. Cameron is making no headway and refusing the debate was a misjudgement. Even if the Conservatives are the largest party I cannot see how they can win enough seats to form a viable alternative to an Ed-led, three-way arrangement with the Lib Dems and SNP."

Andrew Hawkins

2/10 Joe Twyman (YouGov)

"Ed Miliband's performance at the challengers' debate could boost his ratings, and may result in a short-term boost for his party's fortune, but I think it unlikely to change the overall picture longer term."

3/10 Ben Page (Ipsos MORI)

"Labour had the better week, and Ed Miliband is improving his personal ratings from a low base, but neither of the two main parties is getting a majority in these numbers."

4/10 Rick Nye (Populus)

"Still no change."

5/10 Nick Moon (GfK)

"I agree with Rick [Nye, who said "no change" last week]. Most campaigns don't really see much change."

6/10 Damian Lyons Lowe (Survation)

"On the balance of Thursday's debate – I'm staying unchanged."

7/10 Michelle Harrison (TNS)

"The Conservatives and Labour have barely moved. The most notable event? The SNP hitting 52 per cent on the latest TNS Scotland poll. A key theme for this election is the impact of 'edge' politics on the centre."

8/10 James Endersby (Opinium Research)

"Our poll gives the Tories a four-point lead. It was carried out either side of Thursday's TV debate so we haven't seen the expected dent in Tory fortunes yet. The pattern we've seen for a while now appears to be unaffected by week-to-week events. If our figures hold fast, the Lib Dems would still be kingmakers as Tories plus DUP wouldn't equal 326 seats, but neither would SNP plus Labour. Both sides would need the Lib Dems to eke out a majority."

9/10 Martin Boon (ICM)

"We caused something of a kerfuffle this week with a Tory six-pointer. Looking back over the last four campaigns, on each occasion the incumbent government just failed to reach the vote share achieved on our first campaign poll. As I'm reaching for an answer, on that basis alone I'll go for 36 per cent for the Tories and 34 per cent for Labour."

10/10 Lord Ashcroft (Lord Ashcroft Polls)

He refuses to make predictions. "My polls are snapshots, not predictions."

Rex
The user posted on Turner's Wiki page that the Labour MP had "admitted breaking House of Commons rules by sending out invitations to a £45-a-head Labour party fundraising event from parliamentary email". Contribsx did not add that the Parliamentary Commissioner for standards had dismissed the allegations.
What is also strange is the lengths that such a "floating" voter should go to keep their online identity a secret. Wikipedia tracked a range of IP addresses used by Contribsx to a web hosting service regularly used by spammers. The same service had been used by an anonymous user in 2013 to remove material from Wikipedia related to Michael Green.
Of course, none of this proves anything. But one thing is certain: somewhere out there is a very dedicated fan of Mr Shapps who is very protective of their privacy.
---
The Independent has got together with May2015.com to produce a poll of polls that produces the most up-to-date data in as close to real time as is possible.
Click the buttons below to explore how the main parties' fortunes have changed:
All data, polls and graphics are courtesy of May2015.com. Click through for daily analysis, in-depth features and all the data you need. (All historical data used is provided by UK Polling Report)
Reuse content