Liberal Democrat MPs and peers have approached Norman Lamb to stand for party leader, the Health minister has revealed.
Deputy Prime Minister Nick Clegg is expected to lose the leadership if the Liberal Democrats fail to retain a large number of their 57-seat haul from 2010. And he could lose his own seat in May if he fails to counter a Labour surge in his Sheffield Hallam constituency.
Speaking before the Lib Dem spring conference in Liverpool this week, Mr Lamb admitted he is thinking about running.
"When people raise this with me it inevitably makes you think, in the circumstances envisaged, what would I do?" said Mr Lamb. "I have to answer the question. I'm fiercely loyal to Nick. I always have been, but at some point there will be a further [leadership election] and I will consider the position. I am open-minded about it. My view is if people think well of the job that I've done [as Health minister] and people then, as a result, conclude they want me to have a go for the top job, then I will consider it."
It is thought that Sir Menzies Campbell, Lib Dem leader before Mr Clegg, is among those urging Mr Lamb to get a campaign ready. Mr Lamb, 57, was Sir Menzies' chief of staff. Norman Baker, the former Home Office minister, is also expected to support him. Lib Dem peers were impressed by a recent mental health speech delivered to them by Mr Lamb. The peers are a strong source of support for Ed Davey, the Energy Secretary, another potential contender.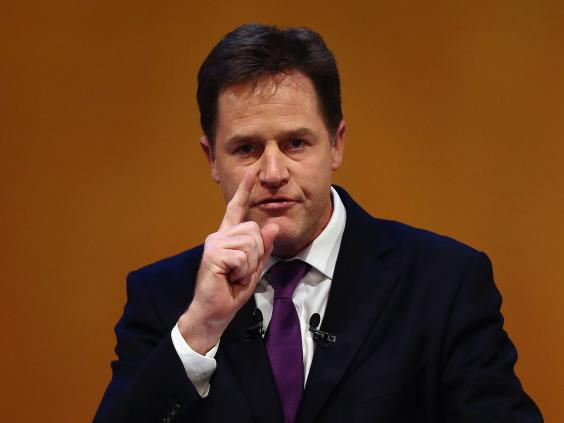 Tim Farron, the former party president, is currently favourite, as he has built up a huge base among party activists. Like Mr Lamb, the MP for Westmorland and Lonsdale is considered a formidable campaigner, but is also relatively untarnished by coalition as he has not held a ministerial role.
A senior MP said Mr Lamb and Mr Davey would have to be "locked up in a room and work out a Granita-style deal", referring to the 1994 meeting that resulted in Tony Blair standing for the Labour leadership rather than Gordon Brown. Sources say both men are too similar as party centrists and they would split each other's vote, leaving them with little hope of defeating Mr Farron.
Mr Lamb insisted he was not planning to "campaign in an undercover, clandestine way". He also revealed the party plans to create a new joint Department for Health and Care. "It's blindingly obvious that you need those two issues together in a coherent way in central government and a completely pooled budget, in the same locality," he said.
The North Norfolk MP added he had asked civil servants to look into the possibility of raising cash for the NHS by selling off unused land, such as former hospital sites.
Despite describing himself as an economic liberal, he would also use the surpluses from foundation trusts to fund cash-starved parts of the NHS in the same area. Mr Lamb denied suggestions that a raid on successful trusts would act as a disincentive for them to perform well. "It's public money. They're not private organisations, for goodness sake," he said. "Let's use that money to make the system more efficient."
10 things you didn't know about Nick Clegg
10 things you didn't know about Nick Clegg
1/8 Cheese

When someone asked what his "favourite European cheese" was, Nick Clegg named Wookey Hole Cheddar, from Dorset.

Tim Boyle/Getty Images

2/8 Food

"Anything Mediterranean" is apparently Mr Clegg's preference out of European cuisines.

Atout France/Jean FranÁois TripelonøJarry

3/8 Underdogs

When talking about his football preferences, Mr Clegg said: "I always go for the underdog." What do you mean you knew that already?

4/8 Yorkshire

Mr Clegg thinks Stanage Edge, in the Peak District, is the "best thing about Yorkshire". Shame part of it is in Derbyshire.

SIMON ROBERTS

5/8 Nuts

It seems Mr Clegg likes to have a bowl of mixed nuts at his desks, as a picture he tweeted during the Q&A shows.

Nick Clegg/Twitter

6/8 Lanzarote

When asked to recommend a restaurant in Lanzarote, Mr Clegg passed on the question to David Cameron. Not a popular holiday destination for the Deputy Prime Minister, perhaps.

7/8 EU love

When asked what his favourite thing about the EU was, Mr Clegg answered with three words: "Jobs, jobs, jobs."

8/8 Fruitcakes

Mr Clegg would not comment on whether Ukip were "fruitcakes" but said they were "plain wrong".

Alamy
He would also establish a "transformation fund" which would digitalise the NHS and care system "once and for all". Mr Lamb added: "It's unbelievable that here today there will be thousands of faxes flying around the NHS. What other part of our economy still uses fax machines? Every part of the economy has seen improvements in productivity as a result of digitalisation. That hasn't happened yet in the NHS."
Post-election, Mr Lamb is also likely to address a major criticism of the parliamentary party: a lack of women. Currently there are only seven women MPs and most of them, including Home Office minister Lynne Featherstone, are in serious danger of losing their seats.
Mr Lamb said women might be put off politics because of the "very aggressive political landscape" which can be "pretty brutal". However, he is going to talk at fringe meetings next weekend about how the Lib Dems can get a better gender balance among its MPs.
"We have failed ultimately to get a good balance into Parliament and we have to think of other things to pump- prime the change," said Mr Lamb. "The current imbalance, the likely continued imbalance and the potential for the situation to be less good make me believe that something more is required and that's why I argue for some form of positive action."
The party needs to focus on regional groups of about 10 to 20 constituencies, rather than have all-women shortlists for the party's few safe seats, he said. "You may get a cluster of seats, and you say within that cluster of seats there has to be 50:50 [candidates] between men and women. You then avoid imposing a particular shortlist on a particular seat, but within that they will have to work together to get a balance of men and women."