David Cameron will use the Conservative Party's first majority in the House of Commons for nearly 20 years to "deliver" on a radical agenda to cut welfare, shrink the size of the state and re-define Britain's relationship with Europe.
Conservative insiders said Mr Cameron would move to the right to consolidate support among his backbench MPs after five years of compromise with the Liberal Democrats.
Among Mr Cameron's first legislative priorities will be to enshrine an EU referendum into law, bring in the so-called 'snoopers charter' to give police greater powers to monitor internet communications and give English MPs a veto over legislation only affecting England.  The Tories also intend to publish plans to scrap the Human Rights Act within their first 100 days. All proposals had been previously blocked by the Lib Dems.
Downing Street announced the top four Tory jobs in Government will all remain unchanged. Theresa May, Philip Hammond and Michael Fallon will remain in post while George Osborne is re-appointed Chancellor. He also replaces William Hague as Mr Cameron's de facto deputy and is also expected to have a key role in defining Britain's stance on renegotiating its position in the EU.
Best General Election 2015 quotes
Best General Election 2015 quotes
1/10 1. "Am I tough enough? Hell, yes, I'm tough enough."

Ed Miliband bats away suggestions he would be too weak on the international stage. It likely to go down as one of the quotes we remember this election by.

Matthew Lewis/Getty Images

2/10 2. "If I'm getting lively about it, it's because I feel bloody lively about it."

David Cameron attempts to prove how passionate he is about wanting a second term as Prime Minister after Tory donors criticised his lack of enthusiasm.

AFP

3/10 3. "Oh it's crats? I thought it was Liberal Demo-cats"

Reality TV star Joey Essex is taught a thing or two during his meeting with Nick Clegg.

PA

4/10 4. "Brain fade"

Green party leader Natalie Bennett gave what was described as the "worst political leader's interview ever" on LBC Radio as she fails to answer how the Greens would pay for its ambitious housing policies.

LBC/YouTube

5/10 5. "We're a shining example of a country where multiple identities work. Where you can be Welsh and Hindu and British, Northern Irish and Jewish and British, where you can wear a kilt and a turban, where you can wear a hijab covered in poppies. Where you can support Man Utd, the Windies and Team GB all at the same time. Of course, I'd rather you supported West Ham"

David Cameron experienced his own brain fade when he forgot which football team he supported.

Getty Images

6/10 6. "This is a real career-defining … country-defining election that we face in less than a week's time"

The Prime Minister made another gaffe when he made it sound like the election was all about himself.

BBC

7/10 7. "Ed Miliband stabbed his own brother in the back to become Labour leader. Now he is willing to stab the United Kingdom in the back to become prime minister."

Defence Secretary Michael Fallon launched a vicious personal attack on Ed Miliband.

PA

8/10 8. "Ajockalypse Now."

The colourful term used by Boris Johnson to describe a Labour government propped up by the SNP.

JUSTIN TALLIS/AFP/Getty Images

9/10 9. "The SNP are openly racist. The anti-English hostility, and the kind of language that is used about and towards English people, is totally extraordinary."

Nigel Farage launches an attack on Nicola Sturgeon and her SNP party.

AFP/Getty Images

10/10 10. "Terms are like Shredded Wheat. Two are wonderful, three might be too many."

David Cameron rules out a third term as Prime Minister.

Getty Images
But the first challenge for Mr Cameron and Mr Osborne will be to put together a comprehensive spending review in the next few months to meet the Tory pledge of eliminating the structural deficit by 2018.
As well as deep welfare cuts The Independent understands that the Department of Business and the Department of Energy and Climate Change, previously run by the Lib Dems, will be among the biggest casualties in terms of spending reductions.
Oliver Letwin, the Tories' policy chief, has spent the campaign in Whitehall drawing up proposals to merge quangos and slash Government regulation. These are likely to form a key part of the spending review. The review has been made more difficult by Mr Cameron's late and unexpected election pledge to find an extra £8bn for the NHS. This has yet to be funded and if the Tories stick to their other tax and spending commitments could require further cuts. Most senior Tories had expected to be negotiating another coalition agreement with the Liberal Democrats, giving them the flexibility to raise taxes to fund their additional spending commitments. As it is they are now bound to implement legislation binding the Government not to increase income tax, national insurance or VAT rates for the next five years.
Preparations will get under way in Whitehall to draw up comprehensive demands to be put to other European leaders to form the basis of a renegotiation of Britain's EU membership. This is unlikely to be easy. Mr Cameron will have to tread a path between what the rest of Europe is prepared to concede in terms of migrant benefit restrictions and reclaiming powers from Brussels, and what is acceptable to his own Eurosceptics.
And Europe will not be the only issue where Mr Cameron will face problems from his own backbenchers.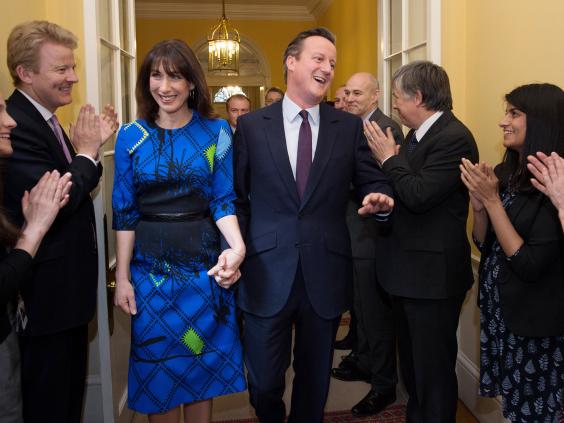 Paradoxically, despite winning an overall majority, the Prime Minister is far more vulnerable to rebellions than he was in the last Parliament, when the combined strength of the Tory-Lib Dem coalition meant he enjoyed a stronger majority in the Commons.
Then the two parties had a combined majority in the Commons of 76 but now the Conservatives alone have a majority of just 12.
This will severely restrict his ability to introduce legislation that does not command the support of his entire Parliamentary party and make him uniquely vulnerable to rebellions. But these are problems to come, and this was a day for the Tories to celebrate a remarkable and unexpected election victory.
While strategists had been privately confident of doing better than the election polls predicted they were none-the-less taken aback by the size of the swing away from Labour and the Liberal Democrats.
A senior Tory source said private polling carried out by the party's election supremo Lynton Crosby had them on just over 300 seats "for several weeks" before polling day.
"What we couldn't understand was the discrepancy. But Lynton was always confident that our polling was correct," they said.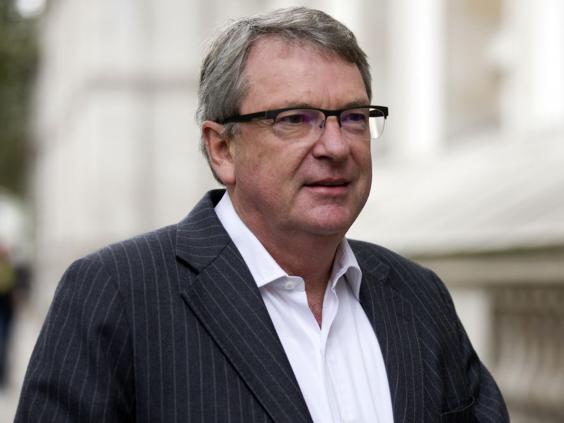 Another Tory aide added: "The impressive thing about Lynton was that he set the strategy and stuck rigidly to it even when we were in the firing line. He basically said I'm in charge and if this doesn't work out I'll shoulder the blame."
Under the plan set out by Crosby the Conservatives would attempt to squeeze Ukip and Lib Dem votes by playing on fears of the SNP while highlighting David Cameron's leadership and fears of economic "chaos" under Labour. All the messages had been extensively tested on focus groups in key marginals. But even he was surprised by the extent of the Labour collapse.
"When the exit poll came in there was a huge cheer across the office," said an aide working in Conservative Central Office. "Then it was a case of 'OK this is looking pretty good, but let's not get carried away'."
The aide said the scale of the Tory gains started to become apparent just after midnight when word came through from Twickenham that Vince Cable was going to lose his seat.
The failure of Mark Reckless to hold on in Rochester and Strood and the return of Jackie Doyle-Price in Thurrock against a strong Ukip challenge were among other highlights. But those who were there insist that the victories were not celebrated with Champagne. "It was beer and pizzas only," one aide said. "You know we don't do Champagne these days."
Reuse content