David Cameron is considering a "middle way" option to the controversial planned repeal of the hunting ban in a bid to limit public outcry over animal welfare, it has emerged.
A bill to axe the 2004 Hunting Act will not be in this week's Queen's Speech but legislation is expected before Christmas. While the new laws would allow hunting to resume, under consideration is a compromise that would protect foxes and other wild animals from "unnecessary cruelty". Other options on the table are licensing or tougher regulation of hunting than existed before the ban came into force in 2005.
The Prime Minister is understood to be considering a compromise package because of the huge support among voters for the original ban. It is possible that the Queen, in her 62nd address to Parliament on Wednesday, will allude to a free vote on hunting within the year. A number of Conservative MPs stood at the general election with the backing of Vote-OK, a pro-hunting umbrella group, on the promise that they would vote for repeal in the Commons. Yet animal welfare campaigners are alarmed at the prospect of repeal of the 2004 act, which was hugely popular among voters.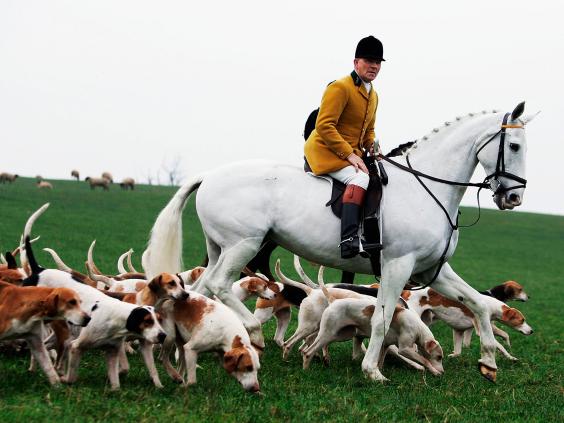 Pro-hunting groups are believed to be open to a compromise option, as they were more than a decade ago when the issue was debated at length in the Commons and Lords. The first is the "Donoughue option", named after the former Labour minister Lord Donoughue, who originally proposed a middle way to reconcile strong feelings on either side of Parliament. This would involve outlawing "deliberate and unnecessary cruelty" to wild animals, which would ban digging out fox cubs from dens, but would still permit hunting.
A separate compromise, which would also be supported by pro-hunting groups, would be for hunting to return but be more closely regulated than it was before the outright ban – this was the original law envisaged by Alun Michael, the then rural affairs minister, in 2002.
Since the ban came into force a decade ago, hunting of foxes with dogs is banned but hunts are legally allowed to use hounds following an artificial scent. The Countryside Alliance and Vote-OK say that a repeal is needed to lift the threat of criminal prosecution from members of hunts where foxes are accidentally killed.
A Countryside Alliance source said: "We have always been open to a middle-way option if that would put the issue to bed. We have always been open to anything logical that isn't just an illogical hatchet job."
However animal welfare campaigners and many Labour MPs are unlikely to support a middle-way option and would want to block anything that waters down the ban.
The new legislative programme will also include a merging of adoption services, making it easier for children to be placed with families outside their local authority area.
The Prime Minister today announces that all government ministers will have their pay frozen for the entire parliament, a move that will save an estimated £800,000 per year, or £4m in total this parliament. While the figure is a small sum compared to the vast government budget, Mr Cameron said it underlined his government's determination to cut the deficit and show "we are all in this together".
What does five more years of the Tories mean for Britain?
What does five more years of the Tories mean for Britain?
1/8 Welfare payments will be slashed

One of the most controversial parts of the Conservative manifesto was to cut benefits for the working age poor by £12 bn over the next three years. But during the campaign they only said where £2 bn of these savings would come from. That leaves £10 bn still to find. Some experts think the only way they can close that gap is by means testing child benefit – with millions of families losing out

Getty

2/8 There will be tax cuts for those in work and those who die

The Tories will increase the threshold at which the 40p rate of tax becomes payable to £50,000 by 2020. They haven't said so but it is also likely that at some point in the next five years they will abolish that 45p rate of tax altogether for the highest earners. They also want to increase the effective inheritance tax threshold for married couples and civil partners to £1m

Getty

3/8 There will be an in/out EU referendum in 2017

The next two years are going to be dominated by the prospect of a referendum on Britain's membership of the EU. First off David Cameron has the daunting task of negotiating a deal with other EU leaders an acceptable deal that he can sell to his party so he can go into the referendum campaigning for a 'yes' vote. This may be unachievable and it is possible that the Tories may end up arguing to leave. Opinion polls show Britain is divided on EU membership, one poll this year showed 51% said they would opt to leave compared to 49% who would vote to stay in

Getty

4/8 There will be more privatisation of the NHS

Having won the election the Tories now have a mandate to go further and faster reforming the NHS. In order to make cost savings there is likely to be greater private involvement in running services, while some smaller hospitals may lose services they currently provide like A&E and maternity units

Getty

5/8 There will be many more free schools – and traditional state schools will become a thing of the past

The Tories plans to create 500 new free schools and make 3,000 state schools become academies. They will also carry on reforming the Department of Education and remove more powers from local authorities over how schools are run

Getty

6/8 On shore wind farms will be a thing of the past and fracking will be the future

Government spending on renewable energy is under real threat now the Lib Dems are no longer in power with the Tories. Subsidies are likely to be slashed for off-shore wind farm and other green energy supplies. Meanwhile there will be generous tax break for fracking as ministers try and incentivise the industry to drill for onshore oil and gas

Getty

7/8 There maybe more free childcare – but not necessarily

In the campaign the Tories pledged to double the amount of free early education for three- and four-year-olds from 15 hours a week to 30. The extra hours would only be offered to working families where parents are employed for at least eight hours a week. However they have not said where the money will come from to fund the pledge

Getty

8/8 Workers' rights could be reduced

The Tories want to slash business regulation, merge regulator and cut costs. The Lib Dems stopped them from reducing the employment rights of workers in power – but these are now under threat

Getty
The move means ministerial pay set by the Government will not have risen for a decade and a Cabinet minister's total pay, including their MP's salary, will remain at £134,565.
Mr Cameron said: "There are still difficult decisions to take as we complete the task of clearing the deficit. As we take those decisions, my approach is simple: we will do it in a one-nation way. We are all in this together: so I am freezing ministerial pay for the next five years."
The Prime Minister is again expected to fail to include a long-promised bill that would speed up costly investigations of nurses who are the subject of public complaints. The Nursing and Midwifery Council (NMC) has argued that the legislation is vital if it is to control the cost of its nurse subscription fees, which has gone up from £100 to £120 this year. NMC chief executive Jackie Smith said: "I just think it would be devastating if this isn't included and leaves us with the prospect of being unable to change anything – the quickest we can do this [an investigation and hearing process] is 15 months.
"We will continue to have 2,000 hearings a year at [a cost of] £13.5m, which is no good for the public or the profession. We face the prospect of years of more waiting on this."
Reuse content