Though Jeremy Corbyn must have seen victory heading his way, he seemed to be taken by surprise when it actually hit him last Saturday morning.
There is an endearing side to this absence of preparedness, which helps explain the appeal that gave him his extraordinary victory. The candidates were privately told the result before the public announcement, and Corbyn and his campaign manager John McDonnell were directed to a private room where he could prepare his acceptance speech. Tom Watson, victor in the deputy leadership race, was also there with his two young children.
Anyone else facing the sort of pressure that Corbyn was under at that moment might have objected to the presence of two understandably excited youngsters. He, by contrast, patiently agreed to pose for a picture with them. Thus in the very first photograph of Corbyn as the elected leader of the Labour Party – not yet seen by the public – he is standing in a line with McDonnell, Watson, Watson's campaign chief  Alicia Kennedy, and the two delighted children.
While any other leader would have done a series of television and press interviews after the result was declared, Corbyn did only one interview that day, with the Sunday Mirror, before going off to do the sort of thing he did so often as a backbench MP – address a rally in support of refugees.
By Sunday, the absence of an organised Corbyn machine was showing a down side. There was no one handling relations with the media. That job had been done competently during the election campaign by a journalist, Carmel Nolan, but team Corbyn had decided to look around for an alternative. Everyone they approached, including the commentator Owen Jones and Kevin Maguire from the Daily Mirror, turned them down.
Meanwhile, the new leader was missing chances to present himself to members of the public curious to know more. He turned down an invitation to appear on The Andrew Marr Show, and spent the morning – again rather appealingly – at a fun day in the park organised by the Camden and Islington Mental Health Trust. But much as he tried to avoid them, he could not keep the journalists away.
He did not yet have access to Ed Miliband's old parliamentary office, so he contacted the Chief Whip, Rosie Winterton, made her the first person to be reappointed to his team, and installed himself in her office to begin selecting a Shadow Cabinet. Unfortunately, the Chief Whip's office is off a corridor to which journalists have access. Four of them, including Darren McCaffrey from Sky News, lurked outside, and were able to overhear as those inside struggled to find someone who would take the job of Corbyn's shadow Defence Secretary. Vernon Coaker turned it down, because he did not share Corbyn's opposition to Trident. Chris Bryant wanted it but withdrew after Corbyn declined to discuss their differing positions on Russia. Both eventually accepted other jobs, while Marie Eagle took on the defence portfolio.
Had he had a media handler, Corbyn might have been warned on Sunday evening that journalists were also working up a story about the fact that the most prestigious jobs had all been awarded to men. As it was, he emerged from the building at 1am, looking exhausted, and was filmed doing a long, silent walk to his car, pursued by questions.
On Monday, Corbyn had his first meeting of Labour MPs and peers, at which some demanded to know what colour poppy he proposed to wear at November's commemoration ceremony at the Cenotaph – the traditional red, or a pacifist's white. He declined to answer. Lord Mandelson, one of the architects of New Labour, sat at the back, watching in silence. A witness said that the colour of his face went from white to alabaster.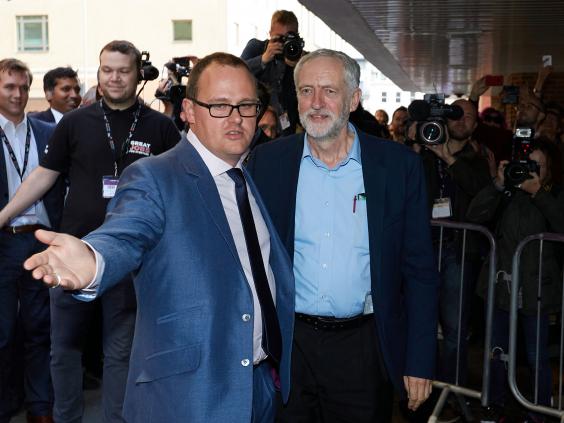 Afterwards, Corbyn stood by, not intervening, as his supporter, Diane Abbott, had an expletive-ridden shouting match with one of the new Labour MPs, Jess Phillips, who had complained about the lack of women at the top of the party.
Corbyn also had no one to manage his public appearances. So when he arrived at St Paul's Cathedral on Tuesday morning for the service of commemoration of the Battle of Britain, he did not know where he was supposed to sit, because there was no one whose job was to find out for him – or to make sure that he was properly turned out with the top button of his shirt done up. Neither was it anyone's job was to warn him that the service included  the singing of the national anthem.
That afternoon, a large crowd of journalists gathered in Brighton to cover his TUC speech, but there was no one to brief them, before or afterwards. There was a good line in the speech, about the Tories being "poverty deniers" – but it was lost in the fuss about his failure to sing the national anthem. A young Labour Party press officer was assigned to put the word around that he would sing it in future.
There was also an unforced error. Corbyn declared that in future policy would not be laid down by "an all-seeing, all-knowing leader" but would be arrived at through consultation, but then he unilaterally announced that a Labour government would scrap the £23,000 cap on welfare payments imposed by the Conservatives. By the next morning, he had been publicly contradicted by two of his recently appointed shadow ministers, Owen Smith and Kate Green.
By Wednesday morning, Parliament's corridors were buzzing with speculation about how long it would be before Corbyn's meteor burned out on entry into the atmosphere of electoral politics. That talk died down after Prime Minister's Questions, at which – against expectations – he succeeded where so many others have failed and conducted a long exchange with David Cameron over domestic politics, which was heard in respectful silence.
Corbyn's idea of crowd-sourcing his questions had proved remarkably popular. There had been 40,192 responses to his appeal for suggestions. Mercifully, parliamentary rules limited him to asking six.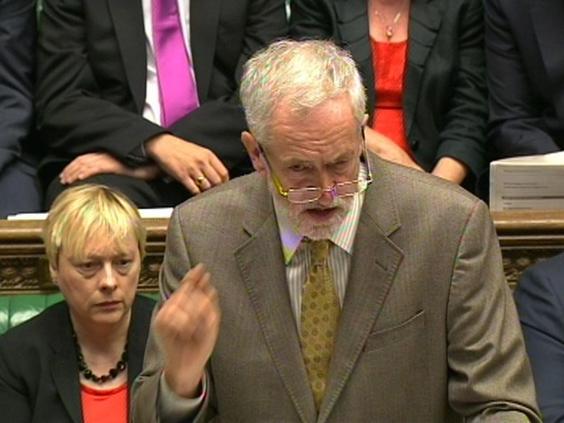 Afterwards, as usual for a new leader, Corbyn showed his face around the Parliament buildings, so that Labour MPs could greet him. But, in another unusual touch, where another leader would have been accompanied by an aide, Corbyn did the rounds with his wife, Laura Alvarez, and two of his sons, Ben and Thomas.
After four days of avoiding the mass media, he agreed to be interviewed afterwards by the BBC and Channel 4 – and once again was confronted by the sort of question that he finds exasperatingly unimportant. Corbyn had, with some reluctance, agreed to accept the status of privy councillor that goes with his new job – but did not know how to answer when the BBC's Political Editor, Laura Kuenssberg, asked whether he would observe the standard procedure of kneeling to kiss the Queen's hand. No one had warned him that is what a new privy councillor has to do.
By Thursday, the pace of Corbyn's frantic week was slowing down, and he was able to get properly settled into Miliband's former office, and fill two crucial vacancies among his support staff by appointing a head of policy and rebuttal, Neale Coleman, and a media handler, Kevin Slocombe.
On Friday, something unprecedented happened in the new leader's office: they had a meeting to plan ahead.
Reuse content