Jeremy Corbyn's first big TV interview, on the BBC's Andrew Marr Show, has been received with praise on social media.
Speaking ahead of the Labour conference in Brighton, the party's new leader made a series of frank admissions over big, divisive issues – including Northern Ireland, Trident and Islamic State – that many political leaders shy away from.
But despite saying Britain should scrap its nuclear deterrent and hinting that he favours a united Ireland – both political heresies in Westminster – viewers appeared to lap up the controversial statements.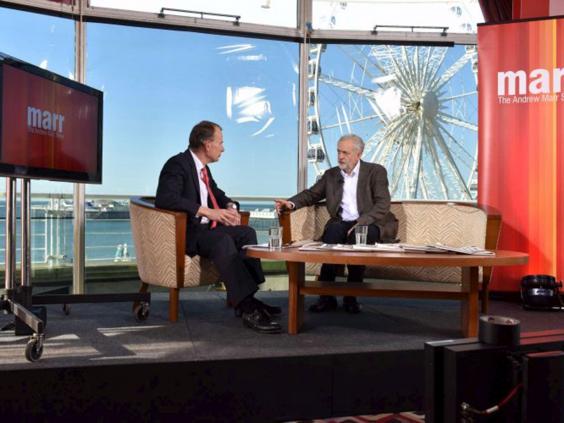 The twittersphere was clogged with users falling over themselves to praise Mr Corbyn's refreshing method of answering a journalist's questions at face value.
Impressed by @jeremycorbyn on #Marr this morning. Honest and straight-talking, certainly, but also intelligent and fundamentally decent.

— E.C. White (@IdleConcern) September 27, 2015
#Corbyn on #marr - first time I've seen him interviewed properly on TV - answered the questions, calm, funny - I like him!

— Pip O'Shea (@PipOShea) September 27, 2015
Watched Corbyn's #Marr interview and he came off as intelligent and eminently reasonable yet we are told he is dangerous

— Leggy Mountbatten (@Zardoz67) September 27, 2015
Thoroughly interesting #Marr this morning, perfect Sunday morning viewing.

— Emma Thomas (@emma_t_news) September 27, 2015
Many viewers were critical of Marr's interview style accusing the veteran interviewer - who claims to have been a 'raving leftie' while at Cambridge University – of relying on claims made in the tabloid press and online.
Andrew Marr unable to expose @jeremycorbyn as a 'threat to National Security' - in fact, #Marr exposed what a great fella that #Corbyn is!

— rob kelsall (@rob_kelsall) September 27, 2015
#Marr despite marr's reliance on tabloid & internet headlines #Corbyn was impressive with actual answers given. Made marr look out of touch

— Prof Alister Scott (@bcualisterscott) September 27, 2015
JC "Where did you hear that?" AM "Er...I read it on the Internet" JC "That's the trouble of the Internet" Unflappable #Corbyn schools #Marr

— Stefan Simanowitz (@StefSimanowitz) September 27, 2015
Mr Corbyn readily admitted there are divisions in Labour – including in the shadow cabinet – over some policies.
He said there may be a 'difference of opinion' within the Labour front bench when Parliament votes over the renewal of Trident.
He also said there 'may well be' a difference of opinion within Labour over air strikes against Isis in Syria, saying the party's policy would be decided by backbench MPs and the shadow cabinet together.
But even Mr Corbyn's strongest New Labour critics had to admit he gave a strong performance on the show.
Off to U.S for a couple of days. Missed #Marr but Twitter judgement seems to give it to @jeremycorbyn

— Alastair Campbell (@campbellclaret) September 27, 2015
Reuse content