Labour leader Jeremy Corbyn will make his first concrete move to strengthen his power over rebellious MPs next month by "consulting" on plans to give new control over policy to his army of supporters. 
In a private meeting in Parliament on 9 December, Mr Corbyn's aides told MPs that the influential National Policy Forum – set up by Tony Blair to get a grip on policy-making – would be overhauled and replaced by a new system.
Mr Corbyn (inset) wants to see party members consulted in more "e-referendums" – a device he used to gauge opinion on Syrian air strikes before the House of Commons vote earlier this month. He also wants the annual party conference to be given much more say on policy.
MPs fear Mr Corbyn plans to use the consultation to give the thousands of new supporters, who paid £3 for a vote in the leadership election, voting rights in Labour constituency parties – a move that would further reinforce his power. Currently "three-pounders" have no formal role and would have to sign up again to take part in another leadership election. MPs told The IoS the proposal would take the party "back to the bad old days" of chaotic party conferences riven by public rows and hijacked by the hard left.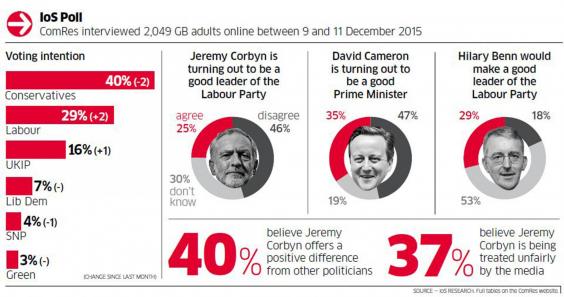 The proposal raises the prospect of Mr Corbyn flooding the conference with supportive delegates, to propose motions overturning settled policy agreements on issues such as the renewal of Britain's Trident nuclear deterrent.
Mr Corbyn's plan was revealed at a meeting of backbench MPs who chair policy committees. The MPs have been referred to collectively as the "shadow, shadow cabinet" and come from the right of the party opposed to Mr Corbyn's leadership. They include former shadow ministers Emma Reynolds, Tristram Hunt, Jamie Reed, Chris Leslie and Caroline Flint.
The Labour leader's policy chief, Neale Coleman, attended on behalf of Mr Corbyn. After unveiling the plan to call for more online surveys, one MP told him it sounded like a "trollacracy" – in reference to the anonymous internet "trolls" who send abusive messages.
The former shadow chancellor Chris Leslie said that Mr Corbyn's proposal risked undermining a system which had kept all sections of the party united.
The most ridiculous claims made about Jeremy Corbyn
The most ridiculous claims made about Jeremy Corbyn
1/11 He called Hezbollah and Hamas 'friends'

True. In a speech made to the Stop the War Coalition in 2009, Mr Corbyn called representatives from both groups "friends" after inviting them to Parliament. He later told Channel 4 he wanted both groups, who have factions designated as international terror organisations, to be "part of the debate" for the Middle East peace process. "I use (the word 'friends') in a collective way, saying our friends are prepared to talk," he added. "Does it mean I agree with Hamas and what it does? No. Does it mean I agree with Hezbollah and what they do? No."

Reuters

2/11 'Jeremy Corbyn thinks the death of Osama bin Laden was a tragedy'

Partly false. David Cameron used this as a line of attack at the Conservative Party conference but appears to have left out all context from Mr Corbyn's original remarks. In an 2011 interview on Iranian television, the then-backbencher said the fact the al-Qaeda leader was not put on trial was the tragedy, continuing: "The World Trade Center was a tragedy, the attack on Afghanistan was a tragedy, the war in Iraq was a tragedy."

3/11 He is 'haunted' by the legacy of his 'evil' great-great-grandfather

False. A Daily Express exposé revealed that the Labour leader's ancestor, James Sargent, was the "despotic" master of a Victorian workhouse. Addressing the report at the Labour conference, Mr Corbyn said he had never heard of him before, adding: "I want to take this opportunity to apologise for not doing the decent thing and going back in time and having a chat with him about his appalling behaviour."

4/11 Jeremy Corbyn raised a motion about 'pigeon bombs' in Parliament

This one is true. On 21 May 2004, Mr Corbyn raised an early day motion entitled "pigeon bombs", proposing that the House register being "appalled but barely surprised" that MI5 reportedly proposed to load pigeons with explosives as a weapon. The motion continued: "The House… believes that humans represent the most obscene, perverted, cruel, uncivilised and lethal species ever to inhabit the planet and looks forward to the day when the inevitable asteroid slams into the earth and wipes them out thus giving nature the opportunity to start again." It was not carried.

5/11 He rides a Communist bicycle

False. A report in The Times referred to Mr Corbyn, known for his cycling, riding a "Chairman Mao-style bicycle" earlier this year. "Less thorough journalists might have referred to it as just a bicycle, but no, so we have to conclude that whenever we see somebody on a bicycle from now on, there goes another supporter of Chairman Mao," he later joked.

6/11 'Jeremy Corbyn will appoint a special minister for Jews'

False so far. The Sun report in December was allegedly based on a "rumour" passed to the paper by a Daily Express columnist who has written pieces critical of the Labour leader in the past. The minister did not materialise in his shadow cabinet.

7/11 'Jeremy Corbyn wishes Britain would abolish its Army'

False. Another gem from The Sun took comments made at a Hiroshima remembrance parade in August 2012 where Mr Corbyn supported Costa Rica's move to abolish it armed forces. "Wouldn't it be wonderful if every politician around the world…abolished the army and took pride in the fact that they don't have an army," he added. The caveat that "every politician" must take the step suggests Mr Corbyn does not support UK disarmament just yet.

8/11 Jeremy Corbyn stole sandwiches meant for veterans

False. The Guido Fawkes blog claimed that the Labour leader took sandwiches meant for veterans at at Battle of Britain memorial service in September but a photo later emerged showing him being handed one by Costa volunteers, who later confirmed they were given to all guests.

9/11 He missed the induction into the Queen's privy council

True. After much speculation about Mr Corbyn's republican views and willingness to bow to the monarch, his office confirmed that he did not attend the official induction to the privy council because of a prior engagement, but did not rule out joining the body.

10/11 Jeremy Corbyn refuses to sing the national anthem.

Partly true. The Labour leader was filmed standing in silence as God Save the Queen was sung at a Battle of Britain remembrance service but will reportedly sing it in future. Mr Corbyn was elusive on the issue in an interview, saying he would show memorials "respect in the proper way", but sources said he would sing the anthem at future occasions.

11/11 He is a member of the All-Party Parliamentary Group for Cheese

True. The group lists its purpose as the following: "To increase awareness of issues surrounding the dairy industry and focus on economic issues affecting the dairy industry and producers."
He said: "Those of us who've attended the National Policy Forum have valued the chance of a more detailed, two-way policy dialogue including all sections of the party. It would be deeply regrettable if we lost that process and went back to the confrontational process of the 1980s. We need urgent clarification from Jeremy about his intentions here."
MPs at the meeting demanded Mr Corbyn explain the proposals to them in person early in the new year, The IoS understands. The National Policy Forum is the backbone of Labour's official policy-making process – bringing together all strands of the party to iron out differences behind closed doors before presenting agreements to party conference to be rubber stamped. But Mr Corbyn believes the system is undemocratic and wants to give delegates much more say in open debate at conference. 
The Labour leader was a prominent figure in the late Tony Benn's failed Campaign for Labour Party Democracy in the 1980s, which campaigned to give members more say over policy. Mr Benn and Mr Corbyn also called for the mandatory reselection of MPs – although the Labour leader insists he has no intention of changing the rules to make it easier to remove the party's sitting MPs.
However, because of the forthcoming review of constituency boundaries – which will be completed by October 2018 as part of David Cameron's plan to cut the number of parliamentary seats from 650 to 600 – all Labour MPs will have to be formally reselected by their local parties.
Mr Corbyn's allies in Parliament want to use the threat of deselection to control the vast majority of Labour MPs who oppose the current leadership. He is also being encouraged to overhaul his Shadow Cabinet in a new year reshuffle and get control of the party's permanent staff which are still seen as being too loyal to the old guard.
One senior aide close to Mr Corbyn and his Shadow Chancellor John McDonnell said there were too many people who were "experts in losing" who had set their face against the new leadership. He said people should expect a "new start in the new year", with an overhaul of the party's front bench team of shadow ministers to give Mr Corbyn more support over key policy decisions.
It comes amid increasing concerns over the influence of the new pressure group Momentum, set up by Mr Corbyn's supporters. The group campaigns alongside the Labour Party but is not affiliated and has come under fire over allegations it is being used as a vehicle of the hard left to pressure local constituency parties into deselecting moderate MPs.
Labour's deputy leader Tom Watson has called on Mr Corbyn to state publicly that Momentum has nothing to do with the Labour Party. MPs fear the Labour leader will push for the group to be given an official position within the party, alongside other socialist groups such the Fabian Society.
Mr Corbyn has also come under fire this weekend for his links to the Stop the War coalition.
Reuse content