Jeremy Corbyn is poised to demote the shadow Foreign Secretary Hilary Benn in what backbench MPs have reportedly called an "act of war" against the moderate wing of the party. 
In what has been described as a "revenge reshuffle" expected by the end of next week, the Labour leader is expected to get rid of Mr Benn and the shadow Defence Secretary Maria Eagle as he seeks to purge opposition from his front bench. 
Michael Dugher, the shadow Culture Secretary, is also believed to be at risk after he made a series of high-profile attacks on the hard left direction of the Labour leadership.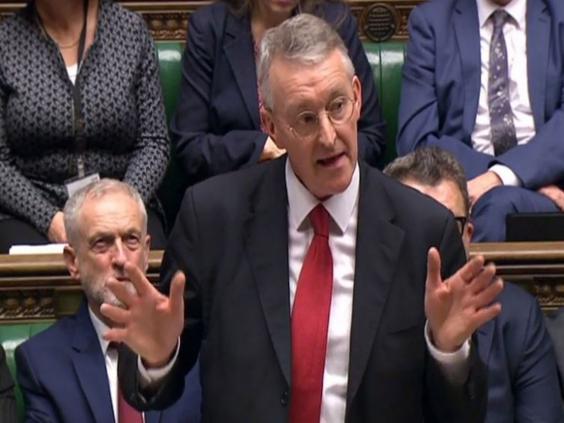 A Labour frontbencher told the Sunday Times: "Jeremy wants to move Hilary and Maria because he knows they've got Trident coming and they don't want to be in position ever again of having two different positions at the dispatch box. 
"They want to shoot some people like Dugher in the car park to create some room to bring in young Corbynistas."
But an unnamed former minister told the newspaper that moving Mr Benn and Ms Eagle would be seen as an "act of war".
Dave Brown on Jeremy Corbyn
Dave Brown on Jeremy Corbyn
1/12

2/12

3/12

4/12

5/12

Corbyn's reshuffle

6/12

Corbyn and the Syria bombing vote

7/12

Corbyn asks questions from the public at PMQs, meanwhile backbenchers plot to oust him

8/12

Corbyn is unavailable to attend the Privy Council

9/12

Conference rejects Corbyn's call to debate Trident

10/12

At Labour conference Corbyn and McDonnell press for a Robin Hood tax

11/12

Corbyn's hopes for a 'new politics' look optimistic in the face of a media barrage

12/12

Corbyn enters Labour leadership race
They said: "If this reshuffle goes ahead, people who seek to serve in the shadow cabinet have to know they will be judged as propping up a very damaging far-left project. The pretence that they are working to unite the party will have gone.
"To move Hilary would be an act of war, a highly aggressive move. Moving Hilary and Maria are absolute red lines. Anyone who stays will have decided to support taking the party in that direction. They're not saving the Labour party; they're destroying the party."
The removal of Ms Eagle is likely to cause tension with her sister, the shadow First Secretary of State, Angela Eagle. The firing of Mr Dugher will also be seen as snub to the shadow Home Secretary, Andy Burnham, who is said to have only agreed to serve in the shadow cabinet if his friend and campaign manager was included. 
Several "ideologically sound" MPs from the 2015 cohort are expected to receive big promotions - including Clive Lewis, Richard Burgon, Rebecca Long-Bailey, Cat Smith, Rachael Maskell and Kate Osamor.
Insiders have said the decision to demote high profile moderates will mean they retaliate with a call to reinstate the Labour policy of shadow cabinet elections within the parliamentary party. 
The former minister said: "The next move is to demand that we go back to the MPs electing the shadow cabinet. That's very difficult for Corbyn to oppose since he keeps going on about democracy in the party."
Reuse content