The Labour Party has "disenfranchised and betrayed" its core working-class voters in northern England by leaving them on the sidelines of society, out of work and on benefits, Ukip's candidate in this week's Wythenshawe and Sale East by-election claims.
John Bickley, who believes he can still snatch a shock victory in the Manchester Labour heartland on Thursday, says his own party is gaining traction in the North because the government of Tony Blair and Gordon Brown failed to get its traditional voters back into work. Ed Miliband, Mr Bickley says, equally has lost touch with typical voters in Wythenshawe, a working-class area of Manchester dominated by a huge housing estate.
While polling suggests that Labour will hold the seat with a reduced majority, Ukip's predicted second place in the by-election, caused by the death of former minister Paul Goggins, shows how politics has changed since the last general election. Nigel Farage's party can scoop up votes from Labour and the Lib Dems because of fears over immigration and the legacy of the last government, suggesting they can win seats outright in May 2015.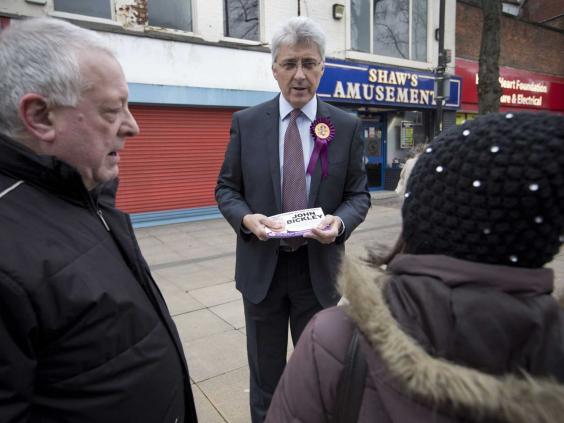 Mr Bickley, 60, who was born on the Wythenshawe estate, asks why, after 13 years of Labour government, the residents are not doing better. He says: "I look back to when I left at 16. Benefits as a concept didn't exist. They feel left on the sidelines by the political class. They have been made second-class citizens. I am picking up a sense of betrayal by the Labour Party. Working-class people have found that their wages are under pressure. People on benefits have even less of an incentive to get off benefits. The cost of living crisis is firmly laid at the door of Labour."
Mr Farage has predicted Ukip will come second, but when asked if he believes he can win, Mr Bickley said: "Yes I do. I am here to win it. But don't underestimate the fact that this is a very strong Labour constituency. What has changed dramatically over the last 12 to 24 months is this realisation that Labour voters are starting to feel betrayed. Labour voters up here are never going to vote for the Tories now. But they are disenfranchised and betrayed by Labour."
Considering Ukip came fifth here in 2010, behind the BNP, a second place this week will be hugely symbolic of the threat Mr Farage poses to the three mainstream political parties in 2015. Mr Bickley, a businessman, helped to develop the PlayStation game Lemmings, but the people of Wythenshawe and Sale East do not seem to be jumping blindly into supporting him. Instead, they are doing so with careful consideration.
Outside the Wythenshawe Community Initiative, mother-of-two Zoe Brown says she is interested in what Ukip has to say about immigration, but also what it claims to be its understanding of working-class people. Ms Brown, 22, says: "I think they are looking out for people like me. I quite like that. I am on benefits. I'm not proud of it, but even the money I would earn would all go on childcare so it is not worth working. Immigration I am not happy about. We are opening the doors but we don't know how many are coming in."
But there is by not overwhelming support for Ukip. Even on School Lane in Sale, the more affluent side of the constituency, there is caution about having a Eurosceptic, anti-immigration MP. Andy McPartland, 43, who runs his own cleaning business, says he has voted Labour in the past but did not back them in 2010 because he felt disillusioned. "I haven't voted Labour since. But I will not vote Ukip. People talk about racist connotations with their politics, and that's something I wouldn't go along with."
Labour's candidate Mike Kane, a local councillor who was a friend of the late MP, says it is the present government that is leaving behind the constituents of Wythenshawe and Sale East. "The issues that are being raised with me are the A&E at Wythenshawe hospital, a big issue on the doorstep, the cost of living, people's food and fuel bills going through the roof. Immigration is a very important issue. I am the son of immigrants myself, but it hasn't been the biggest issue on the doorstep."
There is a sense that the coalition parties have stepped back to allow Ukip to give Labour a scare – which is denied by both parties. Conservative candidate the Rev Dan Critchlow, a vicar, and Lib Dem Mary di Mauro, a councillor, look as if they will have to battle for third place this week.