Labour's shadow chancellor John McDonnell is calling on Labour to support a change in the voting system to proportional representation, the Independent can reveal.
Mr McDonnell, a close ally of the Labour leader, said the current voting system was allowing the Tories to force "extreme" measures on a country despite only winning 36.9 per cent of the vote. 
The shadow chancellor signed a declaration in support of the policy this weekend and joins seven other Labour MPs from across the party who put their name to a letter to Jeremy Corbyn in support of PR.
Mr Corbyn has previously said he is open to electoral reform – but has stopped short of fully endorsing a change to PR, suggesting the subject needs more investigation.
"It should be no surprise that there's massive opposition to so many of the present government's flagship policies," Mr McDonnell said.
"The stark reality is that most voters explicitly rejected the Conservative manifesto last year, and yet we all must suffer a majority government as it tries to force these extreme measures upon an unwilling country.
"If we are serious about democracy ­ which we certainly should be ­ we can't accept this. Parliament draws its legitimacy from representing the will of the British people. 
"When Parliament fails to represent the people so flagrantly, it risks ceasing to be legitimate."
Labour MPs Ben Bradshaw, Paul Blomfield, Stephen Kinnock, Clive Lewis, Jonathan Reynolds, Chuka Umunna, and Daniel Zeichner, signed a letter to Mr Corbyn this week.
Mr McDonnell's call coincides with a major street demonstration in Westminster in support of a cross-party campaign for PR, organised by the Make Votes Matter alliance.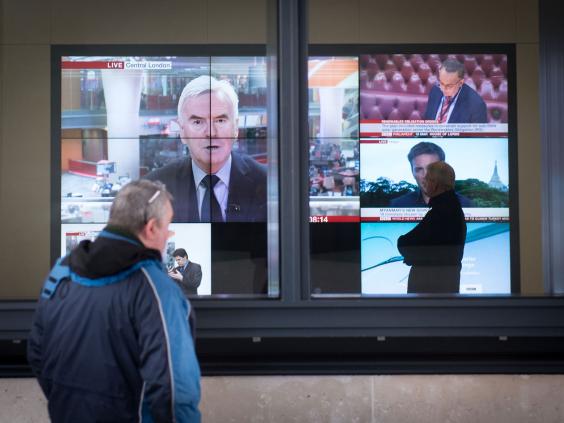 That campaign seeks to unite Britain's parties in cross-party agreement to change the voting system by 2021.
The support of Mr McDonnell – arguably the second highest ranking politician in the Labour party – is a big win for the campaign, and could see Labour join the Liberal Democrats, Green Party, SNP, and Ukip in signing up to support a change in the voting system.
Labour has historically been split on the subject of electoral reform, with some elements in the party opposing it on the basis that it would make Labour majority governments more difficult to win.
Dave Brown on Jeremy Corbyn
Dave Brown on Jeremy Corbyn
1/8 30 December 2015

Corbyn's reshuffle

2/8 4 December 2015

Corbyn and the Syria bombing vote

3/8 15 October 2015

Corbyn asks questions from the public at PMQs, meanwhile backbenchers plot to oust him

4/8 9 October 2015

Corbyn is unavailable to attend the Privy Council

5/8 1 October 2015

Conference rejects Corbyn's call to debate Trident

6/8 29 September 2015

At Labour conference Corbyn and McDonnell press for a Robin Hood tax

7/8 19 September 2015

Corbyn's hopes for a 'new politics' look optimistic in the face of a media barrage

8/8 16 June 2015

Corbyn enters Labour leadership race
Under the UK Parliament's existing First Past The Post (FPTP) electoral system, parties win seats in numbers that do not reflect the proportion of votes cast for them at the general election.
In 2015, Ukip won 12.7 per cent of the vote but only one of 650 seats in the House of Commons – while the SNP won 50 per cent of the vote in Scotland but 56 of its 59 seats.
Defenders of the status quo say the current system creates a link between MPs and their constituents, but other voting systems – such as Single Transferrable Vote (used in Ireland) or the Additional Member System (used in London, Scotland, and Wales) maintain this link while producing proportional results.
In January this year The Independent on Sunday reported that Mr Corbyn was in secret talks with the Liberal Democrats over the possibility of joining an electoral alliance in favour of proportional representation.
During the Labour leadership election last year Mr Corbyn said he would consider adopting the Additional Member System but made no pledge to do so.
The UK held a referendum on changing the voting system to the Alternative Vote system in 2011; AV is not proportional, however, and the proposal was rejected by a large margin.
More recent polling from December 2015 shows the public now broadly back a proportional voting system, however. The BMG survey shows 57 per cent of the public agree with the principle that "the number of seats a party gets should broadly reflect its proportion of the total votes cast" – compared to only 9 per cent who disagree.
Reuse content