Labour MPs are preparing for a Jeremy Corbyn victory by rallying round the leading Blairite in the deputy leadership contest to prevent a left-wing takeover at the top of the party, The Independent on Sunday can reveal.
A string of MPs, including two shadow ministers, have switched their support from other candidates to back Caroline Flint for deputy as a centrist counterweight to Mr Corbyn, who is on course to win the leadership on 12 September. With several members of the Shadow Cabinet vowing not to serve under Mr Corbyn, the MPs argue that Ms Flint can hold the party together if the left-winger wins. Her main rival for deputy, Tom Watson, has widespread grassroots support but is to the left of Ms Flint, leading some MPs to call for a left-right balance at the top.
Constituency Labour Party nominations for leadership and deputy leadership candidates closed on Friday, and the final tally confirmed that Mr Corbyn, the MP for Islington North, remains way out in front. Although the nominations do not carry any extra weighting, they are likely to reflect support in the country, causing panic in the rival camps.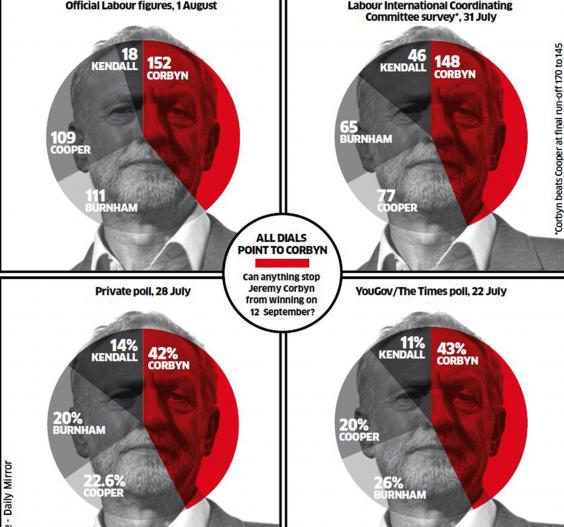 The final list of CLP nominations showed Mr Corbyn has the backing of 152 local parties; Andy Burnham 111; Yvette Cooper 109; and Liz Kendall 18. Separately, a survey by the Labour International Coordinating Committee of its members also pointed to a Corbyn victory, with 148 members backing him in the first round; 77 for Ms Cooper; 65 for Mr Burnham; and 46 for Ms Kendall. After two more rounds, with Ms Kendall and Mr Burnham knocked out, Mr Corbyn would beat Ms Cooper by 170 votes to 145.
The mood among Labour MPs in response to the surge in support for Mr Corbyn has changed from one of denial to contingency planning, a tacit acknowledgement that there is a high chance he will win. As a result, six MPs who nominated Angela Eagle, Stella Creasy and Ben Bradshaw have switched their support to Ms Flint, on top of the 43 MPs who originally nominated her. The MPs – the Shadow Secretary of State for Northern Ireland, Ivan Lewis, the chair of the Communities and Local Government Select Committee, Clive Betts, the Shadow Health minister Andrew Gwynne, the Mp for Swansea West, Geraint Davies, and newly elected MPs Kate Hollern and Rupa Huq – said: "There is one person in the deputy leadership race who is seeking to answer the question as to how Labour should present itself in five years' time – that person is Caroline Flint... [she] has proved she can make decisions, show leadership, perform on the media, support our campaigns and, crucially, help reach those parts of the country that didn't vote for us. It is now vital that members and supporters unite behind [her] to enable her to win the deputy leadership decisively."
Ms Flint, the Shadow Energy Secretary, has also secured the backing of 23 Labour council leaders and three trade unions – Usdaw, Community and the Musicians' Union.
Ms Flint said: "It's fantastic that even MPs who nominated other candidates are now backing me .... With just two weeks until the ballot papers are sent, real momentum is building behind my campaign with MPs, trade unionists and thousands of Labour members signing up."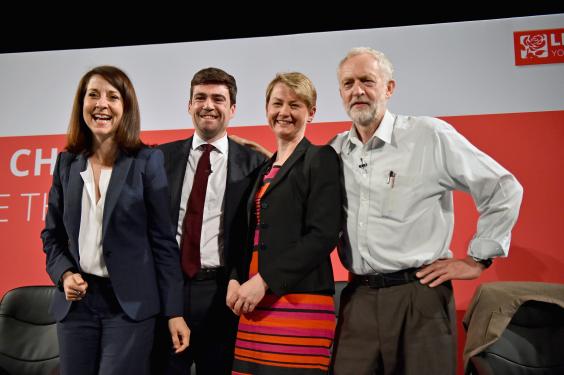 Ms Cooper is to unveil plans to boost the campaign for equality by pledging under her premiership that homophobic hate crime and hate crime against disabled people will be aggravated criminal offences.
Meanwhile, Mr Burnham will publish a "radical" manifesto this week with ideas to change the party and the country. A source said: "Andy believes Corbyn's success shows the party membership wants big change and Andy's rising to it with plans on all areas of public policy."
In a sign that the one-time outsider now feels emboldened to speak from a position of leadership, Mr Corbyn issued a plea for unity. He called for a "debate embracing all members from all parts of the party" during the postal ballot, which opens on 14 August: "The leadership election should be conducted with one thought in mind; our objective is to be a united party focused on winning the general election and campaigning across the country, day in day out.
"When the dust has settled, we will still all be Labour. Let's conduct our debate on the basis of comradeship and unity in action against the damaging a
Reuse content