A majority of people do not believe David Cameron will win a better deal for Britain from the European Union, according to a survey for The Independent.
ORB found that while 40 per cent of those polled think the Prime Minister is likely to secure a better deal when he renegotiates the UK's membership terms, 60 per cent believe that such an outcome is unlikely.
Mr Cameron, who will set out his goals at a summit of EU leaders in Brussels on 25 June, hopes that the concessions he will win will persuade Britons to vote to stay in the EU in the in/out referendum he has promised by 2017. But the poll suggests that he may face an uphill struggle to convince voters.
ORB found that at present, a majority of people would vote to remain in the 28-nation bloc.  When asked the precise question that will be put in the referendum –"should Britain remain a member of the EU?"—55 per cent replied Yes, and 45 per cent No.  Although this finding will cheer pro-Europeans, it shows that there is a sizeable Out vote that could be mobilised by campaigners for withdrawal, especially if Mr Cameron makes little progress in the EU talks.  Two years before last September's referendum on Scottish independence, those in favour of retaining the Union enjoyed a much bigger lead than supporters of EU membership do now.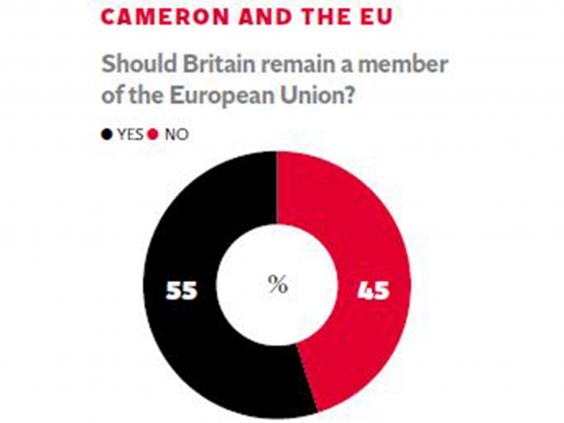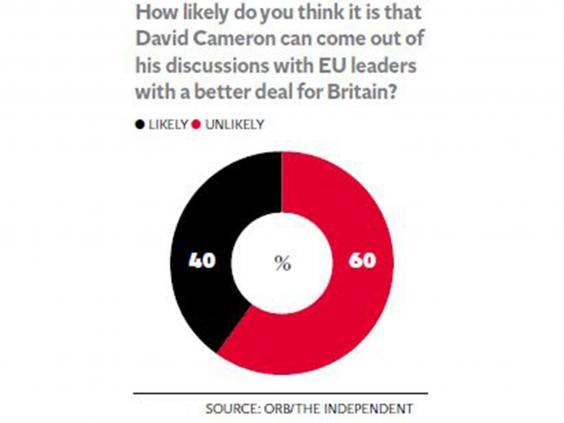 Orb, which surveyed 2,000 people between 19 June and 21 June, found striking differences among the age groups.  Some 82 per cent of 18-24 year-olds say that Britain should remain in the EU, with only 18 per cent wanting to quit. They could be the Yes to Europe camp's main weapon if they could be persuaded to turn out.  There is majority support for EU membership among 25-34 year-olds and 35-44 year-olds.  But those aged 45 and over want Britain to leave the EU club. By a margin of 54 to 46 per cent,  people aged 55-64  and in the 65 and over group believe the UK should withdraw.
There are also stark differences in the regions, with those that have reaped the benefit of EU grants, such as the South West and North East, most in favour of continued membership. In contrast, a majority of people in the South East (outside London) and the East of England, where Ukip is strong, want to leave the EU.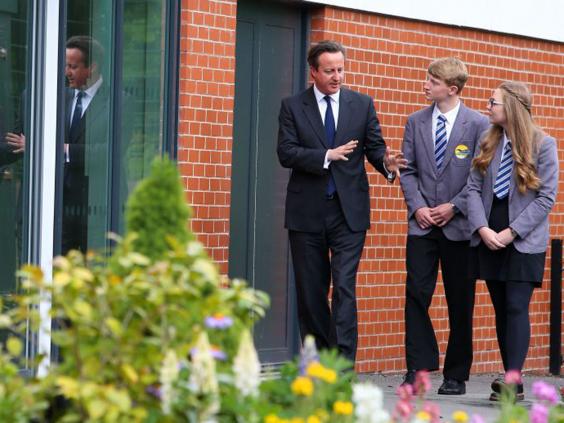 Downing Street claimed Mr Cameron had the crucial backing of Angela Merkel, the German Chancellor and most powerful EU leader, for the changes he wants to see.  But Number 10 played down expectations of an early breakthrough, saying that "technical discussions" likely to be launched at this week's summit would take "several months."
His spokeswoman said: "The Prime Minister has been clear on the areas where we are seeking to address the concerns of the British people during this renegotiation and reform the EU.  We have also been clear that we are not going to be conducting these negotiations in public."
Mr Cameron will hold talks with more EU leaders, including Ms Merkel, before the summit. He intends to meet all 27 other leaders but has not yet held discussions with his counterparts from Austria, Bulgaria, Croatia, Greece, Lithuania, Portugal or Malta.
Eurosceptic Tory MPs
Eurosceptic Tory MPs
1/7 Owen Paterson

Formerly a cabinet minister, Owen Paterson is now free to make his opinion known on the backbenchers. On the subject of Europe, he does so regularly – claiming recently that the EU referendum was "rigged" in favour of staying in

Getty

2/7 John Redwood

A longstanding eurosceptic, Mr Redwood warned last year that businesses that spoke out in favour of EU membership would be punished at the check-outs by anti-EU

Getty

3/7 Bill Cash

Awkward squad rebel Bill Cash said last year that he thought the EU had become an undemocratic, German-dominated project. "An increasingly assertive German Europe is at odds with British national interests," he wrote in the Daily Telegraph

Getty

4/7 Philip Davies

From the Conservative party's hard right wing, Philip Davies has been a longstanding critic of the EU. He founded the Better off Out campaign and is so eurosceptic that Ukip decided not to stand a candidate against him in 2010 because they agreed with him

Rex

5/7 Nadine Dorries

Outspoken Tory MP Nadine Dorries has previously advocated an alliance with Ukip. At the height of the Greek crisis in 2013 she said that the EU was "dying on its feet"

Rex

6/7 Liam Fox

The former defence secretary is a central figure on the right wing of the Conservative party. He's long put pressure on David Cameron over EU negotiations

Getty

7/7 Zac Goldsmith

A socially liberal eurosceptic, Goldsmith was one of the founding members of the People's Pledge campaign to get MPs to sign up for an EU referendum. His father ran the Referendum Party, a precursor to Ukip

Getty
Downing Street played down speculation that the UK might seek a potential change in status for Britain in the EU, such as "associate membership." The  spokeswoman saying there were only two categories - "you are either a member of the EU or you are not a member of the EU".
Labour is urging Mr Cameron to stand up to Conservative Eurosceptics who want Britain to pull out no matter what his negotiation achieves. Liz Kendall, one of four candidates running for the Labour leadership, said in Brussels: "The Prime Minister does not want Britain to leave the EU, but as long as he keeps retreating in the face of his backbenchers, the danger is that Britain sleepwalks towards exit. Brexit by design would be bad enough. Brexit by default would be a catastrophic failure of leadership."
Reuse content