Parts of England with the highest levels of social deprivation and health needs have seen the largest falls in spending power as a result of the Government's austerity spending cuts, new figures reveal today.
Knowsley council in Merseyside has seen its income per resident fall by more than £400 since 2011, while Liverpool has seen a drop of £390. Both local authorities are ranked among the 10 most deprived areas in terms of health and disability.
In contrast, wealthier areas have seen significantly smaller falls in income, the analysis of government statistics shows. Wokingham had a per-head cut in income of just £2.29 while Elmbridge council in Surrey was just £8.14 worse off. Both are among areas with the least social deprivation.
Local authorities in England with communities ranked in the top 20 per cent for health deprivation and disability have faced an average reduction in spending power of £205 per head – 12 times the average for places in the bottom 20 per cent. Communities ranked in the top fifth for income deprivation affecting older people saw an average reduction in spending power of £229 per head while the average reduction for places in the bottom fifth was just £39.
What Britain thinks of benefits: perception, reality and winning votes
What Britain thinks of benefits: perception, reality and winning votes
1/9 We think more immigrants claim benefits than they do

A YouGov poll for the Sunday Times earlier in January showed that the British public are way off with their estimation of how many immigrants claim jobseekers allowance

2/9 Immigration and benefits

Three quarters (76%) of us oppose immigrants being allowed benefits in their first year of residency

Peter Macdiarmid/Getty Images

3/9 Two thirds of us don't like the system as it is

Two thirds (66%) of us think the benefits system is unfit for purpose.. something the Conservatives have saying since they first unveiled the cuts

Getty Images

4/9 Benefits Street documentaries don't help

Nearly half of us (45%) think people on benefits are portrayed unfairly. In Scotland, 62% think the portrayal of people on benefits is unfair (compared to 45% in the whole of the UK). In London this changes to 40%

Channel 4

5/9 Toughen up benefit rules

Two-thirds (66%) want tougher rules about who can claim benefits (picture shows James Turner Street in Birmingham, the setting for Channel 4's documentary series 'Benefits Street')

Creative Commons/Peter Whatley

6/9 We're wrong on benefit fraud

According to a study published by Royal Statistical Society and King's College in July, the public think that £24 of every £100 of benefits is fraudulently claimed. Official estimates are that just 70 pence in every £100 is fraudulent - so the public conception is out by a factor of 34

Dan Kitwood/Getty Images

7/9 We would prefer to make it harder for immigrants to claim benefits

A similar poll by YouGov for the Sunday Times in January showed that support for limiting migrants' benefits was widespread

8/9 Poverty and inequality is a big issue for us

An Ipsos Mori poll from January showed that poverty and inequality is becoming increasingly important for British people

9/9 Benefits is less of an issue than it has been

The same Ipsos Mori poll from January showed that pensions/benefits and social security was by far a more pressing issue for other governments, at least by the British public's perception
Labour claimed the reductions were mainly due to government cuts in the revenue support grant.
The Local Government Association, which represents all council regardless of their political make-up, has called for changes to the formula. It believes the total grant will have fallen from £14.5bn in 2010 to £2.2bn by 2020. It is due to publish a report next week calling for an independent body to oversee the allocation of local authority funding.
The LGA chair, David Sparks, said: "Many local authorities are concerned that funding reductions have had a disproportionate effect on the most deprived authorities and protected groups. If services which people rely on are to survive the next few years, it will be vital that government works with councils to ensure adequate funding gets to where it is needed."
The shadow Secretary of State for Communities and Local Government, Hilary Benn, said it was "irresponsible and unfair" for the Conservatives to have imposed the biggest reductions in local authority budgets on those communities with the highest numbers of older people living in deprived households.
"The A&E crisis in our NHS, driven in part by insufficient social care provision where it is needed, shows that the Tories can't be trusted with vitally important health and social care services," he said.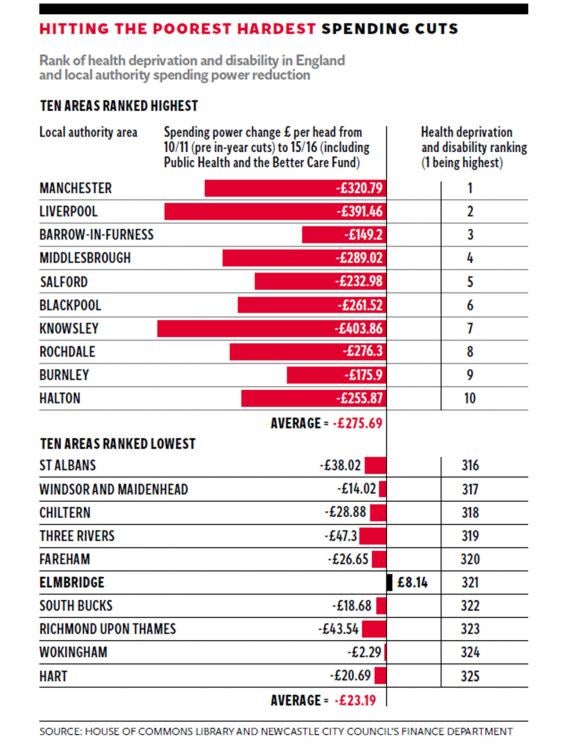 But the former housing minister Kris Hopkins said the Government had been "fair" to all parts of the country. He said "there is no magic money tree" and that Labour should explain where any extra money for councils would come from.
Case study: Knowsley, Merseyside
Knowsley in Merseyside has the unwelcome distinction of being in the top 10 areas of England for both pensioner poverty and health deprivation. Yet despite this, the local council will have to find a further £34m in savings over the next two years.
The cuts come on top of previous savings the authority has had to make worth £60m since 2010. Compared to then, the council now has £1,469 less per household to spend on delivering services.
"Based on the Government's own figures, our funding will be cut permanently by £172 per household next year, while the average reduction across the whole of England will be just £37 per household," the council leader Ron Round said. "Knowsley's funding has been cut more than any other council. We are doing all we can to protect services for residents but we are having to make some difficult decisions about reducing the services we provide as well as our own workforce."
Among savings considered are reducing opening hours at libraries and cutting back on road maintenance.
Reuse content