More than 10,000 asylum-seekers who have lived in Britain for more than seven years are still waiting for an initial Home Office decision on whether they can stay, a damming report reveals today.
In a bleak assessment of the state of Britain's asylum system, the Public Accounts Committee (PAC) said that the Home Office has still not resolved 29,000 asylum applications dating back to 2007 and before, of which 11,000 have not even had an initial ruling on their claim.
At the same time another backlog has been created by the department's failure to keep on top of newer claims. The number of claims awaiting an initial decision increased by 70 per cent to 16,273 in the first three months of 2014 compared to the same period last year.
The report, which follows an investigation into Britain's asylum system by the National Audit Office, also warns that the Home Office still has no idea how many of the 175,000 people who have had their asylum claims rejected are still in the UK.
It calls on the Home Office to urgently take steps to identify people that remain in the UK illegally and remove them.
The report comes at a sensitive time in the debate on immigration and asylum policy. The Government was criticised yesterday for announcing it would no longer support search and rescue missions such as Italy's Mare Nostrum operations, that help save migrants from drowning in the Mediterranean as they travel to Europe from Africa in often overloaded boats.
The Foreign Office said such deployments can encourage migrants to take the risk, and supports more limited operations run by the EU will begin on Saturday. But Michael Diedring, secretary general of the European Council on Refugees, told the BBC he was "disgusted" by the "morally reprehensible" EU and UK decision.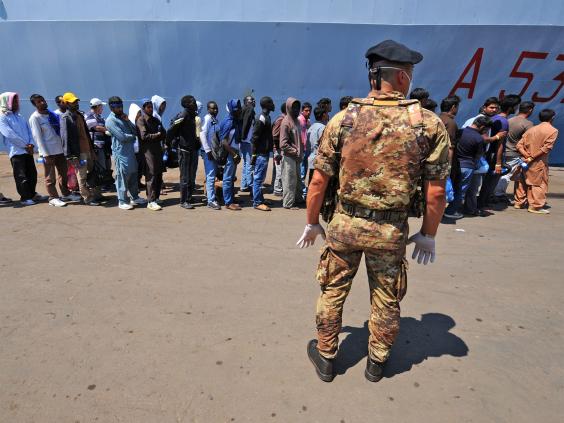 In their report on how asylum seekers are processed once they arrive in the UK, the MPs say today that they are not convinced that the department "has a robust plan to improve performance and meet its targets" especially given ongoing budget cuts.
"The Home Office must take urgent steps to sort out this immigration mess," said the committee's chairman Margaret Hodge. "It must put in place skilled, incentivised staff and sort out its data so it can crack the backlog and move people through the system. It must also go back to the drawing board and develop a comprehensive, system-wide IT strategy."
The report is embarrassing for the Home Secretary, Theresa May, as it comes a year after she took the decision to scrap the troubled UK Border Agency (UKBA) and bring its functions back in-house to improve performance. Its operations are now in three directorates – UK Visas and Immigration, Immigration Enforcement and the Border Force – which collectively spend £1.8 billion a year.
But the PAC found that in some cases its work had actually gone backwards since UKBA was re-integrated.
"The department took over the Agency's work to improve performance," the report warns. "But it is already missing its new targets for processing new asylum claims. As a result, the number of asylum claims awaiting an initial decision increased to 16,273 in the first quarter of 2014."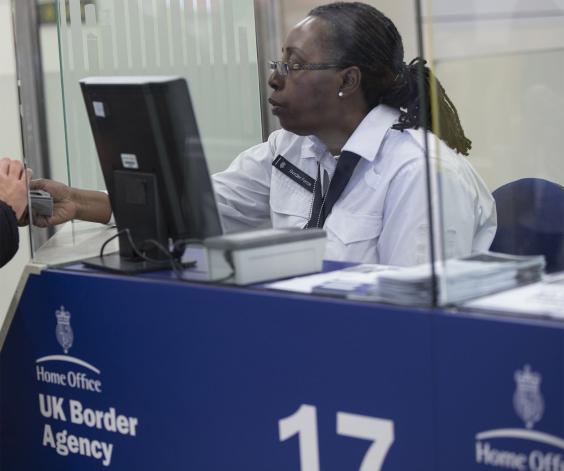 The Committee said this was partly due to an "an ill-judged decision" in 2012 by the Agency, subsequently reversed by the department, to downgrade the jobs of asylum caseworkers, resulting in 120 of them leaving.
Lisa Doyle, head of advocacy at the Refugee Council, said it was "extremely concerning" that so many people were still waiting for a decision on their asylum claim, years after first applying.
"Behind these statistics are individuals, many of whom will have suffered extreme trauma, forced to live day-to-day in uncertainty while they await the outcome of what could be a life-or-death decision. It's very important that the Home Office makes decision in a timely manner, but it's even more important that it gets its decisions right first time."
Shadow Home Secretary Yvette Cooper MP claimed the report "laid bare" how Theresa May and David Cameron were presiding over one "failure after another".
"Theresa May was very quick to blame the UKBA, but since she took direct control of the border force and immigration system we have seen backlogs increase sharply."
But the Immigration and Security Minister James Brokenshire said the system they inherited was "totally dysfunctional" with systematic abuse of family, work and student visas and an agency overseeing it all that was completely incapable of the task.
"Turning around years of mismanagement has taken time, but it is now well under way. We have reformed visa routes to make them more resistant to fraud and cancelled failing contracts; and we are addressing the backlogs we inherited. "
Asylum hell: An Eritrean's story
Syamon (not his real name) says his story is typical of the dozens of immigrants he spends his days with and sleeps rough alongside. He was sent away from his native Eritrea as a vulnerable teenager when his father was killed fighting in the Eritrean-Ethiopian war.
He walked across the border to Sudan to live for several years with an uncle, but when he was 14 his mother, still in Eritrea, also died and his uncle started treating him harshly. He ran away and with no direct family to support him, made his way from the Horn of Africa to Libya, where he crossed the Mediterranean to Europe. He arrived in Britain in 2008.
Now 25 and living rough in London, he's angry that he has spent six years living in what he calls an "open prison" waiting for a Home Office decision over his fate.
"I've been here six and a half years now and I'm still waiting for a proper decision. After five years I was refused leave to remain and told I needed to go back to Ethiopia, but I am from Eritrea so of course the Ethiopian embassy won't give me travel documents. My funding has been cut off and I'm relying on £40 hand-outs from the British Red Cross."
The Home Office does not regularly deport refugees to Eritrea, which is still unstable, and Ethiopia won't accept Syamon as a citizen, leaving him in limbo without any official assistance in the UK. Refuge Action, which is trying to help him re-apply for asylum, says this kind of dispute is common when national boundaries have changed or the Home Office admits it is unsafe to return failed asylum seekers.
He said: "I don't have any family or anybody to talk to about how sad I am. I wish I could die today. I'm so tired, despite being only 25. England is a prison for me. I just want to be able to go back to school and to start a job. That's my hope, I just don't know when it will happen."
Jamie Merrill
Q&A: What is mare nostrum?
The Italian Navy's search and rescue operation was set up in the wake of the 2013 Lampedusa disaster. This week it ceases operation.
Q: How effective was it?
A: It saved more than 140,000 migrants. Some 165,000 people have made the crossing from Libya and other non-EU countries so far this year, compared to 60,000 in 2013.
Q: What replaces it?
A: An operation called Triton will be run by the EU's border force, which will be focused on patrolling borders. It will have no search and rescue mandate and human rights groups say it is inadequate.
Q: Will Britain be involved in this?
A: Foreign Office minister Baroness Anelay said earlier this month that Britain would not be supporting any future search and rescue operations in the Mediterranean. She argues they "create an unintended 'pull factor', encouraging more migrants to attempt the dangerous sea crossing … leading to more tragic and unnecessary deaths".
Emily Dugan