He once said he entered politics because of his "idealism" but Labour's new election strategist David Axelrod did not make the ideal start to his job with the party after a tweeting blunder yesterday.
To celebrate his first official day working as the Labour Party's new election campaign adviser he tweeted at Labour leader Ed Miliband praising him and the party for their "vision" and "hardwork."
The only problem was it was not Ed Milliband that Axelrod tweeted but a spoof account set up to mock the Labour leader.
Axelrod, who is often lauded for his communication skills, misspelled Miliband's name and as a result tweeted at Ed_Milliband (Two Ls not one) an account that has said in the past that it was time to go for the Labour leader and how he "missed his teddy."
After visiting the Labour headquarters Axelrod tweeted: "Enjoyed my visit with @Ed_Milliband and his @UKLabour team. I was inspired by the brilliant, tireless young women and men"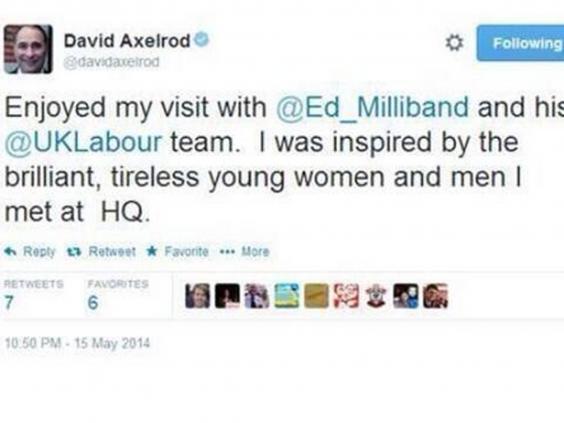 The Conservatives were quick to seize upon the mistake questioning whether Axelrod had actually met the Labour leader.
Reacting to the mistake, Ed Miliband put it down to the "perils of tweeting",  saying that it had happened to him too. In 2012 Miliband's tribute to former television show presenter Bob Holness read "Blackbusters host" instead of "Blockbusters host."
.@davidaxlerod @davidaxelrod Hello David, please call me urgently! Thanks, David

— Ed Milliband (@Ed_Milliband) May 16, 2014
Despite the gaffe, the Labour Party believes that Axelrod and his AKPD political consultancy firm can help the party to success at next year's election.
So much so, that they have agreed to pay the journalist turned political guru a six-figure sum for his services.
Axelrod is often attributed as the driving force behind the successful presidential campaigns of Barack Obama in 2008 and 2012.
Other AKPD advisers have been brought in by Axelrod including Obama campaign veterans Larry Grisolano and Mike Donilon.
It is hoped that Axelrod and his team can work closely with campaign co-ordinator Douglas and other American political strategist Stan Greenberg to help regain political power after losing the general election in 2010.
After their talk on Thursday, Miliband spoke of his admiration for Axelrod and their shared vision.
Speaking to the radio programme the World at One, Miliband said: "I first started talking to him (David Axelrod) last August and September and what attracted me about him was his values."