The enforced rationing of overstretched NHS services is leaving patients in pain and distress, a new report has said.
A calamitous combination of financial strain, staff shortages and unprecedented demand has led to shortfallings in care across a number of areas, said The King's Fund.
The report examined the impact of health service rationing in four sectors – sexual health services, district nursing, planned hip operations and neonatal care.
It said financial pressures affected each area to different degrees but were "severe and show no sign of easing", and in some areas there is "clear evidence that access to and quality of patient care has suffered".
Doctors said the report showed the NHS was at "breaking point", with patients suffering the consequences.
"Pressure on all services is rising and care is increasingly being rationed. Waiting lists should not be rising, and yet they are," said Mark Porter, council chair of the British Medical Association (BMA).
"Doctors always want to deliver the best possible care for our patients, but we can't continuously plug gaps by penny pinching and poaching from elsewhere in an overstretched NHS."
District nurses support the care of people at home, including those who are housebound, suffering a long-term illness or who are at the end of their life.
The report found services in this area are under "significant financial pressure", with funding either static or reducing, despite rising demand.
The number of district nurses fell by almost half between 2000 and 2014, and fell by a further 15 per cent between 2014 and 2016 for full-time posts. Some regions have one in five posts unfilled, the study found.
One hospice manager interviewed by the think tank said nurse shortages were having a "massive impact" on dying patients, who in some cases were forced to wait for hours for pain relief.
"The district nurses working at night are not able to give effective response times; you can wait up to eight hours," they said. "For patients experiencing pain and discomfort in the last two to three days of their life, it has a massive impact. 
"It's a frightening time for patients and we are seeing an increasing volume of calls coming through to our advice line where people are in genuine distress."
In his Budget last week, Philip Hammond promised an extra £2bn for social care, saying the funding boost would help ease pressures faced by the health service.
He also said £325m of funding would be given to sustainability and transformation plans (STPs), which have proved controversial in some regions because they will lead to the closure of some NHS hospitals, A&E departments and other services.
But campaigners said this was not enough, with the BMA saying the Budget "does nothing to address the gaping hole in NHS finances".
Everyone the Government blames for the NHS crisis – except themselves
Everyone the Government blames for the NHS crisis – except themselves
1/6 The elderly

"We acknowledge that there are pressures on the health service, there are always extra pressures on the NHS in the winter, but we have the added pressures of the ageing population and the growing complex needs of the population," Theresa May has said. Waits of over 12 hours in A&E among elderly people have more than doubled in two years, according to figures from NHS Digital.

Getty

2/6 Patients going to A&E instead of seeing their GPs

Jeremy Hunt has called for a "honest discussion with the public about the purpose of A&E departments", saying that around a third of A&E patients were in hospital unnecessarily. Mr Hunt told Radio 4's Today programme the NHS now had more doctors, nurses and funding than ever, but explained what he called "very serious problems at some hospitals" by suggesting pressures were increasing in part because people are going to A&Es when they should not. He urged patients to visit their GP for non-emergency illnesses, outlined plans to release time for family doctors to support urgent care work, and said the NHS will soon be able to deliver seven-day access to a GP from 8am to 8pm. But doctors struggling amid a GP recruitment crisis said Mr Hunt's plans were unrealistic and demanded the Government commit to investing in all areas of the overstretched health service.

Getty Images

3/6 Simon Stevens, head of NHS England

Reports that "key members" of Ms May's team used internal meetings to accuse Simon Stevens, head of NHS England, of being unenthusiastic and unresponsive have been rejected by Downing Street. Mr Stevens had allegedly rejected claims made by Ms May that the NHS had been given more funding than required.

Getty Images

4/6 Previous health policy, not funding

In an interview with Sky News's Sophy Ridge, Ms May acknowledged the NHS faced pressures but said it was a problem that had been "ducked by government over the years". She refuted the claim that hospitals were tackling a "humanitarian crisis" and said health funding was at record levels. "We asked the NHS a while back to set out what it needed over the next five years in terms of its plan for the future and the funding that it would need," said the Prime Minister. "They did that, we gave them that funding, in fact we gave them more funding than they required… Funding is now at record levels for the NHS, more money has been going in." But doctors accused Ms May of being "in denial" about how the lack of additional funding provided for health and social care were behind a spiralling crisis in NHS hospitals.

Getty Images

5/6 Target to treat all A&E patients within four hours

Mr Hunt was accused of watering down the flagship target to treat all A&E patients within four hours. The Health Secretary told MPs the promise – introduced by Tony Blair's government in 2000 – should only be for "those who actually need it". Amid jeers in the Commons, Mr Hunt said only four other countries pledged to treat all patients within a similar timeframe and all had "less stringent" rules. But Ms May has now said the Government will stand by the four-hour target for A&E, which says 95 per cent of patients must be dealt with within that time frame.

Getty Images

6/6 No one

Mr Hunt was accused of "hiding" from the public eye following news of the Red Cross's comments and didn't make an official statement for two days. He was also filmed refusing to answer questions from journalists who pursued him down the street yesterday to ask whether he planned to scrap the four-hour A&E waiting time target. Sky News reporter Beth Rigby pressed the Health Secretary on his position on the matter, saying "the public will want to know, Mr Hunt". "Sorry Beth, I've answered questions about this already," replied Mr Hunt. "But you didn't answer questions on this. You said it was over-interpreted in the House of Commons and you didn't want to water it down. Is that what you're saying?" said Ms Rigby. "It's very difficult, because how are we going to explain to the public what your intention is, when you change your position and then won't answer the question, Mr Hunt". But the Health Secretary maintained his silence until he reached his car and got in.

Getty Images
The King's Fund found evidence that more work is being "deflected" to nurses in GP surgeries, hospices and carers, and warned that patients are also facing tougher scrutiny over whether they qualify for district nursing.
There were also reports of staff being rushed and stressed, abrupt, task-focused and having no time to speak to patients. 
District nurses are being forced to work "significantly over their contracted hours" and are working very intensely, the report said.
Janet Davies, Chief Executive and General Secretary of the Royal College of Nursing, said the report "lifts the lid on the dangers of trying to provide nursing care on the cheap".
"Safety for patients is compromised when district nurses are asked to do more with less as lost colleagues are not replaced," she said.
Ms Davies added that investment in district nurses would help ease overcrowding in A&E departments, which recorded their worst-ever wait times in January.
NHS England statistics showed 85.1 per cent of patients waited four hours or more to be seen – down from 86.2 per cent in December and below the Government's target of 95 per cent.
The King's Fund found evidence that more work is being "deflected" to nurses in GP surgeries, hospices and carers, and warned that patients are also facing tougher scrutiny over whether they qualify for district nursing.
The report said waiting times for operations are rising, meaning some people are left in pain for longer.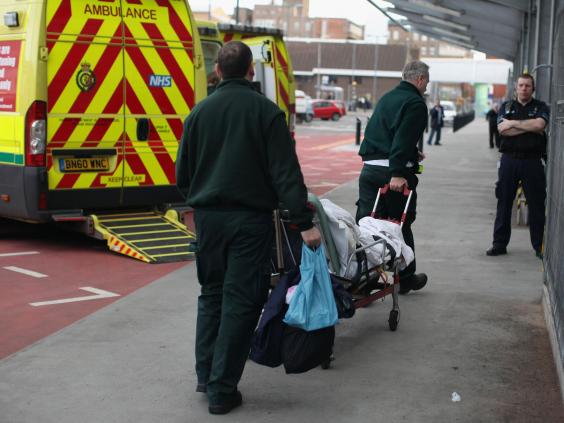 On hip replacements, the study found some regions such as York have been restricting access by telling obese people to lose weight.
Others will not operate on smokers, while in other areas patients need to be in unmanageable pain day and night.
The report said such measures are already starting to affect access to care, with the number of hip replacements in 2015/16 falling for only the second time in 16 years.
The King's Fund also found severe cuts to sexual health funding, despite increasing demand for the service.
It said there had been difficulty recruiting doctors to sexual health clinics, with 50 per cent of training places in one GUM clinic left unfilled.
Chief executive of the Family Planning Association, Natika Halil, said in the long-run the Government's approach "will lead to both more sexually transmitted infections and higher costs, as people find it harder to access the services and the support they need."
Liberal Democrat Shadow Health Secretary Norman Lamb said the report "lays bare the terrible hidden cost of the NHS crisis".
"It is a desperate situation that will only get worse unless the Government gives our health service the long-term investment it needs."
A Department of Health spokesperson said: "Blanket restrictions on treatment are unacceptable – but the NHS is now doing 5,000 more operations every day compared to 2010, so accusations of inappropriate rationing are misplaced," they said.
"We're investing £10 billion to fund the NHS's own plan for the future, supported by an immediate cash injection of £2bn for social care and £100m for A&E to help to improve care in the community and ease the pressure on hospitals."
Additional reporting from Press Association
Reuse content