Nick Clegg has accused the Conservatives of "Americanising" British politics by "rigging the rules" against their opponents in the hope of creating a "one-party state."
In his first newspaper interview since last May's general election, the former Deputy Prime Minister condemned David Cameron for using "One Nation rhetoric" to mask his Government's decision to abandon the Coalition's progressive policies.
Mr Clegg told The Independent that the Tories had departed dramatically from the tradition that the "rules of the game" in British politics were agreed on a cross-party basis. 
He cited their "petty, spiteful" moves to cripple Labour's funding by changing the way trade unionists pay the political levy and cutting state funding for opposition parties. 
He said: "If you look at the way the Conservatives seek to hobble and neuter Westminster, the bullying swagger with which they treat the BBC, the general air of hubris, there is a feeling that politics is being reduced to the whims and mood swings of one political party. That is not healthy.
"A combination of US-style game playing by the Conservatives and Labour's self-indulgence is conspiring to leave millions of British voters completely voiceless."
The former Liberal Democrat leader said: "It has got George Osborne's fingerprints all over it. It is the Lyndon Johnson style of politics" – a reference to the US President in the 1960s who was seen as a ruthless bully. He also likened the Chancellor to Jose Mourinho, the former Chelsea manager, saying they were both "very clever, very skilled" but took "a little too much pleasure at the misfortunes of others" and "twisting the knife".
Mr Clegg said: "In one-party politics without any meaningful opposition, people can fool themselves that if they have said something, it must be true. They distort the English language and talk about social mobility when doing precisely the opposite… They believe their own hype."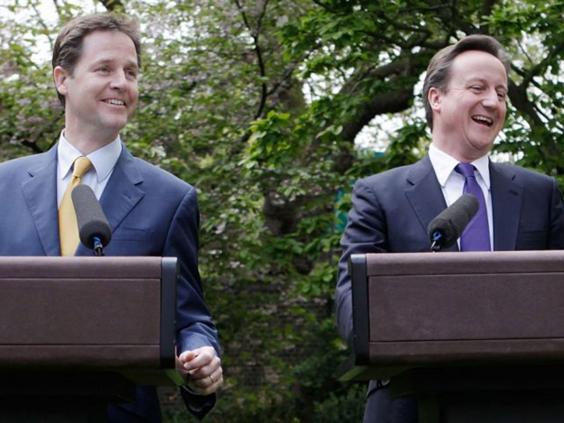 Warning that other parties would eventually take their revenge, Mr Clegg said: "The Conservatives need to watch out. One day, the boot will be on the other foot. They might think they will be in power forever, but they won't be. Things change."
 When Mr Cameron promised a "One Nation" government after winning last year's election, Mr Clegg was hopeful that the Prime Minister would build on the Coalition's "progressive legacy". 
Nine months on, Mr Clegg believes that legacy is being "squandered", saying he has been "provoked" into speaking out against his former coalition partner. "The rhetoric at the beginning from David Cameron was good. I held my tongue. But I am afraid the very thin gruel the Prime Minister has announced, and the deeply regressive steps taken by his Chancellor, means it is insecure, hollow double-speak," he said.
"People need be judged by their actions, not their words… They are trying to pull the wool over people's eyes by indulging in poetic rhetoric, while what is happening in people's lives is going in exactly the opposite direction."
Mr Clegg has drawn up a long charge sheet. He claimed Mr Cameron professed to care about social mobility while scrapping maintenance grants that enabled disadvantaged children to go to university; targeting help with childcare to better off families rather than those who need it most; reducing the incentive to work for people relying on state benefits; ditching child poverty targets; and cutting the schools' budget and "Pupil Premium", for children from poor families, in real terms.
He is not surprised that a Conservative government is acting like this, but angry because, he claimed, it pretends to be something it is not. "The reason I am speaking out is that I do care about the things we advocated in coalition as we balanced the books in the fairest possible way. They are being unpicked by the Conservatives," he said.
 Mr Clegg lifted the lid on two revealing battles fought behind closed doors at the top of the Coalition. Before its final Budget, he proposed an expansion of childcare provision for two-year-olds from poor families, widely seen as the best way of boosting life chances. But Mr Cameron and Mr Osborne rejected the idea, admitting that "all we want to do is to shoot Labour's fox" by offering 30 hours of free childcare for older children to trump Labour's 25-hour pledge. 
UK news in pictures
UK news in pictures
1/30 1 July 2016

Demonstrators chant as they wave underwear and placards with the words "Liar Liar Pants On Fire" written on them outside the home of former London Mayor Boris Johnson

Getty Images

2/30 30 June 2016

Justice Secretary and leading Brexit campaigner Michael Gove leaves his home in Kensington before announcing his intention to run to be the next Conservative Party leader and UK prime minister

Getty Images

3/30 29 June 2016

Spectators with umbrellas struggle against strong wind as stormy weather delays play at Wimbledon

REUTERS

4/30 28 June 2016

A couple kiss outside the Houses of Parliament during a protest aimed at showing London's solidarity with the European Union following the recent EU referendum

REUTERS

5/30 28 June 2016

Queen Elizabeth II & Prince Philip, Duke Of Edinburgh attend the unveiling of the Robert Quigg VC memorial statue in Bushmills village, Northern Ireland

Getty Images

6/30 27 June 2016

Opposition Labour party leader Jeremy Corbyn leaves after addressing a gathering of supporters demonstrating in Parliament Square, in central London

REUTERS

7/30 26 June 2016

A man dressed as Boris Johnson and Donald Trump prepare to take part in a tomato fight at the Glastonbury Festival 2016 at Worthy Farm

Getty Images

8/30 26 June 2016

People walk over Westminster Bridge wrapped in Union flags in central London. Britain's opposition Labour party plunged into turmoil and the prospect of Scottish independence drew closer, ahead of a showdown with EU leaders over the country's seismic vote to leave the bloc

AFP/Getty Images

9/30 25 June 2016

People pay tribute to the victims of the Orlando nightclub shooting as they take part in the annual Pride London Parade which highlights issues of the gay, lesbian and transgender community, in London

REUTERS

10/30 25 June 2016

Scotland's First Minister and Leader of the Scottish National Party (SNP), Nicola Sturgeon, addresses the media after holding an emergency Cabinet meeting at Bute House in Edinburgh, following the pro-Brexit result of the UK's EU referendum vote

AFP/Getty Images

11/30 24 June 2016

A man carries a EU flag, after Britain voted to leave the European Union, outside Downing Street in London

12/30 23 June 2016

AFP/Getty Images

13/30 22 June 2016

British Prime Minister David Cameron poses for a photograph after addressing pro-EU "Vote Remain" supporters at rally in Bristol, whilst campaigning to avoid a Brexit, ahead of the 23 June EU referendum

AFP/Getty Images

14/30 21 June 2016

Scottish Conservative leader Ruth Davidson (left) and Mayor of London Sadiq Khan speak during the EU debate at Wembley Arena in London

Getty Images

15/30 20 June 2016

A full moon rises behind Glastonbury Tor as people gather to celebrate the summer solstice in Somerse

Getty Images

16/30 19 June 2016

Hot air balloons took to the air as part of the annual Lord Mayor's Hot Air Balloon Regatta, a charity event in aid of the Lord Mayor's Fund, in London

Getty Images

17/30 19 June 2016

Liberal Democrats leader Tim Farron (C) poses with supporters after arriving in the Liberal Democrat Vote Remain campaign bus, campaigning to avoid a Brexit in the EU referendum, during a launch event in east London

AFP/Getty Images

18/30 18 June 2016

A man lights a flare among pro-refugee activists rallying outside the French Embassy in central London, during a protest after most of an aid convoy of vehicles organised by campaign groups heading to northern France were turned back at the French frontier at the port of Dover

AFP/Getty Images

19/30 17 June 2016

Prime Minister David Cameron and Labour Leader Jeremy Corbyn arrive to pay their respects at the scene where Jo Cox was shot in Birstall

Getty Images

20/30 16 June 2016

Floral tributes and candles are placed by a picture of slain Labour MP Jo Cox at a vigil in Parliament square in London. Cox died after a shock daylight street attack, throwing campaigning for the referendum on Britain's membership of the European Union into disarray just a week before the crucial vote

AFP

21/30 15 June 2016

Boats from the 'Fishing for Leave' campaign group join a flotilla along the Thames River in London. The flotilla organised by members of the Fishing for Leave group, who are campaigning to leave the European Union ahead of the referendum on the 23 of June, was countered by boats representing the 'In' campaign

Getty Images

22/30 14 June 2016

A general view of the Tate Modern's new Switch House in London. The Tate Modern art gallery has unveiled its new Switch House building designed by architects Herzog & de Meuron

Getty

23/30 13 June 2016

Labour Leader Jeremy Corbyn (C) and Deputy Labour Leader Tom Watson (R) attend a vigil for the victims of the Orlando nightclub shooting, outside the Admiral Duncan pub on Old Compton Street in Soho, London

Getty Images

24/30 12 June 2016

A pigeon flies ahead of Britain's Queen Elizabeth and Prince Philip, and Princes William, Harry and Kate Duchess of Cambridge behind as they wave to guests attending the Patron's Lunch on the Mall, an event to mark her 90th birthday, in London

REUTERS

25/30 11 June 2016

A Guardsman faints at Horseguards Parade for the annual Trooping the Colour ceremony in central London

REUTERS

26/30 10 June 2016

The national service of thanksgiving for the 90th birthday of Britain's Queen Elizabeth II at St Paul's Cathedral in London, which is also the Duke of Edinburgh's 95th birthday

Getty Images

27/30 9 June 2016

Princess Anne, Princess Royal attends the Founders Day Parade at The Royal Hospital Chelsea in London

Getty Images

28/30 8 June 2016

Two women walk barefoot through heavy rain in Westminster in London. The Met Office has issued flood alerts for parts of the south east of England as torrential rain hit parts of the country

Getty Images

29/30 7 June 2016

An Osprey catches two Rainbow Trout at Rothiemurchus in Kincraig, Scotland. Ospreys migrate each spring from Africa and nest in tall pine trees around the Aviemore area, the raptor was hunted to the point of extinction in the Victorian era, their migratory habits eventually brought them back to Scotland with the first successful breeding pair being recorded in 1954

Getty

30/30 6 June 2016

David Cameron speaks at a Remain in the EU campaign event at the Oval cricket ground in London

Getty Images
Similarly, when the Lib Dems pushed repeatedly in the last parliament for money to build social housing, the Prime Minister and Chancellor rebuffed them with the stark message: "All it does is produce more Labour voters."
Moreover, the Tories took credit for Lib Dem ideas, notably their flagship policy of raising the personal tax allowance. Initially, Mr Clegg recalled, Mr Osborne demanded Lib Dem concessions in return for "your policy". But when Sir Lynton Crosby, the Tories' Australian election strategist arrived on the scene and realised the tax cuts were popular and fair, the Tories suddenly claimed the policy as their own and wrote the Libs Dems out of the script. "It was not honest," he said. "But that's politics."
 It might sound like sour grapes from the man who admitted his party was "massacred" – its 57 MPs were reduced to just eight – but it is not. Surprisingly, Mr Clegg does not feel betrayed that his coalition partners ruthlessly targeted Lib Dem seats to win an unexpected majority. 
Without bitterness, he said: "Politics is a brutal business. Those who live by the sword die by the sword. I don't have much time for people who whinge or whine."
Mr Clegg was naturally bruised by his party's shattering defeat and friends say it took a complete break from politics last August to get over it. Although he has enthusiastically taken up causes such as drug law reform and educational inequality, the suspicion at Westminster is that the 49-year-old MP for Sheffield Hallam will seek fresh challenges after the 2020 election.
Mr Clegg disputes the thrust of the Lib Dem inquest into last year's rout, which listed a catalogue of errors. He accepted that the report reflects the feelings inside his party, but insisted that the fundamental cause of the result was the decision to enter the Coalition in 2010 rather than a specific  slogan or policy – even the U-turn over university tuition fees.
He pointed out that progressive parties across Europe suffered a similar electoral disaster after being in coalition with the centre-right. 
Mr Clegg interrupted my killer question: if he had had a crystal ball that saw just eight seats after the 2015 election, would he have still joined forces with the Tories? He accused his critics of "hindsight", saying that difficult decisions when "you are between a rock and a hard place" must be made at the time, not with the benefit of "20/20 vision".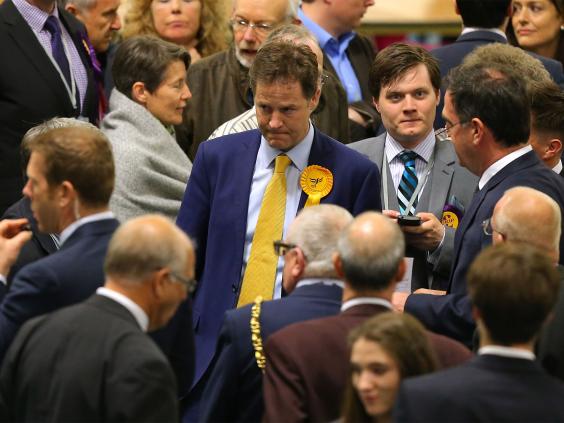 He finds it difficult to imagine another coalition without a cast-iron guarantee of proportional representation – probably without a referendum. He insists his battered party will bounce back and can see a ray of hope on the horizon even in today's one-party state.
"The party that should be most desperately in favour [of PR] is Labour. In my view, Labour cannot win power again, as long as the SNP dominates Scotland, without electoral reform. Labour has not twigged that yet," he said.
He envisages a time when all the parties except the Tories back reform, making it possible to win a Commons vote. "The dam will eventually break. The Conservatives cannot unilaterally impose a blanket veto on constitutional change for their own ends," he said. "Labour needs to wake up and smell the coffee."
Mr Clegg's regrets are too few mention. "I stand by my actions," he said. "I take responsibility for the things that went wrong on my watch. I took the decisions I took – some good, some bad. I tried to make the right judgements for the right motives in the circumstances in which I found myself."
Reuse content