After more than four years of sitting in silence next to David Cameron in the bear pit of prime minister's question, Nick Clegg has finally said what he thinks of it. It is a pointless farce that should be abolished.
"How awkward can you get?" Mr Clegg exclaimed, when asked his opinion on BBC 5 Live's Pienaar's Politics programme. "To have to sit to listen to your two main rivals tear strips off each other and you're not allowed to say anything. Of course it's awkward, it's ridiculous. The whole thing is ridiculous, the whole thing should be scrapped. It's an absolute farce, Prime Minister's Questions."
Asked if he would continue to put in an appearance at Mr Cameron's side for the remaining weeks until the general election is called, he replied: "I sometimes will, I sometimes won't.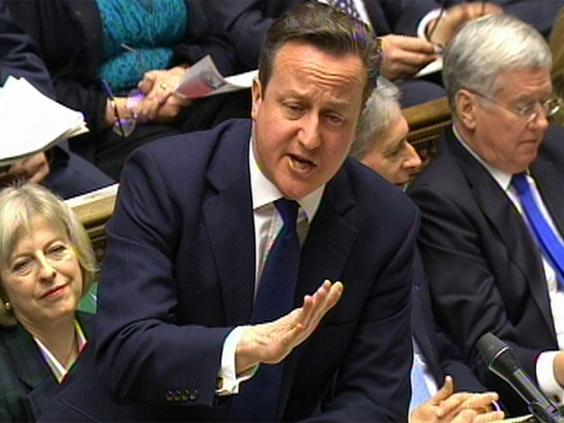 "Do I think that use of my time, sitting there biting my tongue as I listen to them say increasingly daft and shrill things to each other, do I think it's a great use of my time? No.
"Do I wish I didn't have to do it? Probably, quite a lot of the time.
"At the beginning, apparently, I was criticised for being too comfortable, then I looked a bit sombre, then I looked too sad. And now if I show any expression it's interpreted one way or the other…"
The signs that the Deputy Prime Minister was sick of the whole business have been growing in recent months. In November and December, he missed the ritual three weeks in a row. He also missed being on the government benches while the Chancellor George Osborne delivered his autumn statement because he was in Cornwall campaigning for the Liberal Democrats.  Asked why, he pleaded "I've spent four years dutifully sitting there on the green benches" and said he would rather be out in the country meeting voters.
Last Wednesday, Clegg was back in position at David Cameron's right hand, but only in body not in spirit. While the Prime Minister and Ed Miliband were arguing over whether there should be televised debates between the party leaders during the next election, it was no secret that Mr Clegg agreed with the Labour leader not with the Prime Minister.
He had to listen as David Cameron remarked that the Green Party, which the broadcasters propose to exclude from the debates, won more votes at the European election than the Lib Dems. Mr Clegg was seen shaking his heads and spreading his arms in protest, and was heard to cry: "Excuses, excuses."
Reuse content