An unprecedented intervention into the migrant crisis in the Aegean Sea will be expanded and joined by a Royal Navy vessel. David Cameron will announce the action on 7 March as desperate European leaders meet in Brussels to try to stop another wave of humanity crossing to the EU from Turkey. 
A summit on 7 March in Brussels – the ninth over the past year – will attempt to address the refugee crisis, with leaders now pinning their hopes on a deal with Turkey to prevent more people from attempting the hazardous journey to Europe. The European Council President, Donald Tusk, who chairs the summit, toured the main countries on the western Balkans route last week, including Turkey and Greece, as he attempted to pull together a plan to both prevent refugees from leaving Turkey and send them back if they do land in Greece, Italy or other frontline countries. 
The Turkish Prime Minister, Ahmet Davutoglu, who will also attend the summit, has promised to take back all non-Syrians who arrive in Greece. However, human rights groups say the EU is shirking its humanitarian responsibilities by using Turkey as its border guard. "Using Turkey as a 'safe third country' is absurd," said Gauri van Gulik, Amnesty International's deputy director for Europe and Central Asia. "Many refugees still live in terrible conditions, some have been deported back to Syria and security forces have even shot at Syrians trying to cross the border." 
The EU has offered Turkey €3bn (£2.3bn) and the prospect of an easy visa regime for Turkish visitors, in return for action to stop the estimated 2.6 million Syrian refugees from leaving Turkish shores. This includes stepping up police and coast guard operations to stop the people smugglers who are still ferrying nearly 2,000 people a day to Greece. 
Some of the refugees will be sent back to Turkey by Nato, whose patrols around the Aegean Sea are currently intercepting migrants trying to reach Greece. Those patrols will now be joined by British ships, David Cameron will announce this morning. They will also be expanded into Turkish and Greek territorial waters.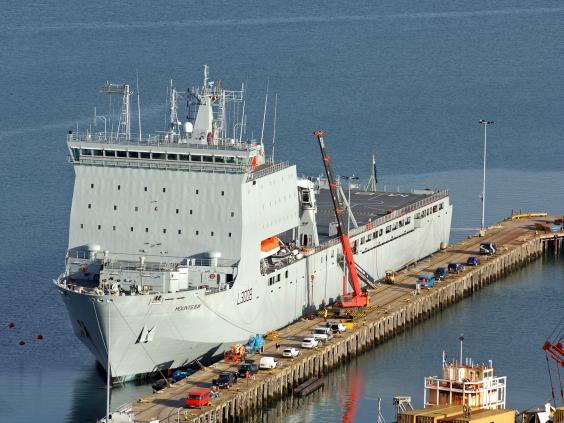 A Royal Navy amphibious landing ship, RFA Mounts Bay, and two border force cutters will join the Nato mission to identify smugglers taking migrants to Greece. "This migration crisis is the greatest challenge facing Europe today," Mr Cameron will say ahead of the summit. "Where we can help, we should. And we've got to break the model of the criminal smugglers and stop the desperate flow of people crammed into makeshift vessels from embarking on a fruitless and perilous journey."
The Nato secretary-general, Jens Stoltenberg, said last night the alliance's mission would use more vessels and deepen co-operation with the EU's Frontex border agency. In February defence ministers ordered the immediate deployment of three Nato vessels to the Aegean Sea. "Now we are going further by actually doing two new things," Mr Stoltenberg told the Associated Press. "We are going into Greek and Turkish territorial waters. We have agreed on arrangements for doing that."
Refugee crisis - in pictures
Refugee crisis - in pictures
1/27

A child looks through the fence at the Moria detention camp for migrants and refugees at the island of Lesbos on May 24, 2016.

AFP/Getty Images

2/27

Ahmad Zarour, 32, from Syria, reacts after his rescue by MOAS (Migrant Offshore Aid Station) while attempting to reach the Greek island of Agathonisi, Dodecanese, southeastern Agean Sea

3/27

Syrian migrants holding life vests gather onto a pebble beach in the Yesil liman district of Canakkale, northwestern Turkey, after being stopped by Turkish police in their attempt to reach the Greek island of Lesbos on 29 January 2016.

Getty Images

4/27

Refugees flash the 'V for victory' sign during a demonstration as they block the Greek-Macedonian border

5/27

Migrants have been braving sub zero temperatures as they cross the border from Macedonia into Serbia.

6/27

A sinking boat is seen behind a Turkish gendarme off the coast of Canakkale's Bademli district on January 30, 2016. At least 33 migrants drowned on January 30 when their boat sank in the Aegean Sea while trying to cross from Turkey to Greece.

Getty Images

7/27

A general view of a shelter for migrants inside a hangar of the former Tempelhof airport in Berlin, Germany

8/27

Refugees protest behind a fence against restrictions limiting passage at the Greek-Macedonian border, near Gevgelija. Since last week, Macedonia has restricted passage to northern Europe to only Syrians, Iraqis and Afghans who are considered war refugees. All other nationalities are deemed economic migrants and told to turn back. Macedonia has finished building a fence on its frontier with Greece becoming the latest country in Europe to build a border barrier aimed at checking the flow of refugees

9/27

A father and his child wait after being caught by Turkish gendarme on 27 January 2016 at Canakkale's Kucukkuyu district

10/27

Migrants make hand signals as they arrive into the southern Spanish port of Malaga on 27 January, 2016 after an inflatable boat carrying 55 Africans, seven of them women and six chidren, was rescued by the Spanish coast guard off the Spanish coast.

11/27

A refugee holds two children as dozens arrive on an overcrowded boat on the Greek island of Lesbos

12/27

A child, covered by emergency blankets, reacts as she arrives, with other refugees and migrants, on the Greek island of Lesbos, At least five migrants including three children, died after four boats sank between Turkey and Greece, as rescue workers searched the sea for dozens more, the Greek coastguard said

13/27

Migrants wait under outside the Moria registration camp on the Lesbos. Over 400,000 people have landed on Greek islands from neighbouring Turkey since the beginning of the year

14/27

The bodies of Christian refugees are buried separately from Muslim refugees at the Agios Panteleimonas cemetery in Mytilene, Lesbos

15/27

Macedonian police officers control a crowd of refugees as they prepare to enter a camp after crossing the Greek border into Macedonia near Gevgelija

Getty Images

16/27

A refugee tries to force the entry to a camp as Macedonian police officers control a crowd after crossing the Greek border into Macedonia near Gevgelija

Getty Images

17/27

Refugees are seen aboard a Turkish fishing boat as they arrive on the Greek island of Lesbos after crossing a part of the Aegean Sea from the Turkish coast to Lesbos

Reuters

18/27

An elderly woman sings a lullaby to baby on a beach after arriving with other refugees on the Greek island of Lesbos after crossing the Aegean sea from Turkey

Getty Images

19/27

A man collapses as refugees make land from an overloaded rubber dinghy after crossing the Aegean see from Turkey, at the island of Lesbos

EPA

20/27

A girl reacts as refugees arrive by boat on the Greek island of Lesbos after crossing the Aegean sea from Turkey

Getty Images

21/27

Refugees make a show of hands as they queue after crossing the Greek border into Macedonia near Gevgelija

Getty Images

22/27

People help a wheelchair user board a train with others, heading towards Serbia, at the transit camp for refugees near the southern Macedonian town of Gevgelija

AP

23/27

Refugees board a train, after crossing the Greek-Macedonian border, near Gevgelija. Macedonia is a key transit country in the Balkans migration route into the EU, with thousands of asylum seekers - many of them from Syria, Afghanistan, Iraq and Somalia - entering the country every day

Getty Images

24/27

An aerial picture shows the "New Jungle" refugee camp where some 3,500 people live while they attempt to enter Britain, near the port of Calais, northern France

Getty Images

25/27

A Syrian girl reacts as she helped by a volunteer upon her arrival from Turkey on the Greek island of Lesbos, after having crossed the Aegean Sea

EPA

26/27

Refugees arrive by boat on the Greek island of Lesbos after crossing the Aegean sea from Turkey

Getty Images

27/27

Beds ready for use for migrants and refugees are prepared at a processing center on January 27, 2016 in Passau, Germany. The flow of migrants arriving in Passau has dropped to between 500 and 1,000 per day, down significantly from last November, when in the same region up to 6,000 migrants were arriving daily.
Negotiations with Ankara have been fraught since a deal was first mooted last autumn. At a meeting last November, President Recep Tayyip Erdogan threatened to flood Europe with migrants if EU leaders did not offer him a better deal. But the EU needs Turkey, and is prepared to play up to the increasingly autocratic Mr Erdogan until the deal is fully in place. Indeed, many observers thought it no coincidence that the influential Turkish daily Zaman was closed down by the government on 4 March, at a moment when EU leaders were highly unlikely to voice outrage at the silencing of an opposing newspaper. 
"The EU is desperate," said Amanda Paul at the European Policy Centre, a Brussels-based think-tank. "This desperation takes the shape of brushing fundamental rights and freedoms under the carpet. Not only does the EU's approach send the message that refugees can be used as leverage, it is also strengthening the increasingly authoritarian and intolerant rule of Erdogan."
Turkey is already home to 2.5 million Syrians and half a million refugees of other nationalities. Under pressure from the EU, it has announced new measures to encourage them to stay rather than looking to start a new life in Europe. Cracking down on the lucrative smuggling industry that operates along the county's Aegean coast may prove a more difficult prospect. Turkey has promised to massively expand its coast guard patrols, but officials say that many migrants and refugees are willing to keep trying to reach Greece until they succeed.
The Turkey deal is only one part of the EU's response to the refugee crisis. Mr Tusk will push the leaders at the summit to close down the Balkan route through which more than one million people have passed since last summer. He also wants the EU to do more to help Greece, whose many islands have been easy landing spots for refugees setting off from Turkey.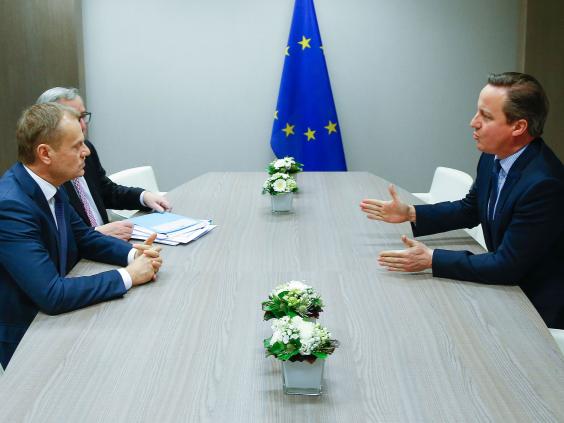 Indeed, the Greek coast guard said that some 400 migrants had been rescued in the Aegean in six separate operations. Turkey's state-run Anadolu news agency said 18 migrants had drowned off the Turkish coast while trying to reach Greece. The Turkish coast guard rescued 15 other migrants off the Aegean Sea resort of Didim. 
The Greek Prime Minister, Alexis Tsipras, said he would seek an immediate relocation of migrants stranded on its soil at the summit on 7 March and would call for sanctions against EU members that did not "abide by common decisions". But for now, Greece is likely to have to cope on its own with a bottleneck of refugees as its neighbours unilaterally reintroduce border controls.
Reuse content