David Cameron wants to deploy Royal Navy vessels close to the coast of Libya to deter thousands of migrants from embarking on the perilous sea journey to Europe this summer.
The Prime Minister told European Union leaders at a summit in Brussels that he is extending the deployment of HMS Enterprise on anti-trafficking operations in the central Mediterranean at least until the summer, and wants to see the mission expanded into Libyan territorial waters to enhance its deterrent effect.
UK officials said that people-smuggling boats could be turned back to the Libyan shore for destruction, if the necessary co-operation can be established with local coastguards. And they said Britain would also like to see closer Nato co-operation with Turkish coastguards in the Aegean Sea so that more intercepted boats can be sent back to Turkey without ever arriving in the Greek islands.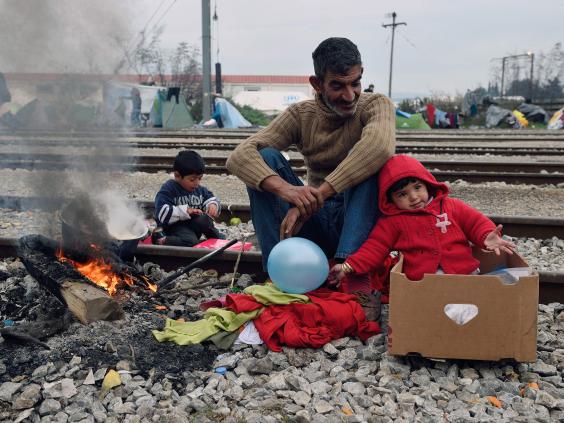 Mr Cameron and the 27 other EU leaders hope to seal an agreement with Turkish PM Ahmet Davutoglu on Friday which would see migrants returned to Turkey if they fail fast-track asylum interviews and appeals after arrival in Greece.
In return, the EU would accept one Syrian refugee from camps in Turkey for every irregular migrant returned, up to a limit of 72,000. Ankara stands to see a 3 billion euro aid package doubled to 6 billion euro (£4.7 billion) and could gain visa-free access for its 75 million nationals to the EU's Schengen border-free zone and the revival of talks on eventual accession.
Mr Cameron insisted that the proposed deal will not add to the 20,000 vulnerable Syrian migrants Britain has already agreed to accept from camps in the region over five years. And he said the UK's "special status" outside the Schengen area meant there would be no visa-free travel to Britain for Turks.
But he made clear he backs moves to return migrants, saying: "What matters today is actually busting the business model of those people-smugglers and therefore breaking the link between getting on a boat and getting settlement in Europe. If we can get an agreement that returns the migrants from the Greek islands to Turkey that would be good progress."
In talks over dinner in Brussels, Mr Cameron said he was sending several more officers from the National Crime Agency to assist with border operations in Greece and Turkey.
But he warned fellow leaders they must not "take their eyes off the ball" of Libya because of their focus on the crisis in Greece, where more than 800,000 people arrived by sea in 2015 and 125,000 in the first two months of this year.
If the new deal with Turkey succeeds in cutting migration in the eastern Mediterranean, economic migrants may divert to the north African country as improving weather makes the crossing to Italy more viable during the summer months, he said. Some 170,000 migrants arrived in Italy from Libya in 2014 and 150,000 last year, but the death toll was much higher than on the Turkish route because of the longer distances involved.
Mr Cameron said that the EU should be opening discussions with the newly-established Libyan government of national accord under prime minister-designate Fayez al-Sarraj on the extension of its current Operation Sophia mission to within several miles of the Libyan shore.
The mission is currently able to operate only in international waters, but has already detained 53 smugglers and destroyed 90 vessels - including 69 rubber dinghys, 20 wooden boats and one fishing vessel - since last July.
Some people-smugglers have been taking advantage of the fact that Operation Sophia vessels cannot sail close to the Libyan coastline by taking boatloads of migrants to the edge of international waters before casting them loose.
As well as signalling his readiness to keep HMS Enterprise in the area if the Operation is extended beyond July, Mr Cameron said Britain was willing to deploy other assets, which could include Border Force cutters and Wildcat or Lynx helicopters, said officials.
He believes that an EU naval presence close to the Libyan shore would deter many migrants from setting out and would allow local coastguards to escort other boats back to shore, where they can be destroyed.
The proposed deal with Turkey was denounced by the Refugee Council as "immoral, unworkable and probably illegal". Chief executive Maurice Wren said: "The fact that the Government is boasting of its intention not to lift a finger to help more refugees find safety in the UK is emblematic of its lack of moral leadership and political courage to do the right thing."
And Amnesty International refugee director Steve Symonds said: "The plan lacks both logic and compassion. By abandoning their legal obligations, European leaders won't put a stop to refugee migration."
Refugee crisis - in pictures
Refugee crisis - in pictures
1/27

A child looks through the fence at the Moria detention camp for migrants and refugees at the island of Lesbos on May 24, 2016.

AFP/Getty Images

2/27

Ahmad Zarour, 32, from Syria, reacts after his rescue by MOAS (Migrant Offshore Aid Station) while attempting to reach the Greek island of Agathonisi, Dodecanese, southeastern Agean Sea

3/27

Syrian migrants holding life vests gather onto a pebble beach in the Yesil liman district of Canakkale, northwestern Turkey, after being stopped by Turkish police in their attempt to reach the Greek island of Lesbos on 29 January 2016.

Getty Images

4/27

Refugees flash the 'V for victory' sign during a demonstration as they block the Greek-Macedonian border

5/27

Migrants have been braving sub zero temperatures as they cross the border from Macedonia into Serbia.

6/27

A sinking boat is seen behind a Turkish gendarme off the coast of Canakkale's Bademli district on January 30, 2016. At least 33 migrants drowned on January 30 when their boat sank in the Aegean Sea while trying to cross from Turkey to Greece.

Getty Images

7/27

A general view of a shelter for migrants inside a hangar of the former Tempelhof airport in Berlin, Germany

8/27

Refugees protest behind a fence against restrictions limiting passage at the Greek-Macedonian border, near Gevgelija. Since last week, Macedonia has restricted passage to northern Europe to only Syrians, Iraqis and Afghans who are considered war refugees. All other nationalities are deemed economic migrants and told to turn back. Macedonia has finished building a fence on its frontier with Greece becoming the latest country in Europe to build a border barrier aimed at checking the flow of refugees

9/27

A father and his child wait after being caught by Turkish gendarme on 27 January 2016 at Canakkale's Kucukkuyu district

10/27

Migrants make hand signals as they arrive into the southern Spanish port of Malaga on 27 January, 2016 after an inflatable boat carrying 55 Africans, seven of them women and six chidren, was rescued by the Spanish coast guard off the Spanish coast.

11/27

A refugee holds two children as dozens arrive on an overcrowded boat on the Greek island of Lesbos

12/27

A child, covered by emergency blankets, reacts as she arrives, with other refugees and migrants, on the Greek island of Lesbos, At least five migrants including three children, died after four boats sank between Turkey and Greece, as rescue workers searched the sea for dozens more, the Greek coastguard said

13/27

Migrants wait under outside the Moria registration camp on the Lesbos. Over 400,000 people have landed on Greek islands from neighbouring Turkey since the beginning of the year

14/27

The bodies of Christian refugees are buried separately from Muslim refugees at the Agios Panteleimonas cemetery in Mytilene, Lesbos

15/27

Macedonian police officers control a crowd of refugees as they prepare to enter a camp after crossing the Greek border into Macedonia near Gevgelija

Getty Images

16/27

A refugee tries to force the entry to a camp as Macedonian police officers control a crowd after crossing the Greek border into Macedonia near Gevgelija

Getty Images

17/27

Refugees are seen aboard a Turkish fishing boat as they arrive on the Greek island of Lesbos after crossing a part of the Aegean Sea from the Turkish coast to Lesbos

Reuters

18/27

An elderly woman sings a lullaby to baby on a beach after arriving with other refugees on the Greek island of Lesbos after crossing the Aegean sea from Turkey

Getty Images

19/27

A man collapses as refugees make land from an overloaded rubber dinghy after crossing the Aegean see from Turkey, at the island of Lesbos

EPA

20/27

A girl reacts as refugees arrive by boat on the Greek island of Lesbos after crossing the Aegean sea from Turkey

Getty Images

21/27

Refugees make a show of hands as they queue after crossing the Greek border into Macedonia near Gevgelija

Getty Images

22/27

People help a wheelchair user board a train with others, heading towards Serbia, at the transit camp for refugees near the southern Macedonian town of Gevgelija

AP

23/27

Refugees board a train, after crossing the Greek-Macedonian border, near Gevgelija. Macedonia is a key transit country in the Balkans migration route into the EU, with thousands of asylum seekers - many of them from Syria, Afghanistan, Iraq and Somalia - entering the country every day

Getty Images

24/27

An aerial picture shows the "New Jungle" refugee camp where some 3,500 people live while they attempt to enter Britain, near the port of Calais, northern France

Getty Images

25/27

A Syrian girl reacts as she helped by a volunteer upon her arrival from Turkey on the Greek island of Lesbos, after having crossed the Aegean Sea

EPA

26/27

Refugees arrive by boat on the Greek island of Lesbos after crossing the Aegean sea from Turkey

Getty Images

27/27

Beds ready for use for migrants and refugees are prepared at a processing center on January 27, 2016 in Passau, Germany. The flow of migrants arriving in Passau has dropped to between 500 and 1,000 per day, down significantly from last November, when in the same region up to 6,000 migrants were arriving daily.
But Mr Cameron's official spokeswoman said the UK believes the proposed new arrangements with Turkey can be imposed "in line with EU and international law" as individual cases would be assessed on their merits.
And European Commission president Jean-Claude Juncker insisted that any arrangements would respect both European law and the Geneva Conventions.
Dutch Prime Minister Mark Rutte suggested that the prospect of immediate return from the Greek islands to Turkey would halt the flow of migrants by the eastern Mediterranean route "in three to four weeks" after finalisation of the deal.
Meanwhile, EU auditors issued a harsh verdict on efforts to control migration from outside the bloc prior to the current crisis. External migration operations on southern and eastern borders between 2007 and 2013 lacked a clear strategy and suffered from "complex governance, insufficient coordination and the absence of a funding overview", said the European Court of Auditors.
Press Association
Reuse content