London mayoral frontrunner Sadiq Khan has fired a warning shot at the Metropolitan Police chief Sir Bernard Hogan-Howe that he may veto any extension to Sir Bernard's contract if he is elected Mayor in May.
Speaking for the first time on the issue, Mr Khan, the Labour nominee to take over from Boris Johnson, warned he should be given a bigger say over who should be the next Scotland Yard commissioner.
It comes after Home Secretary Theresa May handed Sir Bernard only a 12-month extension, following widespread criticism of his handling of the inquiry into historic allegations of child abuse and his refusal to apologise to the Second World War hero Lord Bramall.
In a wide-ranging interview, Mr Khan opened up about his religious devotion – praying five times a day and fasting at Ramadan – suffering racist abuse at football games and worrying about his teenage daughters being groomed online. 
But despite the racism he endured in his childhood, he claims Britain is now "without a doubt" ready to elect a Muslim prime minister. Mr Khan also warns Jeremy Corbyn that he has had enough time to come to terms with being Labour leader and needs to show he can start winning public support.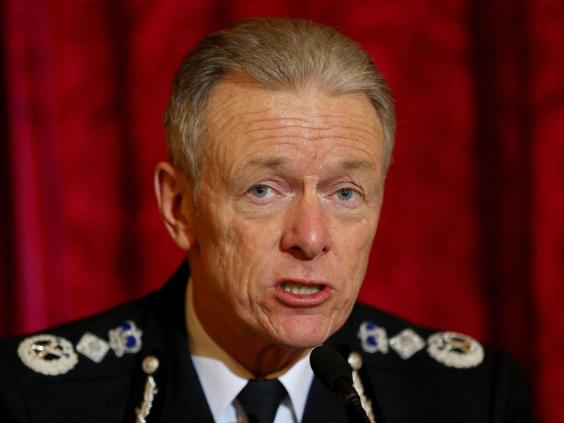 In contrast, Mr Khan is clearly confident about his own chances on 5 May, constantly referring to "when" he will be Mayor and setting out his grand plans. He talks of "sweating" Transport for London, which he claims has grown "flabby", in order to extend Tube lines, build bridges and even expand its operations. He also vows to take control of the NHS in London from Jeremy Hunt.
Mr Khan's desire to exert his authority before he has even taken the reins is most conspicuous when asked about the future of Sir Bernard Hogan-Howe.
The Labour MP is adamant that he – and he alone – will decide who runs the capital's police force. "The Home Secretary and the Mayor were right not to extend his contract by three or four years as they could've done. It's for the Mayor of London to have a big say in who the commissioner of the Metropolitan Police is."
He says it would not be right to give Sir Bernard a "public appraisal" but suggests his "priorities" for the job may be different. 
"The police service in London doesn't look like London. We've got a population of more than 40 per cent of adult Londoners BME, but a police service between 10 and 13 per cent. That's not good enough. There are lots of things to talk about and then I will decide if he should carry on. Let's see what happens after 5 May, but I'm pleased that I will get to decide if he should carry on."
Mr Khan is also insistent that he should control London's healthcare, not Whitehall. He says there's a "health crisis" in the capital, with a projected £1.7bn black hole in social care funding. "You've got a centralised health system, with Jeremy Hunt making decisions – clearly badly – which is causing huge problems for Londoners. I'd like the mayor taking charge of strategic leadership."
UK news in pictures
UK news in pictures
1/30 28 June 2016

Queen Elizabeth II & Prince Philip, Duke Of Edinburgh attend the unveiling of the Robert Quigg VC memorial statue in Bushmills village, Northern Ireland

Getty Images

2/30 27 June 2016

Opposition Labour party leader Jeremy Corbyn leaves after addressing a gathering of supporters demonstrating in Parliament Square, in central London

REUTERS

3/30 26 June 2016

A man dressed as Boris Johnson and Donald Trump prepare to take part in a tomato fight at the Glastonbury Festival 2016 at Worthy Farm

Getty Images

4/30 26 June 2016

People walk over Westminster Bridge wrapped in Union flags in central London. Britain's opposition Labour party plunged into turmoil and the prospect of Scottish independence drew closer, ahead of a showdown with EU leaders over the country's seismic vote to leave the bloc

AFP/Getty Images

5/30 25 June 2016

People pay tribute to the victims of the Orlando nightclub shooting as they take part in the annual Pride London Parade which highlights issues of the gay, lesbian and transgender community, in London

REUTERS

6/30 25 June 2016

Scotland's First Minister and Leader of the Scottish National Party (SNP), Nicola Sturgeon, addresses the media after holding an emergency Cabinet meeting at Bute House in Edinburgh, following the pro-Brexit result of the UK's EU referendum vote

AFP/Getty Images

7/30 24 June 2016

A man carries a EU flag, after Britain voted to leave the European Union, outside Downing Street in London

8/30 23 June 2016

AFP/Getty Images

9/30 22 June 2016

British Prime Minister David Cameron poses for a photograph after addressing pro-EU "Vote Remain" supporters at rally in Bristol, whilst campaigning to avoid a Brexit, ahead of the 23 June EU referendum

AFP/Getty Images

10/30 21 June 2016

Scottish Conservative leader Ruth Davidson (left) and Mayor of London Sadiq Khan speak during the EU debate at Wembley Arena in London

Getty Images

11/30 20 June 2016

A full moon rises behind Glastonbury Tor as people gather to celebrate the summer solstice in Somerse

Getty Images

12/30 19 June 2016

Hot air balloons took to the air as part of the annual Lord Mayor's Hot Air Balloon Regatta, a charity event in aid of the Lord Mayor's Fund, in London

Getty Images

13/30 19 June 2016

Liberal Democrats leader Tim Farron (C) poses with supporters after arriving in the Liberal Democrat Vote Remain campaign bus, campaigning to avoid a Brexit in the EU referendum, during a launch event in east London

AFP/Getty Images

14/30 18 June 2016

A man lights a flare among pro-refugee activists rallying outside the French Embassy in central London, during a protest after most of an aid convoy of vehicles organised by campaign groups heading to northern France were turned back at the French frontier at the port of Dover

AFP/Getty Images

15/30 17 June 2016

Prime Minister David Cameron and Labour Leader Jeremy Corbyn arrive to pay their respects at the scene where Jo Cox was shot in Birstall

Getty Images

16/30 16 June 2016

Floral tributes and candles are placed by a picture of slain Labour MP Jo Cox at a vigil in Parliament square in London. Cox died after a shock daylight street attack, throwing campaigning for the referendum on Britain's membership of the European Union into disarray just a week before the crucial vote

AFP

17/30 15 June 2016

Boats from the 'Fishing for Leave' campaign group join a flotilla along the Thames River in London. The flotilla organised by members of the Fishing for Leave group, who are campaigning to leave the European Union ahead of the referendum on the 23 of June, was countered by boats representing the 'In' campaign

Getty Images

18/30 14 June 2016

A general view of the Tate Modern's new Switch House in London. The Tate Modern art gallery has unveiled its new Switch House building designed by architects Herzog & de Meuron

Getty

19/30 13 June 2016

Labour Leader Jeremy Corbyn (C) and Deputy Labour Leader Tom Watson (R) attend a vigil for the victims of the Orlando nightclub shooting, outside the Admiral Duncan pub on Old Compton Street in Soho, London

Getty Images

20/30 12 June 2016

A pigeon flies ahead of Britain's Queen Elizabeth and Prince Philip, and Princes William, Harry and Kate Duchess of Cambridge behind as they wave to guests attending the Patron's Lunch on the Mall, an event to mark her 90th birthday, in London

REUTERS

21/30 11 June 2016

A Guardsman faints at Horseguards Parade for the annual Trooping the Colour ceremony in central London

REUTERS

22/30 10 June 2016

The national service of thanksgiving for the 90th birthday of Britain's Queen Elizabeth II at St Paul's Cathedral in London, which is also the Duke of Edinburgh's 95th birthday

Getty Images

23/30 9 June 2016

Princess Anne, Princess Royal attends the Founders Day Parade at The Royal Hospital Chelsea in London

Getty Images

24/30 8 June 2016

Two women walk barefoot through heavy rain in Westminster in London. The Met Office has issued flood alerts for parts of the south east of England as torrential rain hit parts of the country

Getty Images

25/30 7 June 2016

An Osprey catches two Rainbow Trout at Rothiemurchus in Kincraig, Scotland. Ospreys migrate each spring from Africa and nest in tall pine trees around the Aviemore area, the raptor was hunted to the point of extinction in the Victorian era, their migratory habits eventually brought them back to Scotland with the first successful breeding pair being recorded in 1954

Getty

26/30 6 June 2016

David Cameron speaks at a Remain in the EU campaign event at the Oval cricket ground in London

Getty Images

27/30 5 June 2016

Original participants take part in Japanese artist Koki Tanaka's recreation of the 1985 youth training scheme protest as part of the Liverpool Biennial. The 1985 protest saw 10,000 UK school children take to the street to protest against the Conservative government's controversial youth training Scheme

Getty Images

28/30 4 June 2016

Troops parade along The Mall after the Colonel's Review in London

Getty Images

29/30 3 June 2016

Large scale recreation of Dutch flower painting 'A Still Life of flowers in a Wan-Li Vase' by Ambrosius Bosschaert made out of real flowers is seen outside National Gallery in London

Rex

30/30 2 June 2016

Final preparations are made for the RHS Rose Show in London. The RHS London Rose Show runs from June 3-4 at RHS Lawrence Hall in Westminster

Getty Images
Mr Khan grew up on a council estate, one of eight children, before going to university. He says the UK has changed dramatically. "Growing up with the 'P-word' was common parlance. But there's been huge progress made. My daughters can't recall ever being the victims of racial abuse. My brothers, when they first went to Chelsea, to Stamford Bridge, they were chased away by the NF [National Front] at the Shed."
Asked if British voters could elect a Muslim prime minister, Mr Khan said: "Without a doubt. This is the best country in the world to live in. If you don't believe me, speak to my cousins in Pakistan and India."
Is he a practising Muslim? "Yeah, yeah. I try to do all the things you are supposed to do – pray, fast, give to charity." He prays five times a day. "Sometimes I miss the afternoon ones so I pray when I get back home after work. But, yeah, I try to pray."
He worries about the impact of radical Islamism on a new generation of Muslim Londoners – including his teenage daughters. "We've got to teach our young people the true Islam. The West doesn't hate you. You can have friends that aren't Muslims. You have more rights here than in any other city in the world."
Besides the threat of radicalisation, he is most worried about the cost of housing. Mr Khan has a plan to hold down prices – not only to buy a house but also on transport and even the cost of going to see a Premier League club.
This is the kind of territory on which Mr Khan's multimillionaire Tory rival Zac Goldsmith may struggle. But Mr Khan is more concerned about distancing himself from Mr Corbyn than Mr Goldsmith.
On Mr Corbyn he says: "He's taken time to adjust. But we need to start winning elections. The movement has given him time now – rightly so – to make sure he knows where the levers are and where they work. We can't afford to lose a third general election in a row."