The Conservatives' changes to electoral registration will disproportionately remove people from the electoral register in poorer areas of the country, an analysis suggested.
Over twice as many voters will be removed from the register in the ten poorest areas in the UK compared to the richest areas outside London.
The capital, a Labour stronghold, will also be disproportionately affected by the shift to Individual Electoral Registration (IER), because of the high proportion of people who live in private rented housing there.  
The Government is moving Britain's electoral register from a system of household electoral registration to an individual one.
But groups, including the Electoral Reform Society and Hope Not Hate, have warned that the way the change is being made could lead to underrepresentation in poorer areas.
Most people have been automatically moved over to the new register by matching their data to other government services, but in deprived areas the proportion of people found is significantly lower - meaning more entries are simply taken off the register.
In Britain's ten poorest areas an average of 6.2 per cent of people on the electoral register are expected to be removed when the system changes – with the figure as high as 22.9 per cent in areas like Hackney where people who rent their homes live.
By comparison only 2.96 per cent of voters will fall off the register in the ten leafiest and richest areas outside the capital, the study, conducted by Hope Not Hate, found.
Most worryingly, underrepresentation now could be made permanent because the new boundaries for parliamentary constituencies will be decided on the electoral register as it stands on 1 December 2015.
A seriously worrying issue for our democracy
The Government wants to base the new boundaries – which are expected to favour the Conservatives – on registered voters rather than actual population levels.
This means that missing voters in poorer areas – usually safe Labour – could lead to entire constituencies disappearing and reappearing in rich areas – usually safe Conservative.
This would shore up the in-built advantage the Conservatives have under the current electoral system.
The Labour-facing campaign group Momentum announced on Sunday it was launching a mass voter registration campaign to try and sign as many people up to the register before 1 December so that the boundary review would reflect the population as accurately as possible.
The campaign is supported the TSSA, a railway workers' union. Sam Tarry, the union's national political officer, described the boundary review as a stitch-up.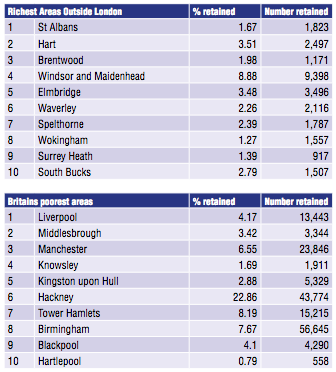 "The Tories want to gerrymander the electoral boundaries - taking away millions of working people across Britain's chance to be counted," he said.
"It's a blatant, anti-democratic stitch-up designed to keep them in power for as long as possible.
"Over the next few weeks we will work in communities across the country - going out and talking to people face to face, to ensure every citizen's voice is heard and will count."
Katie Ghose, the chief executive of the Electoral Reform Society, said the Government's move was a "worrying issue for our democracy".
"The fact that 1.9 million people risk being excluded by the government's wrong-headed early shift to complete individual voter registration – against Electoral Commission advice – is a scandal. We should be looking at automatic registration, as happens in many other countries - otherwise millions of people could lose their voice," she told the Independent.  
"The government appear to be prioritising cutting the number of MPs while continuing to allow the Lords to grow out of all proportion – a seriously worrying issue for our democracy.
"We call on the government to listen to the experts and to delay the early shift to IER, so that those 1.9 million people aren't excluded. Crucially though, we need a registration revolution in this country, alongside real democratic reform, to ensure political equality."
The Government defended the early switch to the new register and said it believed enough people had signed up for it to be viable.
Officials also point out that some people not covered by the new IER list may be data errors rather than real people still living at that address.
The Cabinet Office said it would work with local authorities to make sure as many people were registered as possible and added that individual voter registration was a vital reform to Britain's political system.
UK news in pictures
UK news in pictures
1/20 26 June 2017

A festival-goer sleeps outside their tent at the end of the Glastonbury Festival of Music and Performing Arts on Worthy Farm near the village of Pilton in Somerset, South West England

Getty

2/20 26 June 2017

Canadian Captain Megan Couto (C) leading out troops of the Second Battalion, Princess Patricia's Canadian Light Infantry from Wellington Barracks heading for the Changing of the Guard ceremony at Buckingham Palace in central London. Media reports state that Megan Couto, will be at the head of some 40 Canadian soldiers along with the Royal Canadian Artillery Band at the Changing of the Guard at Buckingham Palace becoming the first female soldier in history to become Captain of the Guard. Canadian soldiers are serving as the Queen's Guard as sentries at Buckingham Palace, St. James's Palace, the Tower of London and Windsor Castle until 03 July 2017. Queen Elizabeth II invited Canada to send troops take part in the ceremonial duties in 2017 marking 150 years since Canadian Confederation

EPA

3/20 26 June 2017

Residents leave their home on the Taplow Block on the Chalcots Estate on June 26, 2017 in London, England. Residents of the Chalcots Estate have been urged to leave their homes due to fire safety fears in the wake of the Grenfell Tower tragedy. Four of the five Chalcots Estate towers in Camden, North London, are being evacuated after they were found to have similar cladding to that on Grenfell, attributed to contributing to the rapid spread of the blaze last week that killed at least 79 people

Getty Images

4/20 25 June 2017

Police officers on Romford Road in Forest Gate, east London, as people protest over the death of Edir Frederico Da Costa, who died on June 21 six days after he was stopped in a car by Metropolitan Police officers in Woodcocks, Beckton, in Newham, east London

PA

5/20 24 June 2017

Britain's opposition Labour Party leader Jeremy Corbyn addresses revellers from the Pyramid Stage at Worthy Farm in Somerset during the Glastonbury Festival

REUTERS

6/20 23 June 2017

British Prime Minister Theresa May addresses a news conference at the EU summit in Brussels, Belgium, June 23, 2017

Reuters

7/20 22 June 2017

Cosplay fans (L-R) George Massingham, Abbey Forbes and Karolina Goralik travel by tube dressed in Harry Potter themed costumes, after a visit to one the literary franchise's movie filming locations at Leadenhall Market in London, Britain

Reuters

8/20 22 June 2017

Racegoers cheer on their horse on Ladies Day at the Royal Ascot horse racing meet, in Ascot, west of London

Getty

9/20 21 June 2017

A reveller walks among the tipi tents at the Glastonbury Festival of Music and Performing Arts on Worthy Farm near the village of Pilton in Somerset, South West England

Getty

10/20 20 June 2017

A police officer lays some flowers passed over by a member of the public, close to Finsbury Park Mosque in north London, after one man died and eight people were taken to hospital and a person arrested after a rental van struck pedestrian

PA

11/20

The Borough Market bell is seen in Borough Market in central London following its re-opening after the June 3 terror attack

Getty Images

12/20

Two women embrace in Borough Market, which officially re-opens today following the recent attack, in central London

REUTERS/Hannah McKay

13/20

Mayor of London Sadiq Khan attends the re-opening of Borough market in central London following the June 3 terror attack

Getty Images

14/20

People walk through Borough Market in central London following its re-opening after the June 3 terror attack

Getty Images

15/20

News Corp CEO Rupert Murdoch, with one of his daughters, visit Borough Market, which officially re-opened today following the recent attack

REUTERS

16/20

A woman reacts in front of a wall of messages in Borough Market, which officially re-opened today following the recent attack, in central London

REUTERS/Hannah Mckay

17/20

Vivenne Westwood walks the runway at the Vivenne Westwood show during the London Fashion Week Men's June 2017 collections

Getty Images

18/20

Millwall fan and London Bridge hero Roy Larner on 'Good Morning Britain'

Rex

19/20

Richard Arnold, Roy Larner, Piers Morgan and Susanna Reid on 'Good Morning Britain'

Rex

20/20 11 June 2017

England players celebrate after defeating Venezuela 1-0 to win the final of the FIFA U-20 World Cup Korea 2017 at Suwon World Cup Stadium in Suwon, South Korea

AP
"Individual electoral registration is absolutely key to tackle election fraud. We are working with local authorities to remove ghost voters who don't exist or have moved on, to make sure we have a clean and fair electoral roll. " John Penrose, Minister for the Constitution, said.
"This system has been tried and tested in Northern Ireland for over a decade, where there were once serious concerns about electoral fraud.
"The answer to under-registered groups like young people or expatriates is not to stuff the electoral rolls - and potentially the ballot boxes - with the names of people who don't exist, but instead to run a vigorous and energetic voter registration campaign. Which we will do."
The boundary review was due to go ahead before the 2010 general election but was blocked by the Liberal Democrats in response to Conservative MPs blocking House of Lords reform.
Reuse content