The Home Office has refused to make Theresa May's internet browsing history public under freedom of information rules, arguing that a request to do so is "vexatious".
The Independent requested the Home Secretary's work browsing history for the last week of October under the Freedom of Information Act.
Under the new Investigatory Powers Bill announced by Ms May the internet browsing history of everyone in the UK will have to be stored for a year and police and security services will be able to access the list of visited websites without any warrant.
The Home Secretary described such information, which her department refused to release in relation to her, as "the modern equivalent of an itemised phone bill". Itemised phone bills have previously been released under the Freedom of Information Act.
The Freedom of Information Act is in theory supposed to allow for information held by government bodies to be disclosed, subject to certain conditions.
On 4 November the Independent invoked the Act to ask the Home Office to disclose "'the web browser history of all web browsers on the Home Secretary Theresa May's GSI network account for the week beginning Monday 26 October". 
The only reason given by officials against disclosure of Ms May's browsing history was that the request for transparency was a "scattergun" approach conducted "without any idea of what might be revealed".
UK news in pictures
UK news in pictures
1/30 26 June 2016

A man dressed as Boris Johnson and Donald Trump prepare to take part in a tomato fight at the Glastonbury Festival 2016 at Worthy Farm

Getty Images

2/30 26 June 2016

People walk over Westminster Bridge wrapped in Union flags in central London. Britain's opposition Labour party plunged into turmoil and the prospect of Scottish independence drew closer, ahead of a showdown with EU leaders over the country's seismic vote to leave the bloc

AFP/Getty Images

3/30 25 June 2016

People pay tribute to the victims of the Orlando nightclub shooting as they take part in the annual Pride London Parade which highlights issues of the gay, lesbian and transgender community, in London

REUTERS

4/30 25 June 2016

Scotland's First Minister and Leader of the Scottish National Party (SNP), Nicola Sturgeon, addresses the media after holding an emergency Cabinet meeting at Bute House in Edinburgh, following the pro-Brexit result of the UK's EU referendum vote

AFP/Getty Images

5/30 24 June 2016

A man carries a EU flag, after Britain voted to leave the European Union, outside Downing Street in London

REUTERS

6/30 23 June 2016

AFP/Getty Images

7/30 22 June 2016

British Prime Minister David Cameron poses for a photograph after addressing pro-EU "Vote Remain" supporters at rally in Bristol, whilst campaigning to avoid a Brexit, ahead of the 23 June EU referendum

AFP/Getty Images

8/30 21 June 2016

Scottish Conservative leader Ruth Davidson (left) and Mayor of London Sadiq Khan speak during the EU debate at Wembley Arena in London

Getty Images

9/30 20 June 2016

A full moon rises behind Glastonbury Tor as people gather to celebrate the summer solstice in Somerse

Getty Images

10/30 19 June 2016

Hot air balloons took to the air as part of the annual Lord Mayor's Hot Air Balloon Regatta, a charity event in aid of the Lord Mayor's Fund, in London

Getty Images

11/30 19 June 2016

Liberal Democrats leader Tim Farron (C) poses with supporters after arriving in the Liberal Democrat Vote Remain campaign bus, campaigning to avoid a Brexit in the EU referendum, during a launch event in east London

AFP/Getty Images

12/30 18 June 2016

A man lights a flare among pro-refugee activists rallying outside the French Embassy in central London, during a protest after most of an aid convoy of vehicles organised by campaign groups heading to northern France were turned back at the French frontier at the port of Dover

AFP/Getty Images

13/30 17 June 2016

Prime Minister David Cameron and Labour Leader Jeremy Corbyn arrive to pay their respects at the scene where Jo Cox was shot in Birstall

Getty Images

14/30 16 June 2016

Floral tributes and candles are placed by a picture of slain Labour MP Jo Cox at a vigil in Parliament square in London. Cox died after a shock daylight street attack, throwing campaigning for the referendum on Britain's membership of the European Union into disarray just a week before the crucial vote

AFP

15/30 15 June 2016

Boats from the 'Fishing for Leave' campaign group join a flotilla along the Thames River in London. The flotilla organised by members of the Fishing for Leave group, who are campaigning to leave the European Union ahead of the referendum on the 23 of June, was countered by boats representing the 'In' campaign

Getty Images

16/30 14 June 2016

A general view of the Tate Modern's new Switch House in London. The Tate Modern art gallery has unveiled its new Switch House building designed by architects Herzog & de Meuron

Getty

17/30 13 June 2016

Labour Leader Jeremy Corbyn (C) and Deputy Labour Leader Tom Watson (R) attend a vigil for the victims of the Orlando nightclub shooting, outside the Admiral Duncan pub on Old Compton Street in Soho, London

Getty Images

18/30 12 June 2016

A pigeon flies ahead of Britain's Queen Elizabeth and Prince Philip, and Princes William, Harry and Kate Duchess of Cambridge behind as they wave to guests attending the Patron's Lunch on the Mall, an event to mark her 90th birthday, in London

REUTERS

19/30 11 June 2016

A Guardsman faints at Horseguards Parade for the annual Trooping the Colour ceremony in central London

REUTERS

20/30 10 June 2016

The national service of thanksgiving for the 90th birthday of Britain's Queen Elizabeth II at St Paul's Cathedral in London, which is also the Duke of Edinburgh's 95th birthday

Getty Images

21/30 9 June 2016

Princess Anne, Princess Royal attends the Founders Day Parade at The Royal Hospital Chelsea in London

Getty Images

22/30 8 June 2016

Two women walk barefoot through heavy rain in Westminster in London. The Met Office has issued flood alerts for parts of the south east of England as torrential rain hit parts of the country

Getty Images

23/30 7 June 2016

An Osprey catches two Rainbow Trout at Rothiemurchus in Kincraig, Scotland. Ospreys migrate each spring from Africa and nest in tall pine trees around the Aviemore area, the raptor was hunted to the point of extinction in the Victorian era, their migratory habits eventually brought them back to Scotland with the first successful breeding pair being recorded in 1954

Getty

24/30 6 June 2016

David Cameron speaks at a Remain in the EU campaign event at the Oval cricket ground in London

Getty Images

25/30 5 June 2016

Original participants take part in Japanese artist Koki Tanaka's recreation of the 1985 youth training scheme protest as part of the Liverpool Biennial. The 1985 protest saw 10,000 UK school children take to the street to protest against the Conservative government's controversial youth training Scheme

Getty Images

26/30 4 June 2016

Troops parade along The Mall after the Colonel's Review in London

Getty Images

27/30 3 June 2016

Large scale recreation of Dutch flower painting 'A Still Life of flowers in a Wan-Li Vase' by Ambrosius Bosschaert made out of real flowers is seen outside National Gallery in London

Rex

28/30 2 June 2016

Final preparations are made for the RHS Rose Show in London. The RHS London Rose Show runs from June 3-4 at RHS Lawrence Hall in Westminster

Getty Images

29/30 1 June 2016

Sheep are judged on the opening day of the Royal Bath and West Show in Shepton Mallet. The result of the EU referendum is likely to be closely watched by members of the farming community as the UKs membership of the European Union has long been a contentious issue for the farming industry

Getty Images

30/30 31 May 2016

German President Joachim Gauck (C), British Premier David Cameron (L) and Princess Anne, Princess Royal attend the 100th anniversary commemorations for the Battle of Jutland at the Lyness cemetery in Lyness, Scotland

Getty Images
If the Department had agreed to the request, it would have shown a list of websites visited on the Home Secretary's computer account for a week.
"We have considered your request and we believe it to be vexatious. Section 14(1) of the Act provides that the Home Office is not obliged to comply with a request for information of this nature," officials said in a response.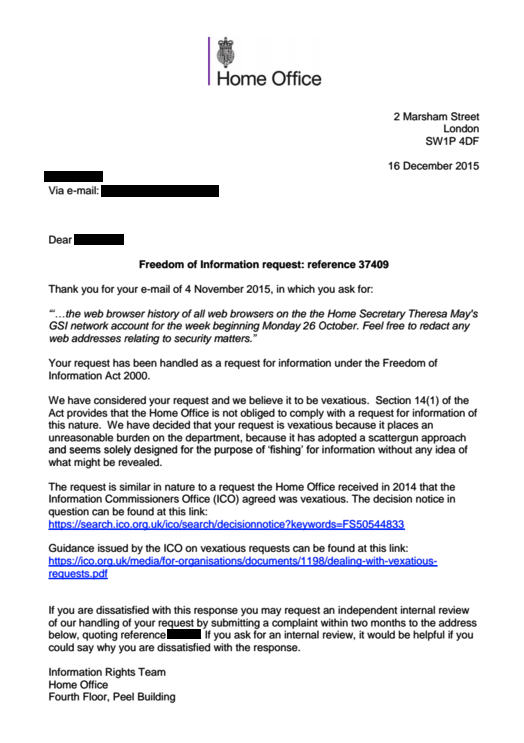 "We have decided that your request is vexatious because it places an unreasonable burden on the department, because it has adopted a scattergun approach and seems solely designed for the purpose of 'fishing' for information without any idea of what might be revealed."
Officials were told in the request that they could exclude any information related to security matters – so that this could not be used as an excuse to deny disclosure.
The Home Office did not reply to the request within the legal deadline, but eventually provided a response refusing to release the information.
While the Government is widening its own powers to access the information of citizens, it is watering down the public's right to access the Government's information.
The Government has launched a review into the Freedom of Information Act, with suggestions that the transparency law could be watered down to give ministers more space to act in secret.
Commenting on the new Government spying bill in November, Shami Chakrabarti, director of civil rights campaign Liberty, said: 
"After all the talk of climbdowns and safeguards, this long-awaited Bill constitutes a breath-taking attack on the internet security of every man, woman and child in our country.
"We must now look to Parliament to step in where ministers have failed and strike a better balance between privacy and surveillance."
At the launch of the Investigatory Powers Bill in Parliament, Ms May said: "There should be no area of cyberspace which is a haven for those who seek to harm us to plot, poison minds and peddle hatred under the radar.
"But I am also clear that the exercise and scope of investigatory powers should be clearly set out and subject to stringent safeguards and robust oversight, including 'double-lock' authorisation for the most intrusive capabilities. 
"This bill will establish world-leading oversight to govern an investigatory powers regime which is more open and transparent than anywhere else in the world."