Labour's deputy leader, Tom Watson, has demanded that Jeremy Corbyn abandon plans to force MPs into opposing air strikes on Syria, amid growing alarm that the leader is hardening his stance against military action in preparation for a showdown.
In his strongest intervention to date, Mr Watson – who supports extending RAF raids into Syria – has warned Mr Corbyn he needs to back down and ensure MPs are given a free vote to avoid a damaging public split.
There is mounting concern that Mr Corbyn is trying to sabotage David Cameron's expected parliamentary vote on 2 December by attaching a controversial anti-war amendment to any motion authorising bombing raids. Mr Corbyn is also understood to be considering calling an emergency meeting of Labour's ruling body, the National Executive Committee, (NEC), to change official policy – making the party explicitly anti-war. Sources said this move was being resisted by a number of NEC members.
The Independent on Sunday can reveal Mr Corbyn has been consulting Labour MPs to see whether they will back a "proposition" laid in the Commons stating that "the Government has not made its case" for extending air strikes.
There is growing fury in the Parliamentary Labour Party at the "deeply irresponsible" tactics employed by Mr Corbyn to pressure MPs into voting against military action, which could begin within hours of a vote this week.
Speaking exclusively to The IoS, Mr Watson said the division within the party could be healed only with a free vote. He said: "Matters of security are perhaps the most solemn decisions that MPs have to make and they have to think about it deeply. After the week that we've had, the best way of holding the party together, but allowing MPs to solemnly express what they feel, is for us to have a free vote."
Mr Watson was asked if the Shadow Cabinet may have to give a show of hands in favour of military action to convince Mr Corbyn to back down. He said it would be better if a "consensus" could be reached without one but said this may not be possible.
He said: "Where at all possible we should try to get a consensus position without a show of hands. It remains to be seen whether we can do that on Monday. There are now voices across all wings of the party, from John McDonnell to Tristram Hunt, suggesting we should have a free vote, and I think they are right. 
"We should unite around this position to allow MPs to form their own view whether David Cameron's proposals have merit."
A source close to Mr Corbyn said: "He's written to members and these responses need to be considered. He is still looking to work with the Shadow Cabinet towards making a decision."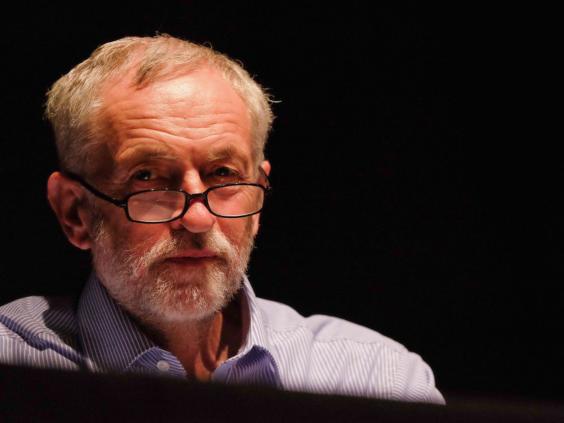 But a number of shadow cabinet ministers are concerned that Mr Corbyn and his team want to rally support for an anti-war amendment – which could be backed from MPs across the political spectrum – in an effort to outflank their support for RAF bombing raids.
A senior MP said: "Corbyn's team are trying to work out whether they can get a whipped vote around this proposition rather than simply against the Prime Minister." But the MP said the Labour leader would find it "hard" to convince MPs to back the amendment. "Most people would say it's not going to work. You've got to decide whether you support Cameron's measures or not."
A Labour source said: "That's the whips asking a neutral question to identify where the PLP is." The source also said there was no meeting of the NEC arranged, but refused to rule out one being called.
However, in a sign of Mr Corbyn's absolute opposition to air strikes, MPs on 25 November were shocked to receive an email from the office of a close ally of the Labour leader criticising the Government's plan for military action – despite it being almost 24 hours before Mr Cameron had set out his case for air strikes.
The most ridiculous claims made about Jeremy Corbyn
The most ridiculous claims made about Jeremy Corbyn
1/11 He called Hezbollah and Hamas 'friends'

True. In a speech made to the Stop the War Coalition in 2009, Mr Corbyn called representatives from both groups "friends" after inviting them to Parliament. He later told Channel 4 he wanted both groups, who have factions designated as international terror organisations, to be "part of the debate" for the Middle East peace process. "I use (the word 'friends') in a collective way, saying our friends are prepared to talk," he added. "Does it mean I agree with Hamas and what it does? No. Does it mean I agree with Hezbollah and what they do? No."

Reuters

2/11 'Jeremy Corbyn thinks the death of Osama bin Laden was a tragedy'

Partly false. David Cameron used this as a line of attack at the Conservative Party conference but appears to have left out all context from Mr Corbyn's original remarks. In an 2011 interview on Iranian television, the then-backbencher said the fact the al-Qaeda leader was not put on trial was the tragedy, continuing: "The World Trade Center was a tragedy, the attack on Afghanistan was a tragedy, the war in Iraq was a tragedy."

3/11 He is 'haunted' by the legacy of his 'evil' great-great-grandfather

False. A Daily Express exposé revealed that the Labour leader's ancestor, James Sargent, was the "despotic" master of a Victorian workhouse. Addressing the report at the Labour conference, Mr Corbyn said he had never heard of him before, adding: "I want to take this opportunity to apologise for not doing the decent thing and going back in time and having a chat with him about his appalling behaviour."

4/11 Jeremy Corbyn raised a motion about 'pigeon bombs' in Parliament

This one is true. On 21 May 2004, Mr Corbyn raised an early day motion entitled "pigeon bombs", proposing that the House register being "appalled but barely surprised" that MI5 reportedly proposed to load pigeons with explosives as a weapon. The motion continued: "The House… believes that humans represent the most obscene, perverted, cruel, uncivilised and lethal species ever to inhabit the planet and looks forward to the day when the inevitable asteroid slams into the earth and wipes them out thus giving nature the opportunity to start again." It was not carried.

5/11 He rides a Communist bicycle

False. A report in The Times referred to Mr Corbyn, known for his cycling, riding a "Chairman Mao-style bicycle" earlier this year. "Less thorough journalists might have referred to it as just a bicycle, but no, so we have to conclude that whenever we see somebody on a bicycle from now on, there goes another supporter of Chairman Mao," he later joked.

6/11 'Jeremy Corbyn will appoint a special minister for Jews'

False so far. The Sun report in December was allegedly based on a "rumour" passed to the paper by a Daily Express columnist who has written pieces critical of the Labour leader in the past. The minister did not materialise in his shadow cabinet.

7/11 'Jeremy Corbyn wishes Britain would abolish its Army'

False. Another gem from The Sun took comments made at a Hiroshima remembrance parade in August 2012 where Mr Corbyn supported Costa Rica's move to abolish it armed forces. "Wouldn't it be wonderful if every politician around the world…abolished the army and took pride in the fact that they don't have an army," he added. The caveat that "every politician" must take the step suggests Mr Corbyn does not support UK disarmament just yet.

8/11 Jeremy Corbyn stole sandwiches meant for veterans

False. The Guido Fawkes blog claimed that the Labour leader took sandwiches meant for veterans at at Battle of Britain memorial service in September but a photo later emerged showing him being handed one by Costa volunteers, who later confirmed they were given to all guests.

9/11 He missed the induction into the Queen's privy council

True. After much speculation about Mr Corbyn's republican views and willingness to bow to the monarch, his office confirmed that he did not attend the official induction to the privy council because of a prior engagement, but did not rule out joining the body.

10/11 Jeremy Corbyn refuses to sing the national anthem.

Partly true. The Labour leader was filmed standing in silence as God Save the Queen was sung at a Battle of Britain remembrance service but will reportedly sing it in future. Mr Corbyn was elusive on the issue in an interview, saying he would show memorials "respect in the proper way", but sources said he would sing the anthem at future occasions.

11/11 He is a member of the All-Party Parliamentary Group for Cheese

True. The group lists its purpose as the following: "To increase awareness of issues surrounding the dairy industry and focus on economic issues affecting the dairy industry and producers."
The IoS understands the memo – sent from the office of Labour whip Grahame Morris – was written by the controversial Corbyn aide Andrew Fisher and emailed to a select group of MPs on the afternoon of 25 November. This was before Mr Corbyn and Labour shadow ministers received a government briefing on the threat posed by Isis. It also came before Mr Fisher's suspension from the party was lifted on 27 November while he was investigated for campaigning against Labour at the last election.
A copy of the email, seen by The IoS, titled "Labour against bombing Syria", dropped into MPs' inboxes at 11.01pm on Wednesday. It said: "As Labour members we believe the Government has not made an effective case for military intervention in Syria." 
The email claimed the UN security council resolution authorising "all necessary measures" to defeat Isis did not give the "clear and unambiguous authorisation". It also claimed that any Western attack on IS would "play into the terror group's hands".
Labour MPs and shadow cabinet ministers said the email exposed Mr Corbyn's "ideological opposition" to intervention and proved it was not based on any real concerns about the Prime Minister's strategy to defeat Isis.
One Labour MP said: "It's absolutely farcical. How can they claim the Prime Minister has not made his case before he has even made his case?"
Despite Mr Corbyn's continuing opposition, more than 100 Labour MPs – about half the Parliamentary Labour Party – could back the Prime Minister's plan to extend air strikes. But MPs feel that Mr Corbyn could stake his leadership on his opposition to war.
The IoS understands he could appeal to MPs directly to vote against action even if the Shadow Cabinet votes in favour.
A shadow cabinet source said: "I don't think that Jeremy's team have fully withdrawn from wanting to impose a whip of some kind. They are testing the water. If it is a free vote, that will obviously give Cameron the confidence he needs."
The Government, however, hopes to convince as many MPs as possible this weekend. 
A senior No 10 source said: "Labour MPs will be approached for briefings this weekend so they know what our thinking is." 
The Government is expected to share a draft Commons motion with Labour's chief whip, Rosie Winterton, on 30 November before the crunch meetings of the Shadow Cabinet. 
A government source confirmed last night that Downing Street was drawing up a motion to "extend UK air strikes to Isil [Isis] in Syria".
Current drafts are understood to focus on the Syrian peace process, military plans to "degrade and reduce the threat" posed by Isis and help to provide "immediate humanitarian support and longer-term stabilisation".
The source said: "It puts United Nations Security Council Resolution 2249 front and centre, noting that this calls on states to take 'all necessary measures' to prevent terrorist acts by Isil and to 'eradicate the safe haven they have established over significant parts of Iraq and Syria'.
"The motion is also explicit that UK ground combat troops will not be deployed, highlights that UK capabilities mean that the risk of civilian casualties will be minimised and underlines the importance of a political settlement."
Mr Cameron, speaking in Malta, said: "On Syria, I think the message is very clear: we need to take carefully thought-through and effective action to tackle Isil."
He also issued a plea to Labour MPs to "look at the arguments" and back action.
"We have to start acting now to keep our country, our people and indeed others in Europe safe."
Reuse content