Most local newspapers actively drive for their MPs to spend less time in Westminster and more time engaging with their constituents, but one weekly paper in south London has taken the rare step of asking its Conservative MP to stop launching petitions and bothering voters.
This unusual situation now means that Gavin Barwell, MP for Croydon Central, is facing a "Campaign to end all campaigns" from the Croydon Advertiser. In frustration at his persistent attempts at headline-grabbing, the weekly paper is calling on Mr Barwell to "stop launching campaigns".
Its protest began after Mr Barwell set up a petition to save a recycling centre, which the paper says is his fifth crusade in little more than a month. It notes that he is now more active on local issues than he has ever been since he was elected in May 2010. In a leading article, the local newspaper said last week: "Gavin, we get it, there's an election on."
According to Glenn Ebrey, the paper's editor, the "tongue in cheek" criticism has a serious side. Mr Barwell's near constant agitating might have become a "bit of a running joke", he said, but "it raises a serious issue about politicians being, shall we say, more proactive when an election is on the horizon. Especially if, as with Gavin, they are in a relatively marginal seat.
"We're trying to make a point about politicians' propensity to act, or at least be seen to act, more forcefully when their future prospects are on the line."
Mr Barwell's run of campaigns, including on touchstone local issues such as green belt development and the sell-off of school playing fields, comes as the Labour Party is making a strong challenge in the marginal seat. It retook control of the council in last year's local elections.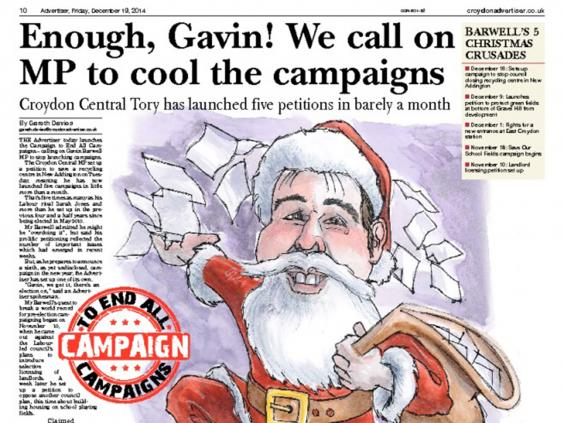 "This is possibly the first time a local paper has attacked an MP for working too hard," Mr Barwell said. "It's a light-hearted piece, of course, but I'm working very, very hard. And, since the day I got elected, I go out every weekend campaigning."
Steven Downes, editor of the local news website Inside Croydon, said that he welcomed the Croydon Advertiser's "discovery of satire".
He added: "Most people locally think these petitions and campaigns are something of a data-scraping exercise to get new email addresses that he can assiduously abuse between now and the election. He's got form in that regard."
That form includes a warning in March from the Parliamentary Commissioner for Standards, after complaints that he had used House of Commons headed paper for party political campaigning, in breach of rules. The complaint was not upheld but his actions were described by activists as "underhand and sneaky" and he was reminded of the rules on parliamentary correspondence.
Mr Barwell strongly denies accusations of "data scraping".
"There is a tiny marginal benefit. Over the course of the nearly five years I've been an MP, I've collected about 9,000 email addresses of constituents who are happy to get my emails and I expect this campaign may add 100 more … Generally, people find my emails very useful, but, if they don't, they can just press the unsubscribe button. They don't go on the Conservative Party database."
For her part, the local Labour candidate Sarah Jones seems to think her rival's enthusiastic bout of activity is simple party politics and "smacks of desperation in the run-up to the election".
In an email that could have been drafted by Labour's central office, she said: "It's a clear sign he knows he's on the back foot. All the campaigns are spurious. He says he is going to save the green belt when there is no green belt under threat. He says he is going to save a recycling centre that is simply being relocated…
"The reality is that Barwell has repeatedly voted against Croydon in Parliament, and is hiding his parliamentary failure behind spurious local campaigns," she added.
Reuse content